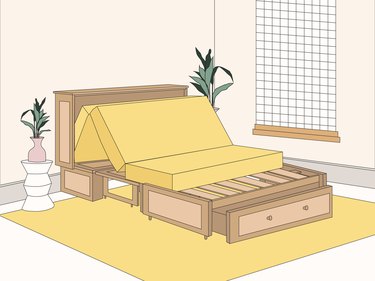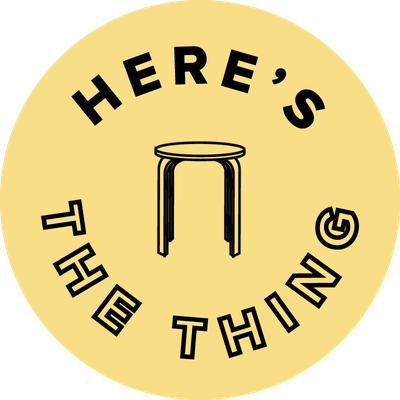 From the mundane to the quirky and outdated, Here's the Thing explores the histories and legends of the objects in our homes.
More than a century before the coronavirus pandemic had everyone reworking their home's rooms to function in a variety of ways, people who lived in small urban apartments were mastering the art of multipurpose furniture. And one person was even patenting it.
Inventor Sarah E. Goode, a former enslaved person turned freed inventor, was one of the first Black women in the country to receive a patent in the United States. She received it in 1885 for a clever space-saving piece of furniture: a cabinet bed. A precursor to the Murphy bed, the cabinet bed features a mattress and frame that folds into a roll-top desk, allowing a sleeping space to become a workspace.
Here's everything you need to know about the inventor, the invention, and how we continue to use cabinet beds today.
There's not much known about Sarah E. Goode (née Jacobs), but according to the National Archives Catalog and Black Past, she was born enslaved in 1850 and, by 1870, had made her way to Chicago. By 1880, she married carpenter Archibald Goode, and five years later, Sarah would be granted a patent for the cabinet bed. The inventor died in 1905.
Goode's cabinet bed was designed to be a multipurpose piece of furniture that saved space in small Chicago apartments. A single bed folded into a roll-top desk with storage for stationery and writing supplies.
"When folded together, the bed has all the appearance of an ordinary office-desk and may be used as such," wrote Goode in her patent application. "The entire desk, being attached to and forming a part of the head-section of the bed, does not in any way interfere with the folding or unfolding of the bed, and by the novel construction thereof, the contents of the desk will be very little deranged by the turning necessary in unfolding the bed."
What Came Before and After the Cabinet Bed
Some suggest Goode's cabinet bed might have been inspired by the folding trunk bed of famous Civil War nurse Clara Barton, founder of the American Red Cross. Barton had a design firm in Philadelphia build her a portable bed that could be folded into a trunk and carried onto the battlefield, per the American Red Cross. Ironically, before she became a nurse, Barton worked as a recording clerk at the U.S. Patent and Trademark Office, according to the National Women's History Museum.
Following Goode's cabinet bed was the Murphy bed, a bed that folds into a wall or tall cabinet, designed by William Lawrence Murphy. He lived in a studio apartment in San Francisco in the late 19th century, and while you might assume he was only trying to save space with this bed, his impetus for designing the piece of furniture was, according to ‌Smithsonian ‌magazine‌,‌ more personal in nature.
Social rules at the time forbade women to enter the bedrooms of men. Given the fact that Murphy lived in a studio, he needed to find a way to hide his bed to transform the room from a bedroom into a parlor that would allow him to bring home his suitor, an opera singer. It worked — the couple later wed.
Can You Buy a Cabinet Bed Today?
"This invention relates to that class of sectional bedsteads adapted to be folded together when not in use, so as to occupy less space, and made generally to resemble some article of furniture when so folded," wrote Goode in her patent application.
Folding bed–desk combos are typically limited to Murphy beds, in which a fold-out desk is built into the underside of the bed platform. Case in point: Xtraroom's Avalon Bed.