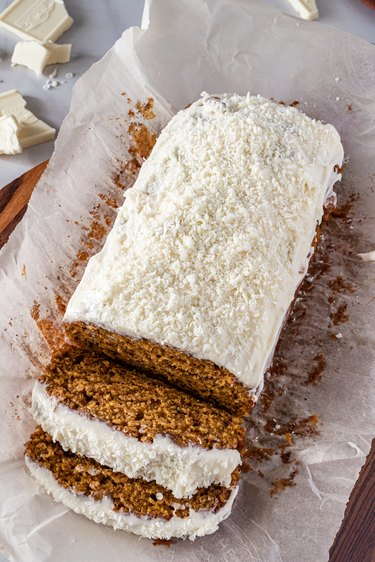 We love a good copycat recipe, especially when it's inspired by our favorite place in the world: Costco. Even more so if it's in honor of autumn — because who doesn't love the chilly season? That's why we're stoked to share this copycat recipe for Costco's pumpkin spice loaf, just in time for fall.
To recreate the popular bakery item, we started with a basic pumpkin spice bread, but before popping it in the oven, we took a tip from Costco and added swirls of cinnamon sugar. Once baked, the quick bread was topped off with cream cheese frosting and white chocolate shavings, also just like the Costco version.
Needless to say, the finished product is divine. What's more, one recipe yields two loaves (eight slices each), so there will be plenty to go around. Enjoy this copycat Costco pumpkin spice loaf for breakfast, a snack, dessert, or all of the above.
How to Make Copycat Costco Pumpkin Spice Loaf
Things You'll Need
2 cups all-purpose flour

1 teaspoon baking soda

1/2 teaspoon baking powder

1/2 teaspoon salt

1 and 4 teaspoons ground cinnamon, separated

1 teaspoon ground nutmeg

1 teaspoon ground allspice

1/2 teaspoon ground cloves

3/4 cup unsalted butter, softened (1 1/2 sticks)

1 1/2 and 2/3 cup sugar, separated

2 large eggs

15 ounces pumpkin puree (not pumpkin pie filling)

1 teaspoon vanilla extract
Step 1
Preheat the oven to 325 degrees Fahrenheit. Line two loaf pans with parchment paper and set aside.
In a large bowl, combine the all-purpose flour, baking soda, baking powder, salt, 1 teaspoon cinnamon, nutmeg, allspice, and cloves. Whisk well.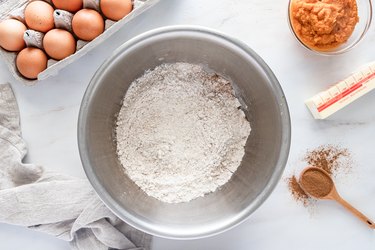 Tip
If you prefer certain spices, feel free to add more than the recipe calls for. You can even add other spices, like ground ginger or cardamom, for extra flavor.
Step 2
In another large bowl, beat the butter and 1 1/2 cups sugar until just combined. Add the eggs, pumpkin puree, and vanilla extract, then stir by hand. Avoid over-mixing, which can make the loaf more dense than desired.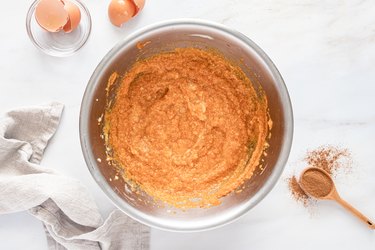 Tip
To accommodate for the cinnamon sugar swirls and sweet cream cheese frosting, this loaf recipe calls for less sugar than most other pumpkin breads. But if you prefer sweeter baked goods, feel free to add another 1/4 to 1/2 cup sugar.
Step 3
Add the dry ingredients to the pumpkin mixture, 1/3 at a time. Stir until just combined.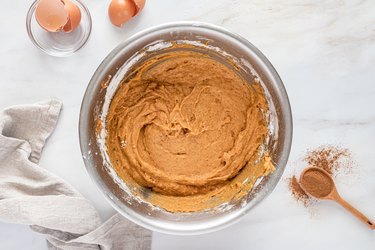 Step 4
In a small bowl, combine 2/3 cup sugar and 4 teaspoon cinnamon. Mix well.
Step 5
Pour 1/4 of the batter into one loaf pan. Sprinkle 1/4 of the cinnamon sugar on top.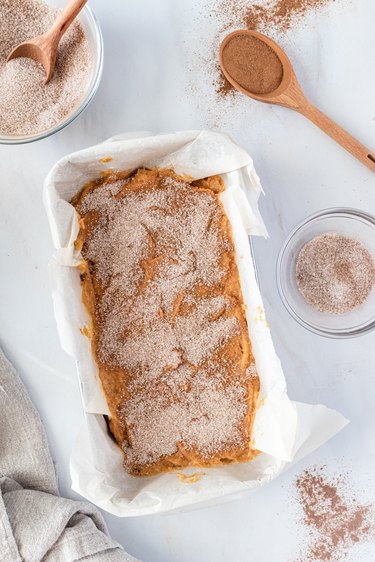 Step 6
Add another 1/4 of batter, then top with another 1/4 of cinnamon sugar. Run a butter knife through the loaf to swirl the cinnamon sugar.
Repeat with the remaining batter and cinnamon sugar in the second loaf pan.
Bake both loaves for 55 to 65 minutes, or until a toothpick inserted in the center comes out clean. Let the loaves cool completely on a wire rack.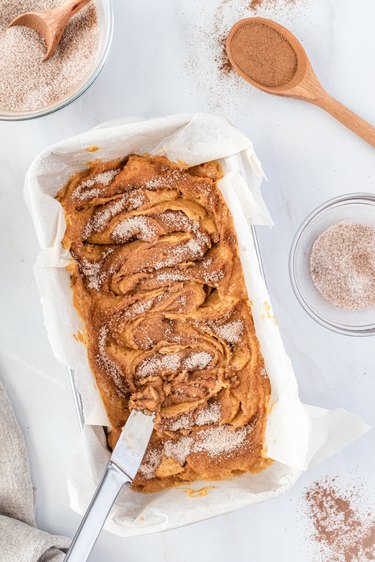 Tip
Your loaves might need more time, depending on your oven. Check the loaves around 55 minutes and watch them closely.
How to Make Cream Cheese Frosting
Things You'll Need
8 ounces cream cheese, softened

1 stick unsalted butter, softened

1 teaspoon vanilla extract

2 cups powdered sugar, plus more as needed

White chocolate shavings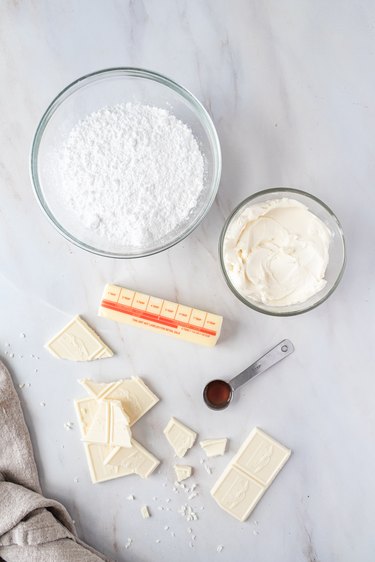 Step 1
In a large bowl, beat the softened cream cheese, butter, and vanilla. Slowly add the powdered sugar until the mixture is fluffy and combined. You may need to add more than two cups to achieve your preferred consistency.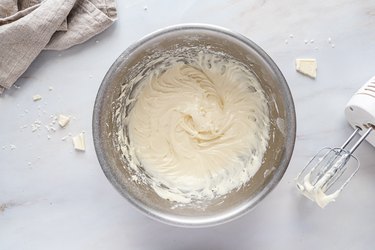 Step 2
Using a spatula, spread the cream cheese frosting onto the cooled loaves.
Step 3
Using a cheese grater, shred the white chocolate and sprinkle it on top of the loaves.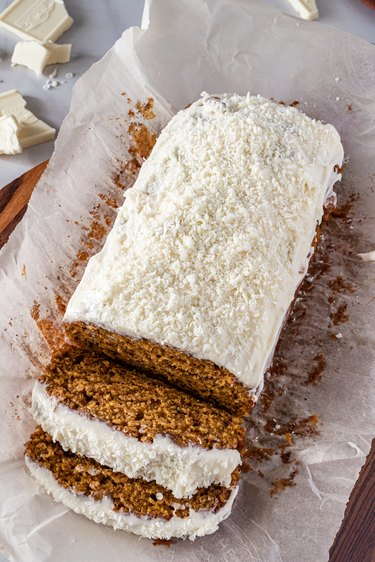 You can eat this pumpkin spice loaf cold or slightly warm. To heat it up, put it in the microwave for about 10 seconds. Avoid heating it for too long, which might melt the frosting.
To store your copycat Costco pumpkin spice loaf, keep it in an airtight container in the refrigerator. Enjoy within five to seven days.