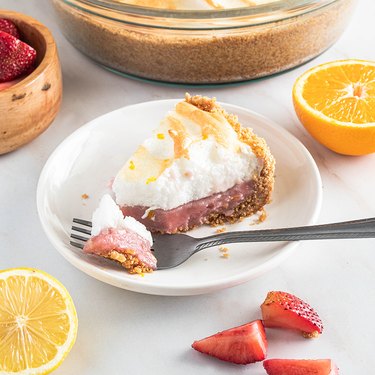 Perfectly sweet and creamy, this strawberry citrus meringue pie is bursting with seasonal flavor. The summer months, after all, are peak season for strawberries — so much so that we've been obsessed with strawberry recipes these days, including this irresistible pie.
However, this dessert is a bit different from traditional meringue pies, as we decided to switch a few things up. For starters, it features a graham cracker crust (instead of pie dough) for extra crunch and texture. The curd is also not made of the usual egg yolks, but instead, canned coconut milk. The result is a delightfully rich and creamy curd that literally tastes like summer.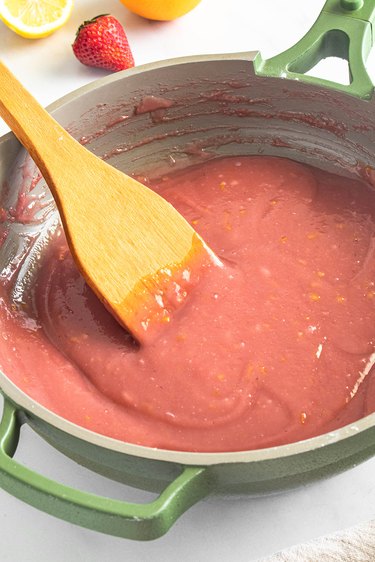 Finally, whereas most meringue toppings are toasted with a blowtorch or broiled in the oven, we decided to bake it low and slow. This way, the meringue is more likely to be cooked through and therefore, hold its shape.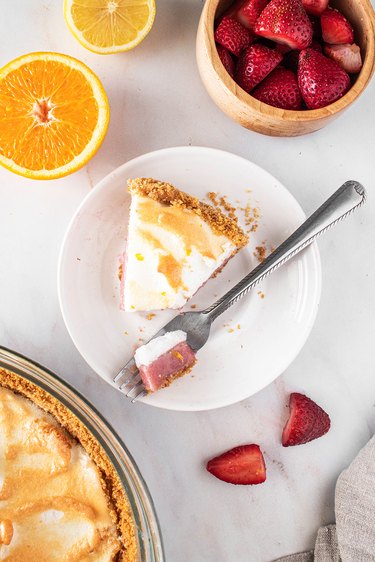 One strawberry citrus meringue pie yields about eight slices, depending on how you cut it. Read on for the full recipe.
How to Make Graham Cracker Crust
Things You'll Need
1 1/2 cups graham cracker crumbs

1/4 cup light or dark brown sugar

6 tablespoons unsalted butter, melted

Unsalted butter or baking spray, for greasing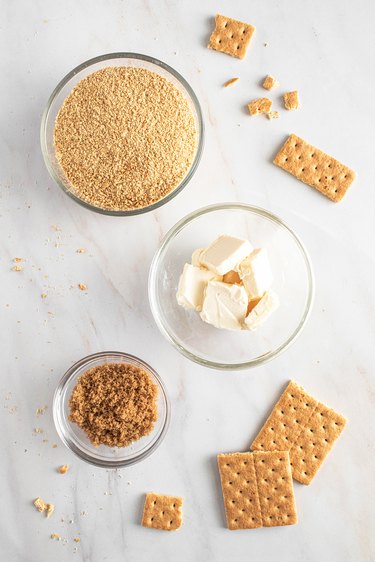 Tip
To prepare the crumbs, process broken graham crackers in a blender or food processor. You'll need about 10 graham cracker sheets to make 1 1/2 cups of crumbs.
Step 1
If you haven't already, melt the butter in the microwave or in a small pan over low heat.
In a bowl, combine the graham cracker crumbs and melted butter. Mix well. It should clump together and resemble wet sand.
Step 2
Grease a deep pie dish, at least two inches deep, with butter. (For this recipe, we used the Pyrex Deep Round Pie Dish, which is nearly three inches high.) Press the graham cracker mixture along the bottom and sides of the dish, making sure to create a flat and even layer. You can use the bottom of a measuring cup to do this.
Bake at 350 degrees Fahrenheit for 10 to 12 minutes, or until golden brown. Set aside to cool.
How to Make Strawberry Juice
Things You'll Need
1 pint strawberries

Food processor or blender
Tip
You'll need to make 1/2 cup of strawberry juice for the pie. The exact amount of strawberries required will depend on many factors, including the size of the berries and how well you strain the puree. We recommend using one pint of strawberries to ensure you have more than enough.
Step 1
Remove the stems from the strawberries. Cut into quarters or halves, depending on their size. Add to a food processor.
Step 2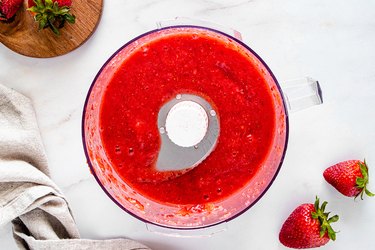 Step 3
To prepare the strawberry juice, strain the puree through a fine mesh strainer. You'll need 1/2 cup of juice for the pie, so you'll likely have some leftover.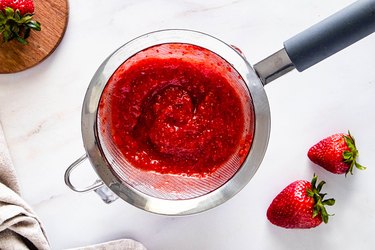 Tip
Use leftover strawberry pulp and juice in a smoothie.
How to Make Strawberry Citrus Pie Filling
Things You'll Need
1 cup canned coconut milk (see notes below)

3/4 cup granulated sugar

5 tablespoons cornstarch

1/2 cup strawberry juice

2 tablespoons lemon juice, freshly squeezed

2 tablespoons orange juice, freshly squeezed

1 tablespoon lemon zest

1 teaspoon vanilla extract

1/4 teaspoon salt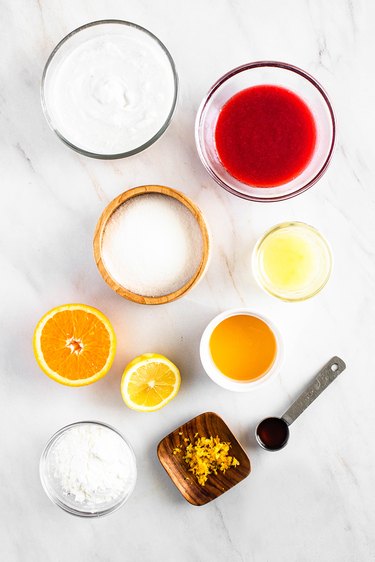 Tip
Be sure to use coconut milk from the can, not the carton. Use as much of the solid white part as possible.
Step 1
In a large saucepan, whisk the cornstarch, sugar, and salt together. Add the vanilla extract and strawberry, lemon, and orange juices.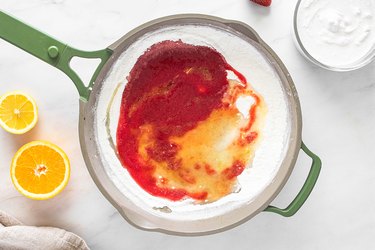 Step 2
Place the pan over medium heat and whisk the ingredients together. Cook for five to seven minutes, mixing constantly, until slightly thick.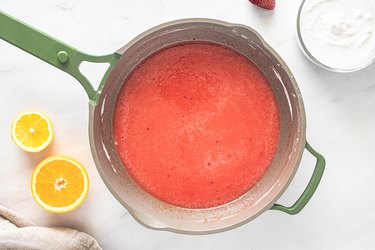 Step 3
Add the coconut milk and whisk well. Cook for five to seven minutes, whisking frequently or until the curd is thick and shiny. Stir in the lemon zest.
Tip
To determine if the curd is ready, run a spoon through the mixture. If it holds the indent, it's good to go. Another trick is to cover the back of the spoon with the curd. If it stays on the spoon and doesn't slide off, it's ready.
Step 4
Pour the curd into the pie crust. Bake at 350 degrees Fahrenheit for 15 to 20 minutes, or until partially set.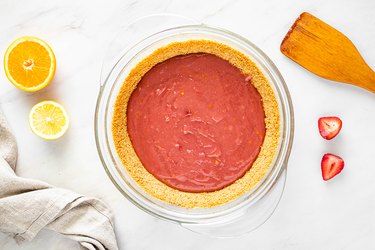 Tip
If you're not quite ready to make the meringue, you can prepare this pie as a make-ahead dessert. After it bakes for 15 to 20 minutes, let it rest for 15 minutes. Cover and place it in the refrigerator. When you're ready to make the meringue, remove the pie from the refrigerator and let it sit until it reaches room temperature. Bake at 350 degrees Fahrenheit for 10 minutes to re-heat the filling. (The meringue needs to be placed on top of a warm or hot filling.) Continue following the steps for making meringue, below.
Things You'll Need
4 or 5 egg whites, room temperature

6 tablespoons powdered sugar

1/4 teaspoon cream of tartar
Tip
To make meringue, you'll need an electric beater and stainless steel or glass bowl. Make sure all of your equipment is completely dry and clean. Otherwise, any moisture or oily residue will prevent your meringue from properly forming. You'll also want to make sure there are no yolks in the egg whites.
Step 1
While the pie is baking, prepare the meringue. Add the egg whites and cream of tartar to a stainless steel bowl.
Step 2
Beat the egg whites with an electric beater. After about one minute of beating, start adding the sugar, one tablespoon at a time. Avoid adding the sugar too fast, which will cause the meringue to fall apart.
Continue beating the meringue until it's shiny, fluffy, and creates stiff peaks.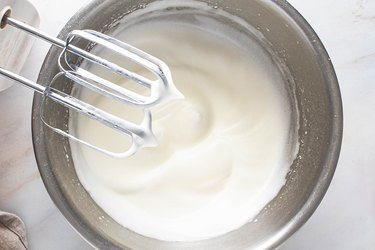 Tip
To check for stiff peaks, pick up the electric beater. If the meringue creates pointy tips that hold their shape, it's ready.
Step 3
Scoop the meringue on top of the hot pie filling. Spread the meringue so that it touches the edges of the crust; it will shrink as it bakes, so doing this will help the meringue hold its shape.
Using the back of the spoon, make soft "peaks and valleys" in the meringue. This will give the meringue texture.
Step 4
Return to the oven and bake for 15 to 20 minutes, or until the tips of the meringue are golden brown.
Tip
If the meringue is browning too quickly, place a tent of foil over the pie.
Step 5
Remove from the oven and let cool for one hour. Cover with a tent of foil, then chill for three to four hours before serving.
If possible, enjoy the meringue pie right after it's done chilling. Meringue doesn't keep very well in the refrigerator.