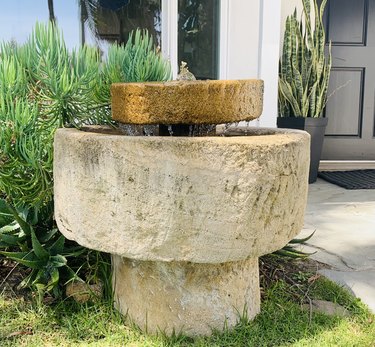 Looking out my family room window, I have front row seats to the most delightful daily show. Hummingbirds have been coming to my house every day for years, flitting around my yard. Red-breasted hummingbirds, some with a touch of blue, all just cute as buttons. What draws them to my home? The credit unexpectedly goes to the large water fountain set up near my front door, and not the nearby nectar-filled hummingbird feeder. They seem to ignore the feeder altogether.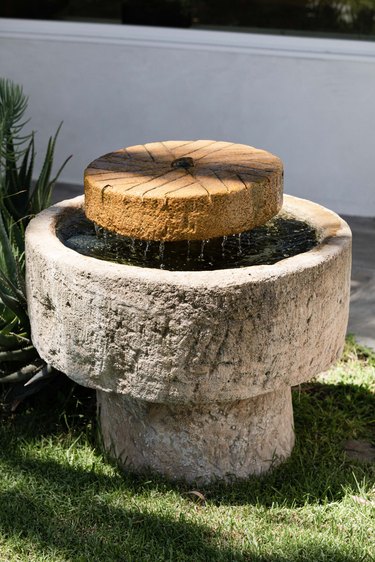 While I've heard that hummingbirds are attracted to sugar water, sage plants, and the color red, I was unfamiliar with the fact that they like water fountains. The design I have looks similar to a bird bath — it's flat on top, with a water bubbler in the center that continuously flows fresh water. So, they can sit, drink, bathe, preen, and clean — whatever suits their fine feathered fancy. They seem to ​love​ it. One day I saw six hummingbirds bathing and conversing together on the top of my fountain and it was just joy ... for me, and I imagine for them, too.
Below, a few flat-topped fountains to consider if you hope to bring all the hummingbirds to your yard.
If you have a balcony or patio, this compact design is the perfect little pick for smaller spaces.
Could this square cast-stone fountain be any more crush-worthy? It's a cool choice for a contemporary home.
Showcasing three tiers of water, this fountain will give any garden an oasis, spa-like vibe.
Handcrafted from natural material, this minimalist-meets-boho design includes an LED underwater light.
Say hello to your new front door show stopper. It's big, it's bold, it's feng shui fabulous.