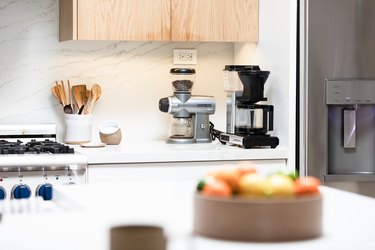 While these recommendations aren't cheap, they are worth every penny. Once you make the initial investment in a well-made kitchen appliance, they'll save you money in the long run. Here are my must-have products that my family and I use every single day.
A couple of years ago, my husband and I took the pledge to cut down on our daily coffee purchases. Personally, I was buying a cup of coffee just about every afternoon. Instead, we decided to buy ourselves a fancy espresso machine so that we could make our own delicious drinks. We splurged on this design and we've been happy ever since. You can make lattes, cappuccinos, flat whites, ristrettos, and you also froth milk. Now our afternoon coffee run is just a walk to our kitchen. As you can imagine, we're saving cash by no longer purchasing those daily $5 drinks.
With our new plan in place, I also wanted to get a nice coffeemaker for my morning cup of joe. This design is streamlined, easy on the eyes, and makes a delicious brew. I love that it only requires four to six minutes to make a full pot … and the result is delicious. As long as you're choosing nice coffee beans, this machine will take care of the rest and you'll be satisfied for years to come. The money-saving aspect here is that you'll be brewing coffee so delicious, you won't have to look outside of your home for something better. Note: the glass pot is delicate, so be careful when washing.
If you're investing in those top two appliances, you might as well go the extra mile and grind your own beans. Make it fresh. It really does make a difference and will give you more of that coffeehouse feel in your home. This grinder is a tried and true workhorse. As long as you clean it out once in a while to keep things running smoothly, this design will be with you for many years.
Well, this item is just a delight. If you enjoy bubbly water, this will be a very smart purchase. You'll save on money by no longer buying sparkling water at the store — not to mention you'll be eco-friendly by cutting down on all those bottles. (This comes with a reusable BPA-free bottle.) By having a soda machine sitting on our counter, my husband now drinks more water than ever, since he only likes carbonated water — and if you're trying to cut down on your evening cocktail consumption, pour some into a pretty glass and add a squeeze of lime. It feels special.
This stainless steel electric kettle has become my new kitchen hero. I actually didn't expect to love it as much as I do. This kettle offers separate buttons for everything you need, including water that heats specifically for delicate tea, green tea, black tea, white tea, and oolong. It also has temperature setting for pour overs, or just straight up boiling. You never have to guess again. It's ​so​ user-friendly. But, how does this save money? Because (A) You'll no longer need to go out for a matcha or pour-over coffee; and (B) I think that this might be the last kettle you own. I can't predict the future, but it's possible.
I've had my Vitamix blender for over 12 years and it is still going strong. It really is an ​amazing​ appliance and worth the price tag. I use it for smoothies, for homemade acai bowls, to grind nuts, to blend soups — you name it. Wondering how you'll save money with this blender? You won't be buying another blender for a long, long time. This one's got staying power. My family and I use it five to six days a week, so it's definitely paid for itself by now.
---
Laurie Gunning Grossman, Hunker's editorial director, caught the California boho minimalist bug. So, she bought a cream-colored couch. And she also lives with two kids and two dogs, so we'll see how that decision pans out.