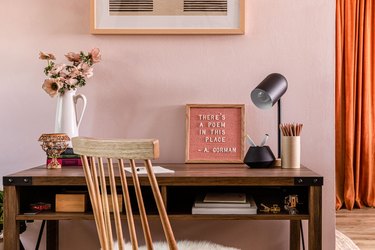 Working from your bed is only fun for so long — and then the need for a dedicated workspace that's easy on your back ​and​ your eyes kick in. This dreamy at-home office setup wins on both counts, with style in spades and practical details to help you feel your best. It's got all the necessities, plus the vibe is so charming you might not even mind staying on Zoom a ​bit​ longer.
To recreate this elevated office space in your own home, you can snag each of the pieces below from Walmart. Keep on reading for the links, more inspo photos, and a few tips.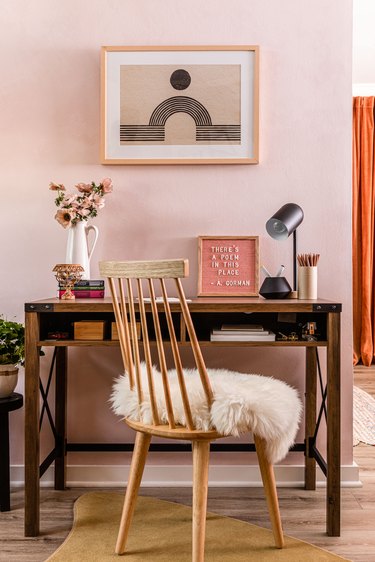 You don't need an entirely separate room to set up your office, but you do (ideally) need a worktop. With a wooden chair plus a plush blanket and rug, this desk space feels streamlined yet still warm and cozy. An abstract statement art piece further helps separate this area from the rest of the room.
Avoid the urge to cover your new wooden desk with every office essential you can find — you want your space to feel motivating and uplifting, not overwhelming. A chic black lamp provides additional light and a pretty felt letter board adds the motivation factor. And keeping a jar of pencils within arm's reach is never a bad idea.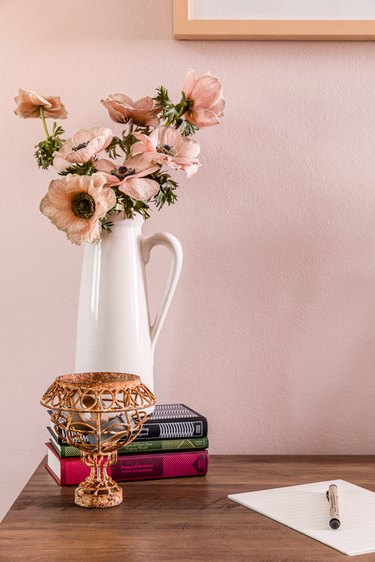 Lastly, adding a few colorful books and a vase with flowers (fresh or faux) can help give your desk a bit more life, without making it feel overcrowded. And a brassy, ornate vase makes a great covert storage space for little odds and ends.