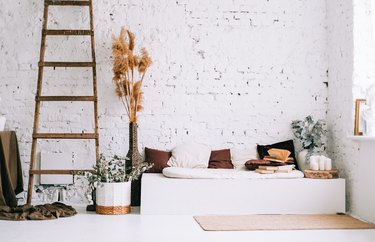 Marked by below-freezing temperatures and limited hours of daylight, winters in Denmark, Norway, and Sweden are notoriously dark and cold. No surprise, then, that Scandinavians have developed a slew of seasoned lifestyle practices — hygge, anyone? — to help combat their winter blues.
1. Go outside — even when it's cold — to practice "friluftsliv."
Recently dubbed the "new hygge" by trend expert Dayna Isom Johnson of Etsy, Brantmark says that the concept of "friluftsliv" originated in Norway and translates as "open-air living." "Scandinavians are blessed with great expanses of incredible nature right on their doorsteps — and seek to harness its healing powers year-round," she explains. "Friluftsliv might include hiking, kayaking, skiing, swimming in the sea, climbing, foraging, or any other outdoor activities you enjoy while surrounded by nature."
When you can't trek into the great outdoors, Brantmark says you can practice a little friluftsliv at home by stepping outside for a short walk — or even your morning coffee — no matter how cold or dreary the weather may be. "The old adage 'there's no such thing as bad weather, only bad clothing' rings true in Scandinavia," she says. "With the right gear, it can feel wonderful to be outside in just about any weather — and the worse it is, the more you will have it to yourself. So wrap up warm, invest in great gear and get out there, no matter the weather!"
2. Balance out your home with some "lagom" decor.
"Lagom" is a Swedish word that loosely translates to "not too much, not too little — just right," and Brantmark says it's all about striking a balance that works for you on a personal level. "Tea can be 'lagom' warm, trousers can be a 'lagom' fit, and you can work a 'lagom' amount of time every day," she explains.
To score some lagom at home this winter, Brantmark recommends integrating decor items that bring a sense of balance and comfort to a room. "Think about adding lots of cozy, natural materials, like woven blankets, rugs and cushions, as well as drawing nature indoors using foraged items from the nearby woods or park," she says. "Mementos that evoke memories from nature are a wonderful way to boost your mood!"
3. Take a break from your phone in the name of "lykke."
Brantmark says the Danish term "lykke" relates to inner peace and happiness, and she emphasizes the importance of finding harmony within yourself in order to feel content. That's why lykke-minded habits often include taking a break from things that might slow you down or make you feel worse mentally.
For a goof-proof way to achieve some lykke this season, Brantmark suggests turning off your phone for at least an hour a day. "There's evidence to show that dialing down your use of social media and taking the time to connect with friends and family in real time helps to boost intimacy and overall happiness," she explains. "Think about switching off your phone notifications and placing it on silent mode somewhere else in the home — or introducing wifi curfews — since phone-free hours are bound to increase your inner 'lykke'!"
4. Cozy up your place with "mysig" in mind.
A Swedish word that means warm and comfortable, agreeable, or cozy, Brantmark says that the Swedes use the concept of "mysig" a lot like the Danes might use "hygge." "Mysig can also be used as a verb, like in 'att mysa', to refer to 'having a cozy time,'" she explains.
To usher some mysig-inspired spirit into your home this winter, Brantmark says all you need to do is create a space where you and your loved ones can instantly relax. "The beauty of creating a home which would be considered 'mysig' is that it doesn't need to be over the top, expensive, or require a lot of work," she explains. "Pick out soft fabrics, comfortable seating, and decorate with items that make you feel good, such as books, photos, and treasures collected on travels, etc. It's simply about creating a space which feels warm and comfortable."
5. Do a summery activity despite the cold weather in honor of friluftsliv.
While it's easy to write off certain outdoor activities as reserved for warm weather months, Brantmark says having a spring-or-summer-friendly outing in the winter is a great way to practice friluftsliv. "Check out walking trails and other activities in your area, pack a picnic or barbecue equipment and a thermos and head out," she advises. "My Swedish husband has taught me that grilling sausages over an open fire in the wild surrounded by snow really helps to warm the cockles [​Ed: Meaning "to cause a warm, happy feeling"​], while getting some much needed fresh air!"
6. Lagom-inspired lighting FTW.
Brantmark says the right lighting can transform a stark space into a lagom-infused scene in no time. "It's amazing what great lighting can do to the sense of well-being at home," she explains. "Edit each room to check how many sources of light you have and aim for at least five to seven sources."
She also recommends placing lights at different levels — on floors, tables, or shelves, or wall- and ceiling-mounted — and installing dimmer switches to create a warm ambience to help you relax. "I love to complement it with candles, too," she says. "On a gray day, why not light a candle ... to give everything a lift?"