Is there anything better than discovering a hidden gem on Netflix? I think not — especially when that tucked-away treasure is ​The Repair Shop​, a soothing British TV series that provides both cottagecore escapism and historical fun facts. It began in 2017, but according to ​Vulture​, the series's third season has been on Netflix since December 2020.
After seeing the show's thumbnail on Netflix, I immediately pressed play once I read its description: "Expert artisans restore timeworn family heirlooms with touching sentimental value while also uncovering their uniquely rich histories." Artisans? Timeworn family heirlooms? Sentimental value? Rich histories? Why yes, I do want all of that in my life.
Hosted by Black furniture restorer and eco-friendly designer Jay Blades, each episode of the show follows the stories of several antiques that are in need of repair. The heirloom's owner brings the item to the shop and explains its history before handing it off to a restoration expert. Then, you get to see uncommon experts like clock restorers, silversmiths, and toy restorers work their magic. This makes for some of the best B-roll I've ever seen!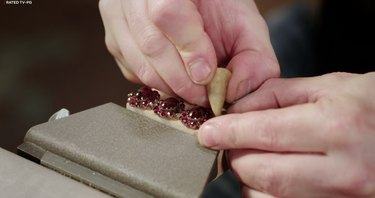 Earlier, I mentioned the show's cottagecore appeal, and that's because it takes place inside the Weald and Downland Living Museum's timber-framed barn from the 17th or 18th century, a 19-century Victorian blacksmith's workshop, and a wagon shed. The museum is located in Singleton, West Sussex, so you also get plenty of English countryside views.
I would describe this show as ​Great British Baking Show (or ​​The Great British Bake Off)​ meets ​American Pickers​, a modern antiquing show. It's not as high-stakes as ​GBBO​ because it's not a competition, but it still has a "wow" factor in terms of the spectacular antiques and mind-blowing restorations you get to see. BBC also markets ​The Repair Shop​ as "an antidote to throwaway culture," so if you're tired of consumerism, that's another perk.
Essentially, if you love home decor, history, the English countryside, emotional family backstories, and restorations, this is the show for you. As of right now, the show's third season is the only one on Netflix, but hopefully more will come our way soon.