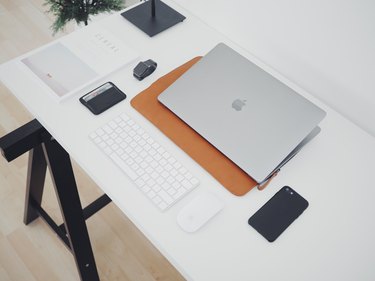 We all know how nerve-racking it can be to lose your iPhone. This is especially the case now that many of us are balancing so many different things at home. One minute, you're helping your kid with homeschooling and the next, your iPhone seems to have disappeared — just in time for a business call. Thankfully, Apple has a hack for this exact situation.
When your iPhone is nowhere to be found, but you know it's in your home, you can prompt the device to play a sound. You can do this even if your iPhone's volume is muted or on silent mode.
On iCloud.com, click the Find iPhone icon. A map should then appear, showing you where your device currently is.
From the All Devices dropdown in the top center of the webpage, select the iPhone you have lost. Then, click the Play Sound option.
If your iPhone is online, a sound will soon play for two minutes while increasing in volume. If the device is offline, the sound will play as soon as your phone connects to your cellular network or Wi-Fi.
Once you locate your iPhone, you can turn off the sound by pressing the power button or a volume button.
You can follow the same instructions for playing a sound on your lost iPad, iPod touch, Mac, Apple Watch, or AirPods. If your AirPods are separated, you can even find them one at a time by muting one or the other via the Find iPhone system.
Also, if you have Family Sharing set up, one of your family members can play a sound on your device via the Find My app.
Technology saves us (and our lost iPhones) once again.