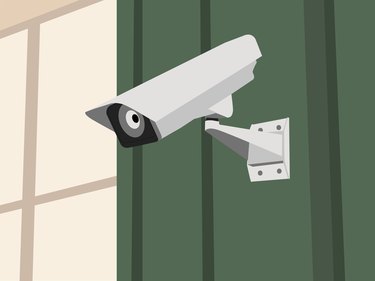 For Black History Month, we are highlighting the people and projects you should know about all year long.
Feeling safe in one's home is a privilege bolstered by modern technology, and home owners have inventor Marie Van Brittan Brown to thank for her contributions. Though she worked as a full-time nurse, Brown also invented the precursor to the home security systems that keep us protected today.
Brown was born in Jamaica, Queens on October 22, 1922, to a family that originated from Pennsylvania, according to activist, author, and academic Herb Boyd in the ​New York Amsterdam News​. Not much else is known about Brown's early life, but writer Jasmin Nguyen reports in an article for the Klein ISD school district in Texas that the inventor attended Harrison College, DeVry University, and the University of Phoenix.
Brown, who often worked at night, went on to marry electronics technician Albert L. Brown, who also worked irregular hours. According to a 1969 ​New York Times​ article, these work schedules are what led the Browns to invent the first audio-video security and alarm system. Since they lived in a high-crime neighborhood where the police were slow and unreliable, Brown wanted to take her safety and the safety of her kids — Albert Brown Jr. and Norma Brown — into her own hands.
"In doing research of STEM women innovators, it was interesting to see a pattern. Many women invented things related to the 'domestic sphere'. This is mainly because women were systematically denied opportunities and relegated to work involving the home," Dr. Virginia Loh-Hagan, author of ​Marie Van Brittan Brown and Home Security​ and director of San Diego State University's Asian Pacific Islander Desi American (APIDA) Resource Center, tells Hunker.
On August 1, 1966, both Marie and Albert Brown filed a patent for their closed-circuit television system (also known as CCTV). The patent shows a drawing of a bedside TV set that broadcasts a video of whoever is at the front door. Installed behind the door is a cabinet that can be electronically moved up or down to open a series of peepholes at different levels, so that people of different heights can be seen. From the bedroom, the user is also able to communicate with the visitor via a speaker and microphone, and this conversation can even be recorded.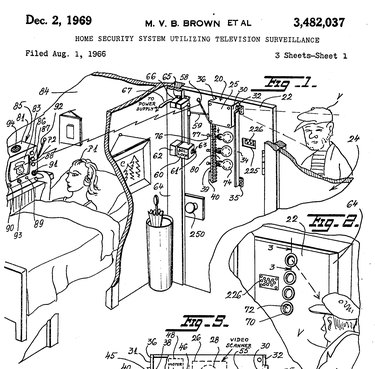 The Brown's security system (as pictured in the patent) then allows the user to press a button that would operate the door's lock, sound a siren, or alert a security guard. The latter was primarily for apartment buildings or houses that have a security office. Once that particular button is pressed, the video and audio could be transmitted to the office for assistance.
On December 2, 1969, the Browns were granted Patent 3,482,037 for their invention. (Yes, Albert, who likely provided his electrical expertise, also has his name on the patent.) According to ​The New York Times​, the equipment was not in production, but the Browns were hoping that manufacturers and home builders would become interested in their idea. They also planned to install one of these units in their own home.
While the ​New York Amsterdam News​ article reveals that she did receive an award from the National Scientists Committee, Brown was never able to sell her idea.
"Without necessarily having a full picture of her everyday life, you could imagine that in the late '60s and early '70s, as a Black woman, she wasn't going to get accolades and money because the world wasn't built for us in that way," Paola Ligonde, a self-proclaimed "stuff enthusiast," interior designer, and the director of curriculum and content at Curious Jane, a company that helps girls build confidence through making things, tells Hunker.
"Brown was able to gain credit by getting a patent, but that process was also oppressive," Dr. Loh-Hagan adds. "Future inventors used her idea to create more advanced systems. Today, there are security cameras everywhere — this is due to Brown. Brown is a part of our daily lives, yet we know very little about her as there aren't many records."
In the ​New York Amsterdam News​, Boyd reports that over a dozen other inventors have cited Brown's work in their own creations. "Her legacy is evident in each and every security system now in use around the world," Boyd tells Hunker. "Every place of business with a camera monitoring a customer's movements is in some way indebted to Marie, and homes as well — think ADT [Security Services]."
In the relationship between Van Brittan Brown and her daughter, it's obvious that knowledge is power. Since Norma saw that her mother was able to patent an invention, this allowed her to feel that the space was also open to her as a Black woman. Imagine all of the other young Black people who could have felt equally as inspired, if only they knew about the Brown's history-making invention.
While Van Brittan Brown has a clear legacy in the form of the home security system, she has also left us with the importance of supporting and amplifying the work of Black creators. Their work has the power to affect Black generations to come.