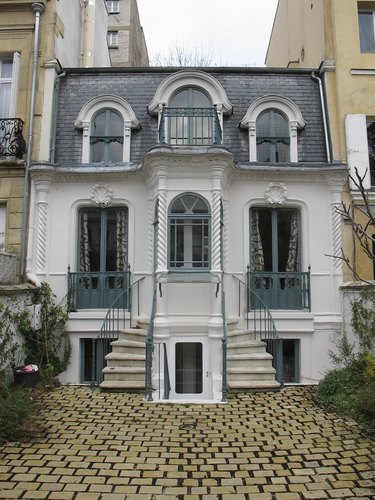 Looking at this 19th-century home located in Paris's 17th arrondissement and renovated by architect Pierre-Louis Gerlier, it's hard to imagine that it was once dark and deteriorated. When its owners, a newly married couple, found the property they knew it could be a perfect family home, so they brought in Gerlier — who is no stranger to transforming tricky spaces — to give it a complete reorganization. But first they needed to turn back time a bit, repairing damaged floors, restoring the facade, and reinforcing beams that had been eaten by insects.
Once the structural work was complete, Gerlier worked on creating a family-friendly layout. He turned the lower level into a dedicated children's floor with two bedrooms, a bathroom, and a laundry area, and the top floor became a suite for the parents. The main floor is now the primary living space, which was opened up by removing a wall between the living and dining rooms. The level is arranged around a central staircase, which Gerlier framed with rounded cabinets, adding storage in each of the spaces.
While the architectural details go a long way towards making the home feel modern, it's the colorful accents that bring it to life. Gerlier used off-white as the primary color, but added in a bright hue on each floor, including a sunny yellow in the children's bath and a grassy green in the parents bedroom. By combining custom elements, vivid details, and lively patterns, Gerlier has helped this 1850s family home reach its full potential.