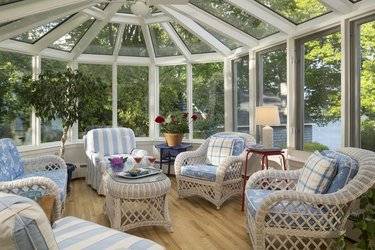 There's no feeling quite like bathing in natural light as you enjoy your morning cup of coffee or the vivid colors of sunset. However, extreme cool or hot weather as well as mosquitoes, flies and other pests can make this dream unrealistic for much of the year — unless, of course, you have a four-season sunroom.
This type of sunroom is a room lined with windows that's insulated and is served by heating and/or cooling equipment. This lets you comfortably enjoy the beauty of the great outdoors all year but without actually experiencing any of the inclement weather. However, before you decide to invest in this expensive but rewarding home addition, there are some important factors you should first consider.
The Right Type of Sunroom
Four-season sunrooms, also known as four-season rooms, all-season rooms or even Florida rooms, are a welcome home improvement project for many homeowners, but they're not the right choice for everyone. If you live somewhere with mild winters or summers, you might be better off with a three-season sunroom or a solarium.
A three-season room is similar to a four-season room in that it has large windows on three walls, but because it is not designed to be heated or cooled (and is not insulated and weather-tight), it cannot be comfortably used in extreme heat or cold. That being said, if you live somewhere without particularly cold winters or hot summers (or if you don't plan to use your sunroom during those times), you might be happier with a three-season room addition since they cost much less than a four-season room. It's worth mentioning that these living spaces still work well to keep out wind and rain, and many are equipped with fans or space heaters to help with moderately hot or cold weather.
A solarium is another type of home addition only its focus is to let in as much natural light as possible. As such, they are made with floor-to-ceiling windows and glass ceilings, whereas four-season rooms generally have solid sections of wall that reach up to knee or waist height, and they have traditional roofs, possibly with skylights to bring in additional natural light.
While the windows in solariums often have low-e coatings to limit heat gain and the rooms may be fitted with heating and cooling systems to keep them more comfortable, the sheer amount of light entering the room can often make them unpleasantly warm in the summer. This is not a problem for people living in cool climates, but for those in hot climates, a four-season room is usually preferable.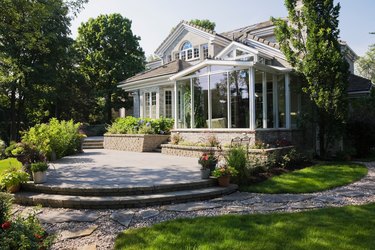 Windows in a Four-Season Room
The windows are particularly important, as traditional single-pane windows can add significantly to a heating or cooling bill, and they can make a sunroom much less comfortable during very hot or cold weather. To maximize comfort and energy efficiency, a four-season sunroom should always employ double-paned thermal windows with high performance ratings. When required by code, they also must have tempered glass for safety.
Thermal windows have multiple features and construction details that can be tailored to your climate, the orientation of your sunroom, and the intended use of the room. For example, if you live in a cold climate and have a lot of north-facing windows and you plan to use your sunroom primarily in cooler weather, you might opt for windows that let in as much solar heat as possible. By contrast, if you live in a warmer area, the room is south-facing, and you plan to use it in warmer weather, you'd want to windows to let in as little heat as possible.
Windows reduce heat loss and air loss and block the sun using a number of different technologies. These include:
Heating and Cooling Systems
Of course, in extreme weather, insulation goes only so far. That's why it is so important to have a good heating and/or air conditioning system serving your four-season room. While many people want their new home addition to be connected to the existing HVAC system, that's not always practical or affordable, so sometimes, it's best to add an independent system.
Expanding your ductwork to your new home addition will cost anywhere between $4,000 and $6,000. Alternatively, you could use a ductless minisplit system that will run around $3,000 on average and won't require any new ductwork. On the cheap end, you can instead add a window A/C unit and wall-mounted heaters, but these can be much less efficient to run than permanent heating and cooling systems.
A few other options you can incorporate to improve the comfort of your room include:
Choosing both windows and skylights that can open to let in cool air on warm days.


Installing ceiling fans with forward and reverse speeds to help cool you in the summer and distribute warm air in winter.


Adding window treatments that can be raised and lowered along the entire length of the windows to provide shade on hot summer days.
Choosing a Sunroom Location
Many people choose to install their sunrooms on their back porch, but that's not always the best location. In Northern climates, a south-facing sunroom can be beneficial because it allows the most sunlight to enter the room every day. On the other hand, in Southern areas, southern exposure can result in too much heat entering the room, which could increase your energy bills.
North-facing rooms are often too dark and chilly in cooler climates, but they are ideal in warmer areas. East-facing rooms are good for providing sun in the morning and shade during the hot afternoons, whereas west-facing rooms may need additional shading in the afternoon.
Finally, don't forget that sunrooms have a lot of windows, which can mean less privacy. You may want to put the room somewhere that's not as visible to your neighbors or else invest in quality window coverings.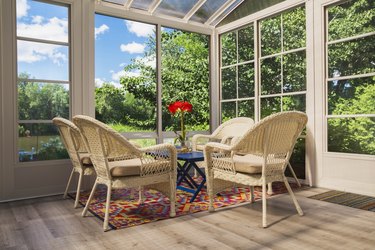 Costs of a Four-Season Sunroom
The costs of adding any sunroom to your home will vary dramatically based on the size, materials, contractor, design and even your location. Overall, expect the budget for your four-season room to be between $25,000 and $80,000, with the materials costing between $15,000 and $60,000 and the labor coming out to somewhere between $10,000 and $20,000.
These estimates are just for the basic room addition without any extra aesthetic interior design elements such as paint, wallpaper, furniture or flooring (many sunrooms just have concrete flooring). Expect to add anywhere from $200 to $9,000 for enhanced design and decor details and even more if you plan to use any luxury materials or brands.
It's worth mentioning that there may be other unexpected costs involved with your new home addition as well. These can include increases in your property taxes, insurance rates and utility costs.
Return on Your Investment
Sure, you'll likely enjoy a four-season sunroom, but a $25,000 to $80,000 addition is a big expense for just about anyone. There's a silver lining: Four-season rooms provide a great return on investment of about 48 percent. That's not just because people like to have a sunroom in their home but also because a four-season room is generally cheaper than a conventional construction addition to your home but still counts toward the overall square footage of the home. In fact, a four-season room is the only sunroom addition that adds to the square footage of your home since it has heating and cooling, making it essentially another room and not just an outdoor area.
Choosing a Good Contractor for a Sunroom Addition
When you get contractor bids, you may notice these companies charge widely varying rates for their work. In general, while a higher-than-average cost doesn't mean you'll get higher-than-average work, a contractor who charges far less than the competitors may cut corners or leave out necessary expenses, so be wary if a price seems too good to be true.
Before hiring a contractor, first see examples of their work, check their reviews, look up their reputation with the Better Business Bureau and ask to see proof that the contractor is licensed and insured. Also, always get a detailed estimate and make sure it includes all aspects of the construction process, including obtaining building permits, arranging inspections, performing electrical work (or hiring an electrician), removing debris and site cleanup.
Your estimate should also include terms and conditions of the work, and the contractor should be happy to tell you what to do if you aren't satisfied with the work or if something causes a change in the estimated project cost. Remember to ask about the company's warranty, as most sunroom contractors offer comprehensive warranties, and if one doesn't, this could be a red flag.
Finally, remember to ask your prospective contractors how long they expect the project to take, as a four-season room may take anywhere from two months to seven months depending on the project's complexity.