Without a landscape edger, you may feel as if something is missing from your lawn care routine. No matter how much time you spend fertilizing, dethatching, watering, mowing, using a string trimmer and loving your lawn, it just doesn't look finished when the grass is climbing out of the yard and across driveways or sidewalks. An electric lawn edger solves this problem, but you'll want to make sure you get the best lawn edger for you and your landscaping, whether you're perusing Amazon or scouring your local hardware store or co-op.
If you have a small lawn, you probably don't need anything fancy to get the job done. In this case, an electric lawn edger might be overkill. If you want to go with a manual edger, you have two types from which to choose.
The first type of manual edger is called a step edger or half-moon edger. It has a long handle with a crescent-shaped blade at the bottom. This blade is flat, so you can simply work it in between the edge of the lawn and the sidewalk or flower bed you wish to trim. Insert the trimmer, rock it back and forth a few times to get a good cut and then move on.
Step edgers only work a very small area at a time, and you may find the work tedious and time consuming. To speed things up a bit, you can get a manual rotary edger. A rotary edger consists of a wheel, a blade and a handle. You place the wheel on the edge of your sidewalk or driveway, push the blade into the ground and then push the edge ahead of you while applying a bit of downward pressure.
Although not as fast as a gas or electric lawn edger, a manual rotary edger can get the job done more quickly than a step edger. It's faster because you can just roll the blade along your edge rather than continuously lifting and repositioning your blade by hand. Nothing beats a step edger around curves and corners, so don't be too quick to get rid of yours if you upgrade.
For bigger lawns with lots of landscaping needs, a powered edger is a better choice than a manual unit. Electric lawn edgers are readily available and are easy to use, and they allow you to work more quickly than with a manual edger. If you want an electric lawn edger, you'll need to choose between a battery-powered unit (a cordless model) or one with a power cord.
Electric lawn edgers are quieter and lighter than their gas counterparts and don't produce the exhaust that a gas engine produces. If you opt for an edger with an electrical cord, such as the GreenWorks 27032 Lawn Edger or the Black + Decker 2-in-1 Landscape Edger and Trencher, note that you may find the length of your power cord limiting. Both these models lock your cord in place so it doesn't pop out midway through the job, but you'll need to have an extension cord long enough to reach everywhere you need to work.
If a power cord isn't feasible but you want an electric model, the best lawn edger for you is likely a battery-powered unit. The Ryobi P2300A One and the Black + Decker 20V MAX Lithium-Ion can both use batteries from their respective brand's other tools. But if it's lightness you're looking for, the WORX WG163 GT 3.0 feels almost feather-like.
You may find that you can't get the entire job done on a single battery charge if you're covering a large area (especially if your lawn edger is a model with a high-volt battery). You will, however, be able to easily take your edger anywhere in your yard.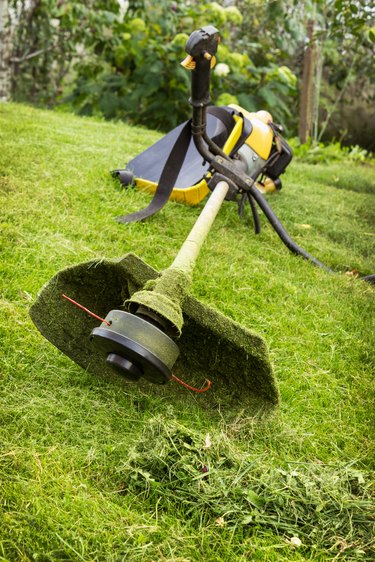 If you have a large area to edge or just like fun garden toys, a gas-powered unit could be the best lawn edger for your property. The McLane 4-wheeled Gas Powered Lawn Edger covers a lot of ground and works well. The Troy-Bilt TB516 has an edge over the McLane unit, however, as it has a jump start button that makes it easier to get going. Gas-powered units are bigger and heavier than their counterparts, but they work quickly, smoothly and efficiently.
Gas edgers are louder than both manual and electric lawn edgers, but you never have to worry about running out of power. If the tank on your edger runs dry, simply add more gas and finish the job. Gas edgers are the least environmentally friendly option, but they're also the easiest and most efficient way to cover a lot of ground.
Note that gas edgers are a bit more mechanically complicated than their electric or manual counterparts. You'll need to change the oil in your edger periodically or make sure you use the right mix of gas and oil for a two-cycle engine. These behemoths can take up a lot of storage space as well.
Pure and simple in design, manual rotary edgers typically have only one wheel. It rests atop the surface of your driveway or border and then propels the unit forward as you push on it. Electric lawn edgers are a bit heavier than manual ones and often have two or three wheels. These wheels help stabilize the unit and make heavier appliances easier to push.
Given their larger weight, gas edgers usually have three wheels. The back wheels propel the unit forward, and the front wheel serves as a guide that helps you stay on track. Some have a fourth wheel, called a curb wheel, to stabilize the edger even more. This fourth wheel helps to keep the appliance from tilting when you're working on a curb or other area with a significant difference between surface heights.
Landscape edgers utilize three different blade styles. They all work slightly differently so they can better perform specific tasks. The most basic blade is the flat, rectangular blade with a plain edge. The plain edge is suitable for edging areas where the ground is even and level. It's commonly used to edge around sidewalks, curbs and driveways.
Other edgers utilize a flat, rectangular blade with a scoop edge. This scoop allows for a kinder, gentler cut that won't kick up a lot of debris while you cut. This blade works well in areas like flower beds or when working around more delicate landscape features. It's also the best choice when there is a significant lip between a hard surface and the lawn.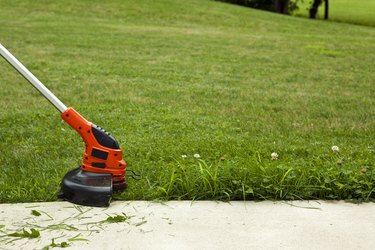 Some landscape edgers offer an adjustable blade that lets you change how deeply the edger cuts. They also let you change the angle of the blade for more precise trimming. If you opt for a corded edger, look for one that holds the power cord firmly in place while you work. It's frustrating to be halfway through your edging job and have the edger become unplugged.
Although not strictly necessary, an adjustable handle is another nice feature. This makes the edger more comfortable for multiple users and generally makes the work easier. You may also wish to look for an edger that does more than just edging. The Black and Decker Edge Hog, for example, also works as a trencher, making it easy to dig a small trench for landscape edging material or installing cable for landscape lights. The more versatile the tool, the more you'll get for your money.
Before making your final selection, it's also wise to examine an edger or its instruction manual to determine how easy future maintenance will be. Eventually, you'll need to replace the blade on your edger, install a new spark plug or perform other maintenance tasks. Choose an edger that makes serviceable parts easy to access and replace if necessary.