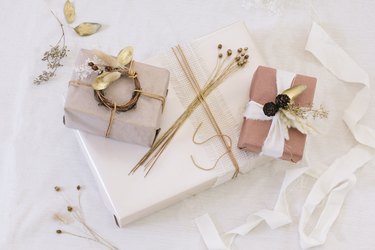 As the holiday season approaches, you likely have gift ideas on the brain. What are you going to get your family members? Significant other? Friends? Boss? Finding the perfect gift for each person is hard enough — and yet, it's made even harder when you consider all the gift-giving etiquette or "rules" out there.
To take the pressure off this season's gift giving, we reached out to gifting experts for advice on the gift-giving etiquette we should all ignore. Turns out, it's always the thought that counts.
Gift rule #1 to ignore: Give a gift of equal value or one that's more expensive.
"Gift giving isn't, or shouldn't be, a 'this for that' kind of arrangement," Aileen Avery — founder of giftexpert.org and author of Gift Rap: The History and Art of Gift Giving — tells Hunker. "Even if gifts are of equal monetary value, it may have no emotional value to the receiver, making the gift less than ideal."
Gift rule #2 to ignore: Do not give gift cards or cash as gifts.
You've likely heard that gift cards and cash shouldn't be given as gifts because they come off as impersonal. However, Avery says that it all depends on who is receiving the gift.
"Try buying the perfect gift for a teenager — hint, it's a gift card!" says Avery. "When tastes and trends change quickly, giving a gift card is the most thoughtful gift to give because you're giving that person the freedom to get what they want."
Avery adds that gift cards are also great gifts for faraway relatives and friends because most can be replaced if they're lost in the mail or stolen.
Gift rule #3 to ignore: Give the kind of gift that you'd want.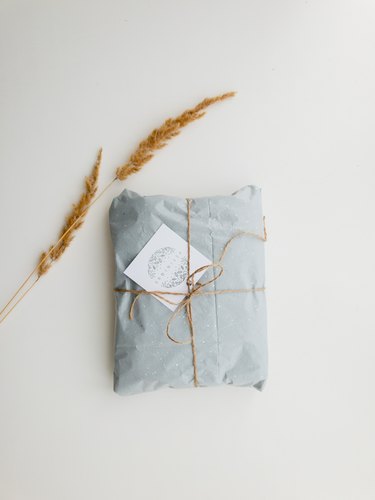 "The 'buy something you would buy for yourself' rule is one that is counterintuitive," Benish Shah, chief growth officer at Loop & Tie, a modern gift-giving platform, tells Hunker. "When you gift someone, the quality and thoughtfulness of the gift is a reflection on you, but the gift itself should reflect the person you're buying for."
Gift rule #4 to ignore: Do not give self-improvement gifts.
Giving a self-improvement gift can be awkward because it might make the receiver feel as though they need to improve. Yet, it ultimately depends on the type of self-improvement gift.
"You don't want to give a diet cookbook to someone unless they've specifically said they are on a diet," says Avery. "But a gift certificate to a yoga class, healthy eating meal plan, or meditation app might be right for a friend who's been dealing with stress or going through a major life change."
Gift rule #5 to ignore: Surprise the receiver — don't buy what they request.
"I completely disagree with gifts having to be a surprise," Julie Kenney, gifting expert from The Gifting Experts and celebrity gifting company Jewels and Pinstripes, tells Hunker. "I have both of my teens make Amazon wish lists … These tools make gift giving much less stressful and the recipients get what they want as well. A win/win!"
Kenney adds that if you, personally, go the wish list route, make sure you include a range of prices that would suit any budget.
Gift rule #6 to ignore: Buy someone a gift even if they say not to.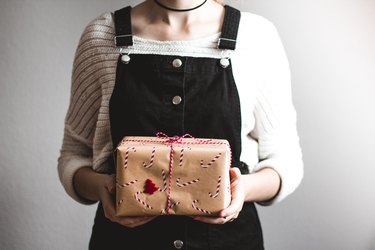 There's always that one person who wants "nothing" for the holidays. Though you might be inclined to disobey their request, Avery recommends that you consider other options.
"A lot of people are realizing that they don't need more stuff in their lives to be happy," she says. "Spending time with loved ones becomes more important." This type of gift can be in the form of a surprise picnic, concert in the park, or an afternoon tea.
Gift rule #7 to ignore: A late gift is a bad gift.
If you're late with your gift, you might feel embarrassed and wonder if you should even give it at all. When asked if this is a rule we should follow, Avery says, "I've never met anyone who turned down a gift no matter how late it is." A late gift can even come off as a fun surprise.
Gift rule #8 to ignore: Your gift wrapping must be immaculate.
When wrapping a gift, you might feel pressured to make it look like it belongs on Pinterest. However, simple (and inexpensive) wrapping can be just as lovely and thoughtful.
"I find it is easiest to buy plain paper brown gift bags — oftentimes sold at dollar stores — put colored or white tissue paper inside, tie a bow with raffia on the handles, and put a cute chalkboard name tag on it," recommends Kenney.
Gift rule #9 to ignore: Gifts should be brand new.
"I'm a big fan of re-gifting, but only if it's an appropriate gift to the receiver," says Avery, adding that you must make sure you don't accidentally leave your name on the gift.
As for vintage and thrifted gifts, they can be even more meaningful than something that's brand new. In the end, all that matters is the thought you put into the gift.