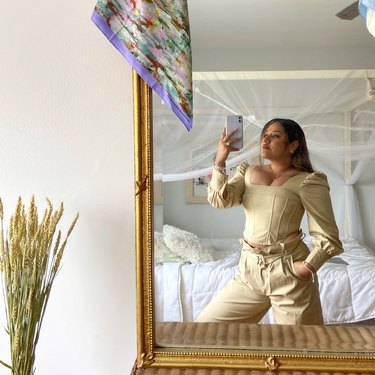 For Latinx Heritage Month, we're highlighting some of the people and brands you should know about all year long.
We often find makers and creators that inspire us with their work and give us serious decor inspiration. Organizer, writer, and educator Amy Quichiz definitely makes that list.
Quichiz co-founded Veggie Mijas, a women- and non-binary people-focused collective focusing on sharing vegan recipes and information with a more intersectional approach than the mainstream. The group takes into consideration not only the best recipes, but also who gets access to resources and which communities need more support. The collective has chapters everywhere from Los Angeles to Austin.
We caught up with Quichiz to chat more about what brings her joy these days, what she's working on next, and how she describes her decor style.
This interview has been edited and condensed for clarity.
Hunker: I really love how you talk about how Veggie Mijas has involved a lot of learning, community, and support. Has everything unfolded the way that you first envisioned it when you started?
Amy Quichiz: When I first started Veggie Mijas with my sorority sister, Mariah [Bermeo], I didn't think it was going to be like this because at first it was just to have a couple of friends. We were even thinking about just having events in New York, but just to hang out. Nothing necessarily super social justice-based or anything — it was just going to be to exchange recipes.
I felt really passionate about food insecurity and how we can help other folks that have gone through similar experiences that we were hearing during the events. It just organically grew. I started a spreadsheet and I just started to put down names and cities of where everyone was — just in case, not really thinking about it until Oakland started its first chapter and started to have events.
And then many cities followed. We started to have more centered events through causes … beach cleanups and farm sanctuary trips and community gardens, to recently having two fridges in L.A. and having bike rides and other potlucks.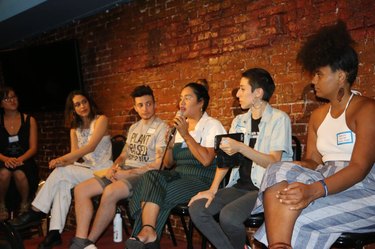 Hunker: Because of the really strange times that we're in, we've seen that people are especially interested in recipes and food. For you, or the Veggie Mijas community, what have been some recipes that have been comforting in this time?
AQ: The one that actually cooks in the house is my partner [Johanna] and she makes all of the food that's so comforting to me. One of my favorite things that she makes is vegan shepherd's pie. She also makes these really delicious pastas.
Hunker: I love seeing your tablescapes at home. How would you describe your decor style?
AQ: My style is modern Parisian, with a bit of bohemian — and then also trying to channel in some pastel Danish vibes as well.
Hunker: That pastel cake stand you had that raspberry pie on looked so good and so adorable.
AQ: Aesthetically, what makes me really happy is really pretty food. And my partner, she went to chef's school for a bit so I feel like she's always very careful in how she decorates the plate as well. And that also really goes nicely with the place.
Hunker: You're working on a book together, is that correct? Can you tell me a little bit about it?
AQ: I don't know if I can say much about it, but it is going to be intersecting with things that we love, such as our art, food, our love story. We're really excited about it.
Hunker: You have a really busy schedule and it's kind of a strange time. How do you find peace or joy at home?
AQ: I have been obsessed with thrifting lately. Painting vases and reusing them has been really purposeful for me ... My night and morning skin routine has been really important. We got really into skin care with the pandemic. I feel like we've gone through so many waves of getting into things that I think "getting into things" has been such a nice thing to have.
My therapist said there's two attitudes right now that people are feeling and one is grasping on to things that make you really, really happy. And then the other one is like, there's nothing that brings you happiness, because the world is on fire ... I was like, "Johanna and I are obsessed with our dog, like on another level. Is that normal?" And she's like, "if it makes you happy during this time, it's OK. That's normal."
Hunker: Also, your dog is adorable, so I can definitely see that helping.
AQ: [_laughs_] Thank you!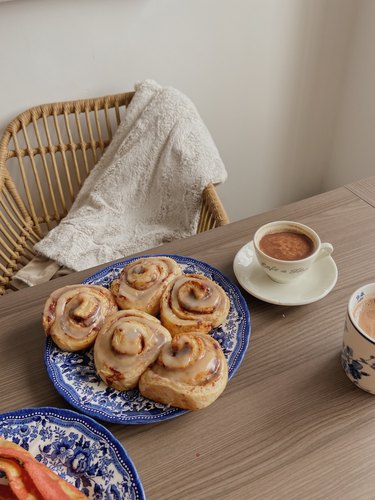 Hunker: What creators are you obsessed with right now?
Hunker: Do you have a memory or interaction with someone from Veggie Mijas that you especially love?
AQ: I genuinely have a connection with so many people in the collective … Everyone has just brought something so beautiful to the table and they all have such a passion for what they do. We all have connected in so many different ways because we all have the same mission. That doesn't really happen that much in a workspace because you are all so busy with work, but we really try to keep this connection not only through work, but through our personal lives … we take time to praise each other for the work that we do at any given moment, whether that's related to Veggie Mijas or not.
Hunker: What's next for Veggie Mijas? What's on your mind as we're getting to the end of the year?
AQ: We're actually working on relaunching our store and the creative team — which my partner is also a part of ... We finally have a graphic designer in-house so she's working really hard, and we're coming out with new stuff and learning how to repurpose items in order to sell them. That's going to really help us, because all of the money that we make from the store goes to organizers and supplies and anything that the community needs. We really need to focus on what our mission is.
The other co-founder, Mariah and our coordinator, Destiny DeJesus, they're going to be taking co-op classes. So we're going to learn how to make Veggie Mijas more green and sustainable and all of those good things in order to have what is our end goal — a physical space with a community garden … There's a lot in store for Veggie Mijas which I'm really excited about because like I said, I didn't think it was going to get to this point. That's the best thing about it — you don't have these expectations and you're going with the flow. That's how the best things come to life.