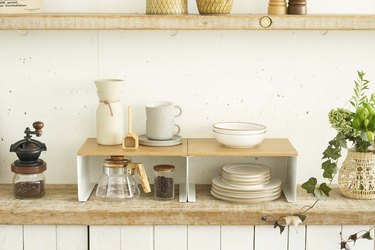 You might not know the name of the brand, but you've certainly seen Yamazaki's minimalist home goods, popularized by the likes of Urban Outfitters and those "coolest Amazon brands" lists. They brand is known for creating shockingly useful yet elegant small-space pieces. Examples include a rolling shoe rack with a solid panel front; a metal kitchen shelf that adds more storage space; and an over-the-sink dish rack. These products have earned Yamazaki a cult following among millennials living in cramped studios in major metropolitan cities — not to mention tiny house enthusiasts.
The company's knack for clever design makes you question whether you've been using certain spaces (and surfaces) the wrong way all along. Yet, while the brand might seem like a product of modern necessity, its roots are more intriguing. Founded about a century ago in Japan, Yamazaki earned its foothold in the market making ironing boards.
"At that time, Japanese society was changing rapidly, including fashion culture," CEO Shigeru Yamazaki, a fourth generation son of the company's original founder, tells Hunker. "As the fashion shifted from silk kimonos to Western clothing, the need for ironing boards was born."
Alyssa Young, Yamazaki's public relations coordinator, points out that "Japanese space-saving solutions are at the heart of Yamazaki Home because Japanese apartments and homes tend to be really tight on space." The designers at Yamazaki searched for ways to make the most out of the small counter space in Japanese kitchens; they also found workarounds like creating magnetic items that take advantage of the metal siding commonly found on bathtubs. In a time when Marie Kondo's downsizing methods have reached viral popularity, Yamazaki has been particularly well-poised to translate Japanese ways of living to a more global audience, especially when people are desperate for new ideas for organizing their homes — or at least ideas that are novel to them.
The same logic that we apply to creating our products for the Japanese home applies to the U.S., Europe, et cetera," Yamazaki says. "Our goal is simply that our audience's experience in the kitchen or bathroom can be made tidier, more efficient, and more organized by our products."
And while these designs seem sleek and almost clinical at times, if you've spent enough time following the brand (like we have), you might've noticed some more quirky motifs. Case in point: an umbrella stand and an over-the-door hook adorned with cats. There's a kids' shoe rack with a bunny, too, but cats seem to rule over the cute item category. Does that mean Yamazaki's design team is made up of cat lovers? Not necessarily.
"In Japan, our full range of items is actually much more extensive," Young says. "It might be a while before we try some of our more whimsical animal and plant designs in the U.S., but we definitely draw inspiration from nature."
Yamazaki fills a void for millennial shoppers looking to go beyond mass retailers like IKEA or Target. The designs are sleek and in line with Scandi-inspired decor, Instagram-worthy pantries, and a growing interest in organization (when so much of current events feels out of control, at least you can keep your apartment in order).
In the meantime, the company hopes to keep coming up with clever solutions for the home.
"There are plenty of people out there searching for the perfect product to fit a certain need, but it doesn't exist," Yamazaki, says. "My vision is to have a company that fills that design gap, creating useful everyday products that have never existed in the same manner."
---
Eva is a Los Angeles-based writer who covers trends, news, and makers for Hunker. Her writing has been featured in the Los Angeles Times, The Guardian, Bustle, KCET and more. She is a proud bookworm and organizes her books by color.