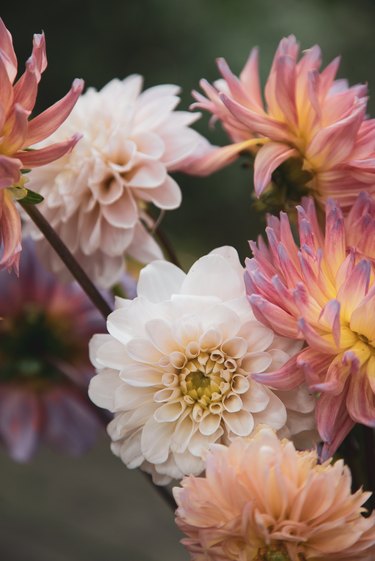 Whether you have a backyard, patio, or balcony, planting flowers nurtures both the garden and the gardener — and spring is a perfect moment to jump in.
One easy-to-get-started way to move forward is with bulbs. While bulbs that flower in the spring (think daffodils and tulips) are planted the prior fall, planting bulbs in springtime will light up your summer garden. Here's what you need to know.
Planting Bulbs in Spring
When a gardener uses the words "spring" and "bulb" in the same sentence, it is usually to talk about spring-blooming bulbs that burst into glorious display in March and April. Daffodils, tulips, narcissus, lilies, iris, and grape hyacinths ... all these are on the billboard as spring bloomers and they put on a spectacular show.
But spring-planted bulbs produce equally dramatic garden color with very minimal effort. Because the rest of the garden has awakened by summertime, the bulbs can be used either in a separate bulb garden or to enrich a perennial garden or container.
The vast range of summer-flowering bulbs allow much more variety than spring-flowering bulbs. Summer-flowering bulbs include oriental and Asiatic lilies, daylilies, and Calla and canna lilies. Also: begonia, windflower, caladium, freesia, dahlia, and gladiolus.
Tips on Planting Bulbs in Spring
Bulbs that grow into spring flowers are hardy: They are tough enough to survive the winter in the ground. When you are planting bulbs in spring, they are tender bulbs that are too delicate to pass the cold season outdoors in cold winter climates.
While all tender bulbs can be planted in spring, the bloom times can extend into late summer or fall. Putting these bulbs into the ground isn't difficult. But it will be easier still if you follow these rules:
Design before you plant. Work with the size and flowering seasons of the different bulb-plant blossoms to find a mix you love. Naturally, it works best to put shorter, smaller flowers (e.g. cyclamen at 3-12 inches) in front of tall, imposing plants (like canna lilies up to 60 inches tall). Mix colors to suit your pallet and make sure something gorgeous is in flower at every point by considering blooming times.
Prepare the soil. This means shoveling and hoeing to loosen the soil and remove clumps and weeds. But it also means working organic compost or peat moss into the soil to lighten and enrich it.
Plant the bulbs correctly. Each bulb must be placed in the soil at the correct depth
—
two and a half to three times its length
—
and with the correct spacing. Check these numbers on package instructions or check out an online bulb planting chart. The pointy tip goes up, the roots down.
Provide lots of water. Bulbs have almost everything they need to grow contained. But they don't have any water, let alone enough to thrive. Water them right after they are planted, then on a regular schedule through blooming.
Cool, Unusual Spring-Planted Bulb Plants
Any spring-planted bulbs you nurture are likely to delight you as they grow. But if you want to move into the fast lane, you could pick something unusual and stunning. Here are a few spring-planted bulb plants sure to turn heads.
Thailand Giant Elephant Ear: These bulb plants (Colocasia gigantea) won't have flowers, but you won't miss them - not for a moment. The foliage is fabulous, with each huge leaf resembling an elephant's ear large enough to use for a hammock.
'Emily McKenzie' Crocosmia: All crocosmia (Crocosmia) deserve a loud and confident "yes," but this cultivar is particularly sexy. Its flowers are supremely vivid in fiery shades of crimson and orange. Easy to grow and easy to care for once established, this is a stunning addition to the garden.
Peruvian Daffodil: Yes, we said daffodils were spring growing plants, but this incredible flower (Hymenocallis festalis) isn't actually in the same family. It's a white South American wildflower that looks exotic, with furled petals on its trumpet-shaped blooms and smells like a particularly fragrant dream.
Foxtail Lily: This fabulous bulb-flower (Eremurus bungei) is one to plant in the back of the beds, since its brilliant yellow/orange flowering spikes shoot up almost taller than you are. Each blossom tapers a bit toward the top to create a spectacular display.
Purple Shamrock: It's the contrast that makes this bulb-plant (Oxalis triangularis) a killer. Purple shamrock is a mounding plant with deep, wine-colored triangular leaves (three per shamrock) and wildly contrasting delicate pink blooms. But this plant gives its all; it puts on a show all summer long!