What do you get when you combine a small family sleepover with a glamping adventure in your own backyard? A glampover — it's a glamorous "getaway" without having to travel anywhere. No need to rough it, though. You can sleep under the stars in style at home with our simple tips for creating the ultimate boho dreamscape for you and your whole family. A little fresh air among the trees and the moon goes a long way!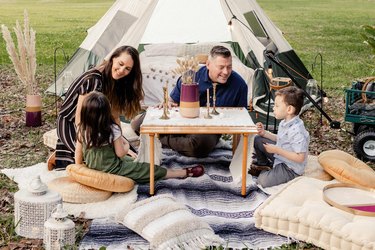 Pitch a Tent
Of course, a yurt is the quintessential glamping tent of choice. But a simple A-frame tent is just as chic —and much easier to set up. We simply hammered the metal stakes into the ground, inserted the center poles, and our lodging was ready to go in under 10 minutes!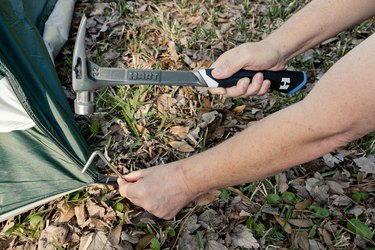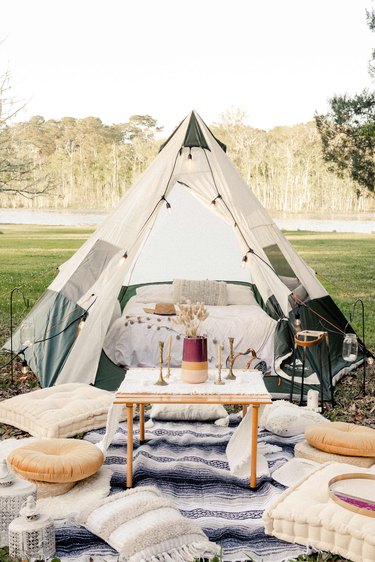 Create Cozy Quarters
Perhaps the biggest distinction between camping and glamping is ditching the sleeping bag in favor of posh sleeping quarters. You can easily create a luxe hotel feel inside your tent with airy linens and a few strategic accessories. A hand-braided jute rug and pom pom blanket ground the space with earthy boho vibes, while a pillow top air mattress is transformed into a sleep sanctuary thanks to cozy bedding and fluffy pillows. A small garden stool used as a side table offers convenient storage for books or reading glasses, and a serving tray is handy for holding drinks or snacks.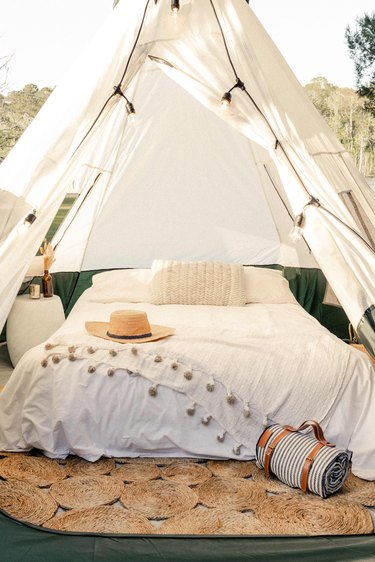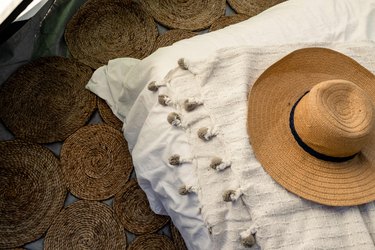 Lounge in Luxury
Elevate your backyard campsite with a stylish space to lounge. Poufs and cushions create plush seating around a portable folding table, which provides a friendly dining surface. Make the gathering place more festive with a vase filled with dried florals. Layers of patterned blankets and sheepskin rugs make it fashionable as well as comfortable. Vintage candle holders mixed in with flameless LED candles add to the bohemian look.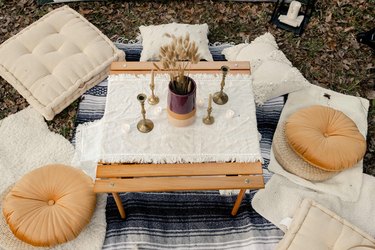 Let It Glow
Nothing sets a cozy ambiance faster than the warm glow of lights. Here, we've strewn string lights around the opening of the tent to create a festive entrance. An assortment of lanterns filled with flameless LED candles safely set the scene, especially when little ones are afoot.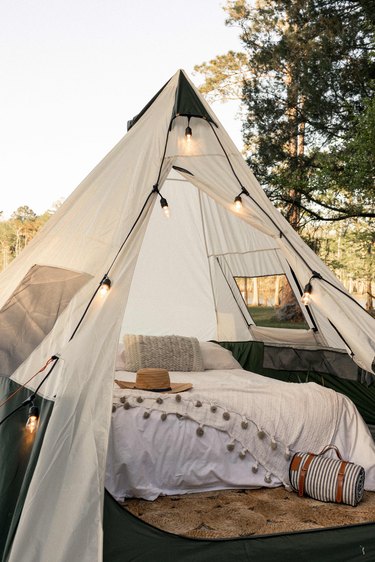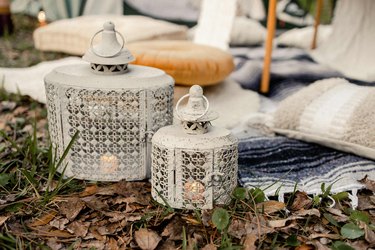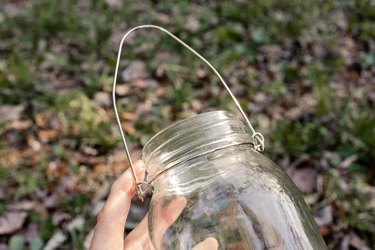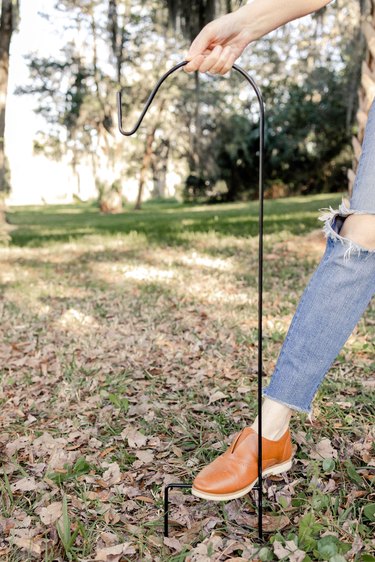 Then hang the mason jars on the hooks, and place flameless LED candles inside. We also hung a tassel on each hook because we're fancy like that.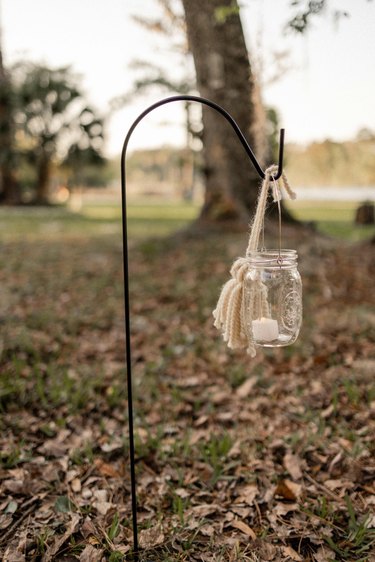 Make a Campfire
You're not enjoying the full extent of the great outdoors without a crackling fire to gather 'round while sipping on hot cocoa. It's as simple as placing a few Adirondack chairs around a portable fire pit. Toss a couple of sheepskin rugs over the chairs to soften the seating — this is glamping, after all. Sure, roasting marshmallows is a campfire tradition, but making popcorn over the fire in an old-fashioned enamel popper is a surefire memory maker.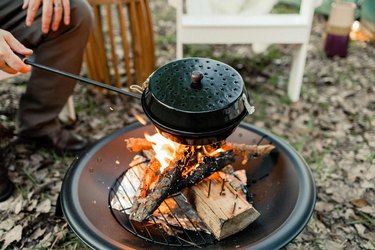 Pack a Moveable Feast
It's not a glamping adventure without having an assortment of snacks at the ready. Make your snackables mobile with an adorable concession wagon that can be wheeled throughout the glampsite. We placed a blanket inside a garden wagon, set some baskets inside that, and filled them with delicious munchies for all to enjoy.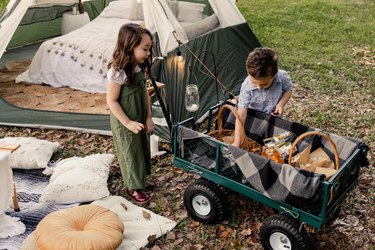 Pssst, parents: If you play your cards right, the right amount of physical activity mixed with the right amount of hot cocoa will tucker your kiddos out long enough to enjoy some quiet time in the great outdoors (aka your own backyard).