Who: Caitlin Flemming of Sacramento Street
Where: Presidio Heights, San Francisco, California
Style: Serene, laid-back luxury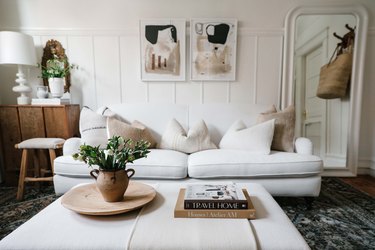 For interior designer and blogger Caitlin Flemming, the look and feel of any room she's designing typically starts with the rug — and more often than not, a vintage one. She bought her first — an antique Oushak rug — when she was still a student at the University of San Francisco, some 15 years ago. "I may have had to eat ramen that month," says Flemming, "but it's what I decorated my home around." And that's still true to this day.
With a statement rug, says Flemming, "Everything else then falls into place."
Flemming's beloved rug now sits in her apartment on Sacramento Street — not incidentally, the name of her much-loved design blog. It's the street she's called home since she was a junior in college, at first, in a minuscule 375-square foot studio, and now, just blocks away, in a 1,000-square-foot, three bedroom apartment she shares with her husband, Eric, and two small children, 5-year-old Jackson and 2-year-old Amelia.
"I feel fortunate to have this much space in San Francisco," she says.
The apartment itself is quintessentially San Francisco — petite, but with lovely period details, high ceilings, and lots of natural light, which makes the space feel much larger than it is. "I love the architecture and bones of the house," says Flemming. "It truly makes the space."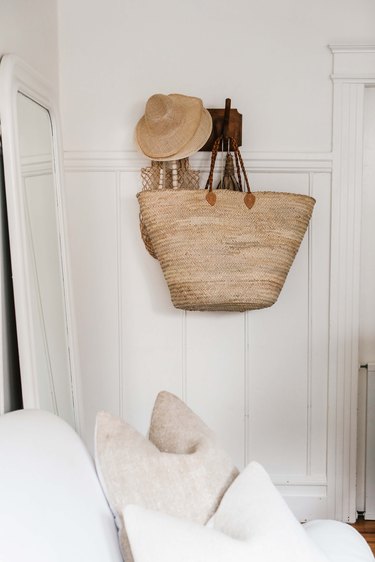 True to Flemming's signature style, which leans heavily on neutrals, white, and wood, the first thing she changed about the apartment was the paint, using Benjamin Moore's Mountain Peak White to wash away the heavy, charcoal gray. It's been the one constant in the eight years she lived there, a neutral backdrop for a variety of updates, many of which are documented on her blog and elsewhere on the internet.
For the most recent, Flemming tapped Tammy Price, of Fragments Identity, to update the living and dining rooms, as well as small touches throughout.
"Caitlin was looking to create a more natural environment," says Price, "something we know well."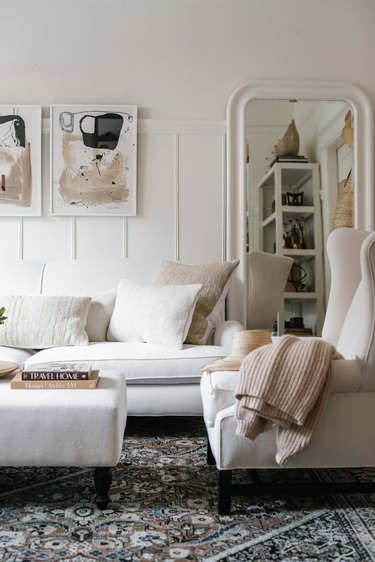 In the living room, which was once home to an antique Queen Anne chair redone in light blue ikat, as well as a traditional tufted ottoman from Serena & Lily, Price brought in a sleeker, more modern white cocktail ottoman and a vintage wingback chair, plus a small Shandong upholstered bench and Fragments Identity pillows that, while neutral in color, offer so much in the way of texture.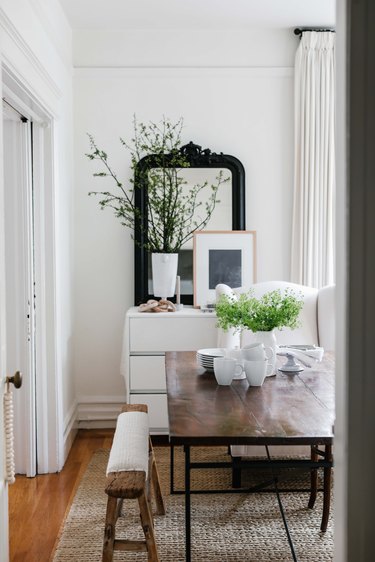 In the dining room, Flemming's mishmash of antique and modern dining room chairs made way for a long, narrow Shandong bench and a pair of French linen wingback chairs. The versatility of the pieces was key, says Price. "This space was filled with amazing light and can function in a variety of ways based upon her and her family's needs. It can function as a beautiful dining room for casual or formal entertaining and also could be paired in a way to become a wonderful workspace if needed."
And in the bedroom, which had recently been redone, the touches were subtle — pillows, and another Shandong bench, which create a sense of cohesion.
"I like a house that evolves with time but also stays pretty constant," says Flemming. "I have items I had in my home growing up and other pieces are more recently acquired. I love a home that has a mix of antiques and modern pieces."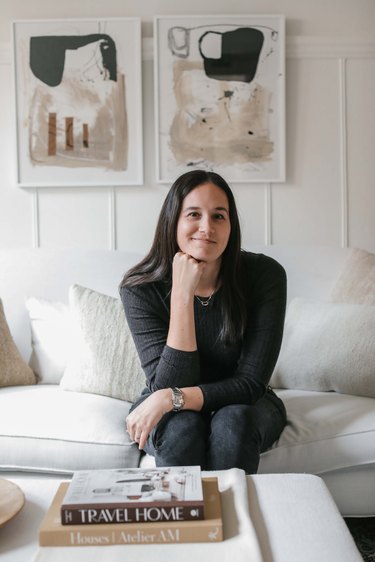 Flemming's recent book, Travel Home, is about the interplay between two of her passions: travel and design. "I like clean design with a lived-in feeling but I also love to be surrounded by things I've collected on my travels," says Flemming.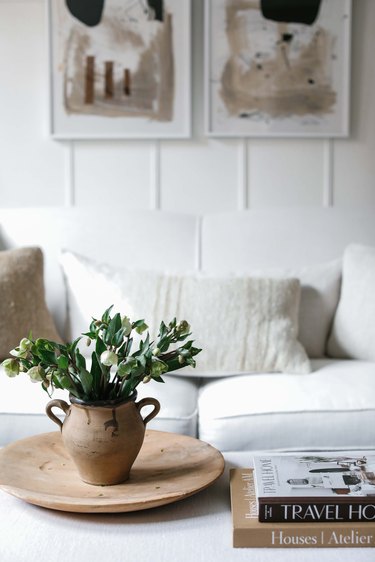 Flemming's space is a cohesive mix of antique and new, the global, and the everyday.
"Most rooms I design, including mine, begin with beautiful vintage rugs, timeless furniture that is comfortable, and pieces from your life," says Flemming. "For me, that's the items I collect from my travels — pillows from textiles, hammam bowls from Istanbul, and, of course, books."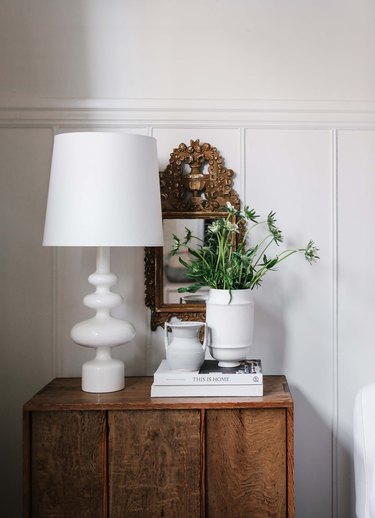 The ceramic vases are by Miri Mara.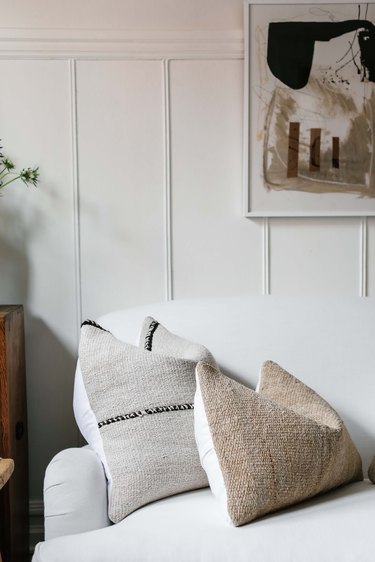 New textiles from Fragments Identity add texture and oh-so-subtle color to Flemming's existing white couch, from Serena & Lily.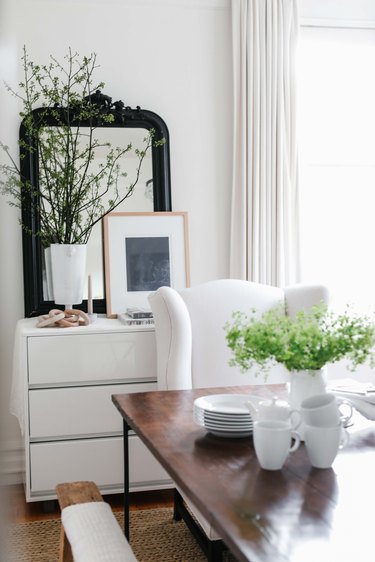 The two words that come up time and again, when it comes to Flemming's approach to design? Serene and timeless. "I don't tend to jump on the latest trends out there. I prefer to be in it for the long haul."