We may earn compensation through affiliate links in this story. Learn more about our affiliate and product review process
here
.
As you step off the busy street that is Melrose Avenue in West Hollywood, California, and into the light-filled space of the Serena & Lily store, it feels like a breath of fresh air. A sectional sofa beckons you inside, and the space unfurls in front of you like one long, well-decorated home. As you move through the area — maybe pausing to smell candles in scents like "We Danced in The Sea" and "Blue Jeans, White Shirt" — you see rows of chairs, pillows, and other decor items in the brand's distinctive California style.
Founded by artist and designer Serena Dugan and former tech executive Lily Kanter, Serena & Lily embodies a laidback, California modern aesthetic. Whether it's a woven raffia nightstand or a striped chambray duvet cover, the retailer offers premium pieces that many interior designers incorporate into their projects (in fact, plenty are known to visit the West Hollywood location to browse new items). You've probably seen the company's name on roundup articles of chic items to buy; the brand also works with hospitality spaces for commercial projects.
The West Hollywood store sits not far from the Pacific Design Center in an area brimming with fashion and decor shops. All while the company boasts locations across the U.S., this one feels especially relaxing.
"This one has a very modern, airy vibe," Khuyen Payne, design shop leader at West Hollywood, tells Hunker. "Which is a really different feel from the other Southern California stores. It's beachy, but not as coastal as our Pacific Palisades store or the Newport Beach store."
You might know Serena & Lily's laidback yet chic vibe from its online presence, but the shop serves as a way to see these pieces IRL and work with an expert on planning out your space. You can flip through coffee-table books, like designer Nathan Turner's I Love California, for inspiration or just browse the catalog. If you know the Serena & Lily item you like and want to explore other products that complement it, S&L employees can help with that, too.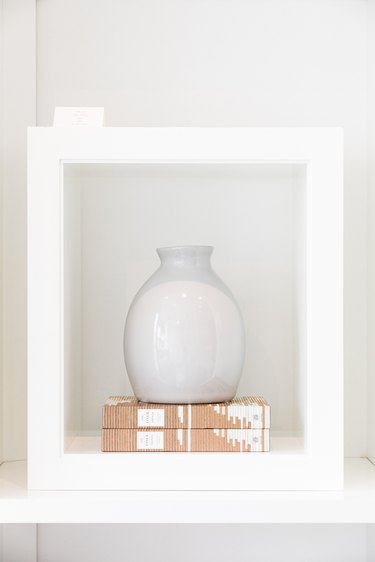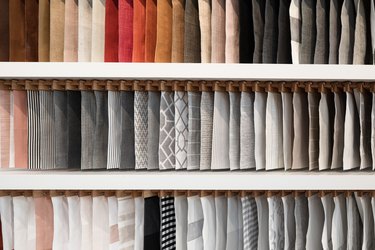 The boutique's "design islands" give visitors a space to chat about their choices and see what might fit their needs best. A swatch wall displays custom upholstery swatches and bedding. The rows of drawers below open up to reveal even more options — a section that Payne describes as "a little jewel box."
"A lot of activity happens along here when we're working with clients — pulling down the swatches, pulling all the fabrics and finishes together," Payne says. "And we also have our rugs back here so it gets kind of messy, in a fun way. We will do anything it takes to pull the clients' visions or the designer's vision together."
The space also includes artworks curated by Serena & Lily's art director, with the pieces changing a couple of times a year. The current selection features a series by Serena Dugan (the brand's co-founder) inspired by the nautical alphabet, bright abstract pieces by Rob Delamater, detailed circular art by Sara Matson Westover, and soft-colored vignettes by EMYO.
The storefront undergoes two "major changes a year," with many smaller ones happening to keep the space exciting. And when new merchandise goes up online, it also makes its way into the brick-and-mortar.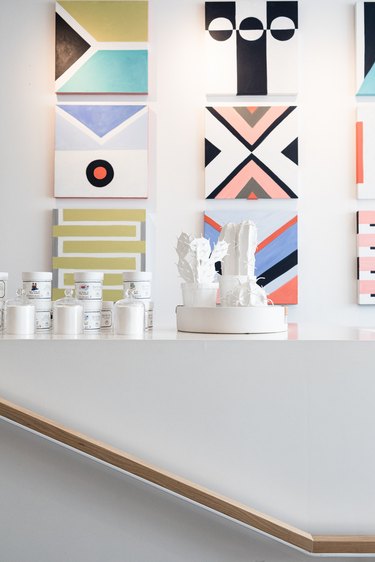 "We always have a new pillow to show you, a new throw to show you," Payne says. "We'll always have more resources to pull from to keep it fresh."
And not just fresh but always welcoming: For Payne, the hospitality at the store is one of the most important parts. What the customer doesn't experience online is the face-to-face attention and approachable expertise S&L prides itself on. In the space, customers can ask questions and explore new options plus experience an item's textures and colors in a relaxed setting.
Our senior director of content, Leonora Epstein, will be moderating a panel at the West Hollywood Serena & Lily store July 20 from 4 p.m. to 6 p.m. featuring Payne, global event planner Stefanie Cove, and Laurel Gallucci and Claire Thomas, founders of Sweet Laurel. Join us for a conversation on summer entertaining and everything they're loving this season. We hope to see you there!