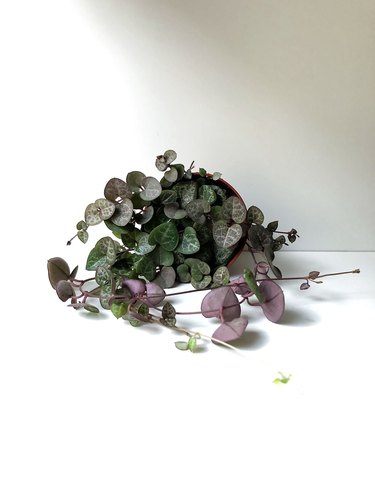 A big bouquet of flowers is the typical Valentine's Day offering between sweethearts, but aren't you ready to put a new twist on the holiday? One trending idea these days is to gift a special houseplant: a living, growing plant that will look great all year long.
On this special day, an ordinary, easy-care fern might not be the ticket. So we've tracked down five great plants that will win the heart of a sweetie, roommate, your mom, or any special other. Order them online today or track them down at your local garden store.
Million Hearts Plant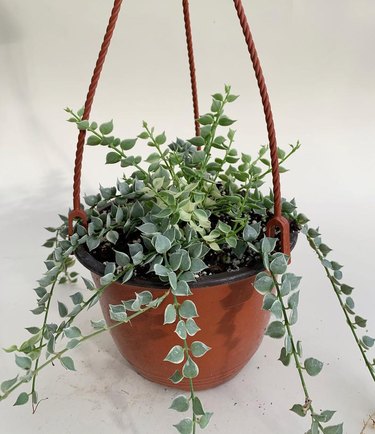 When one heart isn't enough to express your affection, there's Million Hearts Plant (Dischidia ruscifolia), a delightfully lovely and totally fun houseplant. It's another trending epiphyte in a year when air plants are more popular than ever, an evergreen succulent with tiny heart-shaped leaves facing each other on long arching stems. Okay, it may not have a million leaves, but who's counting?
The Million Hearts Plant flowers prolifically when it's settled in, offering a profusion of tiny, white, super-fragrant blossoms that appear in the leaf axils. They seem to last forever and, in fact, bloom all year long with good care. Keep the pot in medium or bright indirect light and water only when the potting mix is dry.
Green Nephthytis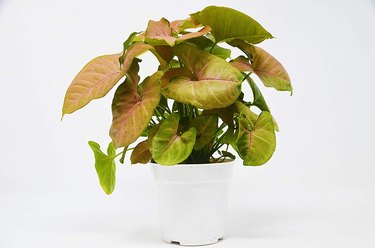 Here's a dramatic houseplant that works perfectly for Valentine's Day thanks to its gorgeously variegated, heart-shaped leaves, often bigger than your hand. It's a climbing tropical vine that can race up an indoor trellis. But it also accepts pruning happily, growing into a more compact and lusher houseplant.
The color range is amazing, with each cultivar prettier than the last. If you aren't sure what you want, opt for Imperial White or Emerald Gem for their striking pallets. This is an easy-care plant that only asks for bright, indirect light and moist soil.
Anthurium Andraeanum
You offer a double-dip of love with an Anthurium houseplant gift, since these tropical beauties have both lush, heart-shaped leaves and also heart-shaped flowers. Anyone would be thrilled to receive this elegant plant on Valentine's Day, especially when they learn about its low-maintenance nature.
While some varieties are collector plants and difficult to grow outside a greenhouse, others are quite easy. One good choice: amazing Anthurium andraeanum Pandola, with its bright red, heart-shaped flowers. All Anthuriums like warmth, regular moisture, and ample fertilizer.
Where to buy: Anthuriums are quite easy to find locally. You can usually find a selection of varieties and sizes in garden centers, supermarkets, plant shops, and florist shops. Lowe's has them for a very reasonable price both online and in the store.
String of Hearts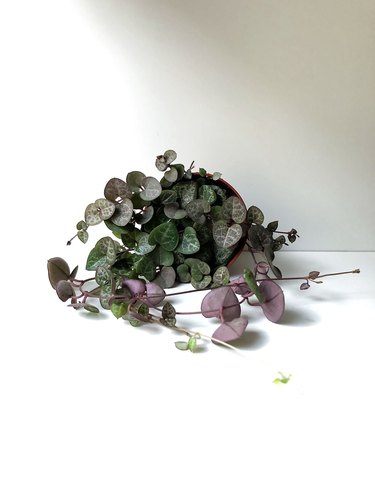 The number of plants with heart-shaped leaves! Is Mother Nature trying to tell us something? String of hearts (Ceropegia woodii) is a trailing gem of a plant, with inch-long, dark green leaves on a "string." The foliage is extremely decorative, with silver marbling above and deep purple tones below.
String of Hearts is perfect in hanging baskets and that's how they are usually sold. But the foliage will also spread out a "skirt" when the pot is placed on a table or windowsill. The small flowers resemble tiny purple lanterns. This is a good choice for a houseplant beginner since its requirements are so simple: sun and a drench-then-dry-out irrigation routine.
Where to buy: For online shopping, visit Etsy, or hurry to Natures Planters. They have a lovely plant available with a special price for the holiday.
Chenille Plant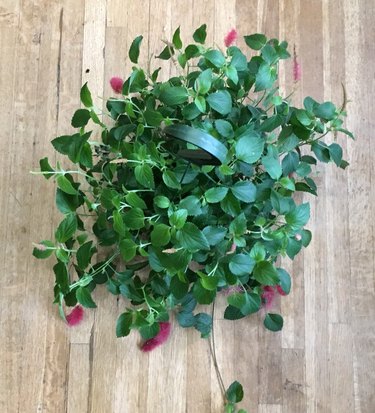 If you are willing to venture away from the heart theme, the Chenille (Ascalypha hispida) might be the coolest plant on this list. Chenille means caterpillar in French, and there's no secret about why. Though the foliage isn't striking, the amazing catkin flowers look exactly like giant-sized, Valentine-pink, fuzzy caterpillars.
The plant attracts all eyes, offering vivid color, texture, and tactile enjoyment. Flowers start out looking like pudgy fuzz balls, but each one can grow to 18 inches long. Another common name: the Red-Hot Cat Tail. Give the Chenille Plant the warmth a tropical plant deserves, plus a south-facing window and consistently moist soil.
Where to buy: You're quite likely to find this plant in a local garden store. But if you want to go online and have it delivered, try Logee's Plants. It has a large selection of different sizes and the prices are reasonable. You can also try Etsy.