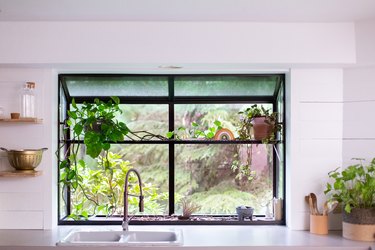 Inexpensive laminate countertops are a versatile choice for many kitchens in that they're durable, easy to care for and available in a greater array of colors and styles than most other countertop materials. The downside: That old forest-green countertop that so perfectly matched that 1980s kitchen may look grossly outdated after your latest kitchen renovation. As long as the laminate is in reasonably good structural shape, it can be repainted with a countertop refinishing kit or a specialty countertop paint.
Painting vs. Resurfacing Laminate Countertops
While both painting and resurfacing laminate countertops gives them a new look, the terms are not entirely the same. Painting refers specifically to using paint to revamp the countertop; this process also includes priming and sealing. Resurfacing, on the other hand, is an umbrella term that means giving the old countertop a new surface. This includes paint but also other options such as tile, a new layer of laminate or even concrete. Most countertop resurfacing or refinishing kits are paint-based but may also include stone chips and resins to emulate the look of a particular stone finish.
Professional companies such as Miracle Method also paint laminate countertops to refinish them, but they may use some materials not generally available at the local home-improvement store. These companies also repair cuts, tears and areas where the laminate needs to be reglued, provided the laminate is in fairly decent shape.
When to Paint Laminate
Paint laminate countertops anytime you wish to give them a new look. Paint or refinishing kits also come in handy when the laminate's color has worn away in some areas or if it has minor chips or scratches. Painting countertops is one of the most cost-effective options when updating a kitchen, as you won't have to tear out the old countertops or pay for new ones.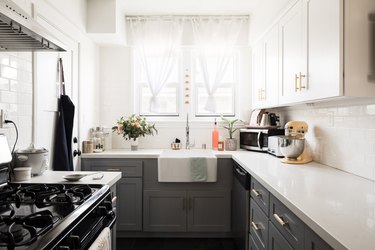 You will, however, have to sand them and repair any chips or minor flaws in the laminate before priming and painting. If the laminate is missing large pieces, is bubbling up or has other major issues, then painting is not a good idea, as the paint and sealant will not eradicate these problems.
Refinishing kits are usually a better option than just painting with a typical interior paint and then applying a coat of sealer, as the kits include detailed instructions, specialty tools and everything needed to ensure a durable finish. This helps eliminate a lot of the usual DIY trial-and-error processes that could result in less-than-satisfactory results when trying different off-the-shelf paints and sealers not specifically designed for countertops.
Elaborate kits such as Rust-Oleum's Countertop Transformations also include materials such as rock chips, adhesive coatings and the proper tints required to help emulate the look of specific types of stone, which could be difficult to do with standard interior paint. Some kits do not include paint rollers or dust masks, but others do, so check the package to ensure you have all the supplies you'll need.
Some products included in refinishing kits, such as epoxies or two-part resins, may emit strong fumes. The packaging doesn't always state the types of chemicals used in each step of the process, so look for the warnings or hazards listed on the packaging or the product information site instead.
Other Paint-Based Refinishing Kits
Other companies also offer complete countertop refinishing kits without stone fragments. Some, such as the Armor Garage Kitchen Countertop Refinishing Kit, are designed to emulate the look of stone using faux-finishing tools and techniques. The Armor Garage kit includes a primer and an epoxy-based paint that goes on with a textured roller to create a look similar to granite.
Once one or two coats of the faux-stone finish are dry, the clear-coat layer from the kit seals the countertop, giving it a durable, slightly shiny finish. Besides the actual coatings used to refinish a countertop, this particular kit includes the specialty rollers and two paintbrushes as well as a paint tray.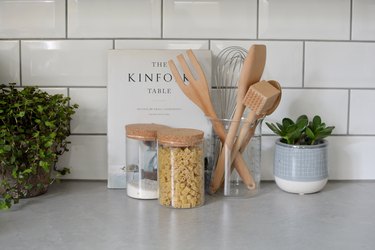 Another option, the SpreadStone Mineral Select Countertop Finishing Kit by Daich Coatings, also emulates the look of stone. In this case, mineral particles are already mixed into the paint, so there's no need to sprinkle in stone or use specialty tools to create a stone-like effect.
One great feature about resurfacing kits: When you decide you'd prefer a different type of finish years down the road or if the surface becomes damaged at some point, you can paint over it again with another resurfacing kit. In many cases, you only need to scuff up the existing surface a bit with sandpaper, clean off the countertop and then apply the various primer, paint and sealant layers from your chosen resurfacing kit.
Specialty Countertop Paint
For the most budget-friendly option, consider an all-in-one paint product designed specifically for countertops, such as Rust-Oleum's Specialty Countertop Paint. This type of surface coating eliminates the need for primers and clear top coats — it's just one liquid, an epoxy acrylic resin, that can be tinted to an array of colors.
This antimicrobial product also resists mold, mildew, moisture and stains. Since it's a fairly simple product, it averages less than $25 per gallon compared to $100 to $300 for a kit with similar coverage. The downside is that the end result is a solid color, so it's not going to look like stone or a stone-composite material.
An all-in-one countertop paint also saves time and money compared to buying and applying separate primer, paint and sealant. Rust-Oleum recommends waiting three days after applying countertop paint before using the countertop. If you apply primer, paint and any type of clear coat separately, you'll have to wait hours or days between coats plus another couple days after completion before you can use the countertop again. No matter which option you choose, follow the label instructions carefully for each product and ensure sufficient ventilation as you work and while the coatings cure.
If you want to use regular interior paint on the countertop — for instance, to create a faux finish requiring more than one paint color or for matching the countertops to a table you've painted — start with a bonding primer designed for nonporous surfaces. The paint won't stick to the laminate otherwise.
After you paint the countertop, apply at least two coats of a durable polyurethane or acrylic sealer that can handle a little heat from pots and pans. Ultimately, interior paints and sealants work well on countertops but may not have the added heat resistance or antimicrobial features found in some specialty products.
---
Kathy Adams is an award-winning writer. She is an avid DIYer that is equally at home repurposing random objects into new, useful creations as she is at supporting community gardening efforts and writing about healthy alternatives to household chemicals. She's written numerous DIY articles for paint and decor companies, as well as for Black + Decker, Hunker, SFGate, Landlordology and others.