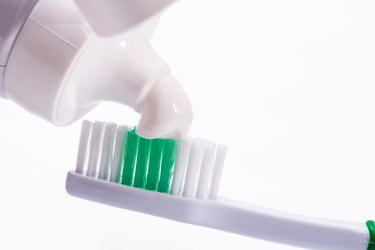 Where would we be without toothpaste? Easily one of the world's most necessary inventions, without it, conversations would not be so up close and personal and a swoon-worthy smile would be a genetic rarity. But toothpaste is so much more than halitosis and plaque's greatest enemy — its decay-fighting, enamel-strengthening, white-brightening ingredients come in handy in all sorts of ways. Here are a few of our favorite unexpected uses for the almighty tube of toothpaste.
2. Refresh Tupperware containers. No matter how clean they may be, plastic storage containers can become discolored and a little funky smelling with frequent use. It's not so different from your mouth, right? Treat the problem just like you would bad breath and tartar buildup, by brushing on a little minty-fresh toothpaste.
3. Clean and deodorize the bathroom sink. Squirt a quarter-sized dollop of toothpaste into the sink and scrub with a damp sponge. The grainy texture is similar to abrasive cleaners, but with a mintier scent that lingers.
4. Clean shoe scuffs. Make your kicks look as white as your smile by using a little toothpaste to scrub off scuff marks and brighten white rubber soles and toe caps.
6. Remove nail polish stains. Dark polish is super chic, but it can leave nails looking dingy and stained. Brighten things up by using a tooth or nail brush to scrub on a little whitening toothpaste and then rinse your hands. Toothpaste can be quite drying, however, so make sure to moisturize afterwards.
7. Clean piano keys. Practice makes perfect, but after awhile, it can also leave keys looking a little grimy. Use a moist paper towel and a dab of toothpaste to buff away dirt and germs.
8. Soothe bites, burns, and bruises. A bit of plain white toothpaste will minimize the urge to scratch mosquito bites, take the sting out of minor burns, and fade a bruise's black and blue hue.
9. Remove watermarks on wood furniture. The rings are a persistent reminder of all the times you forgot to use a coaster -- but they don't have to last forever. Use a soft cloth to rub a small amount of non-gel toothpaste onto just the watermark, and then wipe clean with a damp cloth. Voila!
10. Smooth scratched surfaces. Use a tiny bit of toothpaste to gentle buff small scratches on watch faces, smartphones, CDs/DVDs, and glass surfaces until they're invisible to the naked eye.
11. Brighten headlights. Next time you wash your car, give the headlights a little extra TLC. Built-up dirt and grime can give headlights a foggy filter, making the bulbs appear dimmer than they actually are. Use a paper towel to buff on a squirt of toothpaste, and then wipe clean. You'll be shocked by how much brighter your headlights will shine!
12. Patch up holes. In a pinch, you can use plain white toothpaste instead of drywall spackling to cover up unsightly nail holes before painting.
13. Brighten bathroom caulking. Use a toothbrush and some toothpaste to scrub away mildew and soap scum from the tight crevices in between tiles and around the bathtub, sink, and toilet.