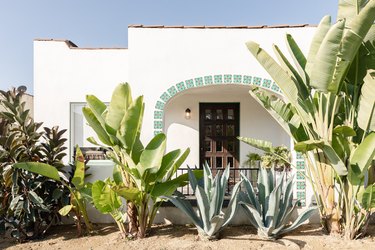 Winter can be a tough for a lot of reasons. Along with heavy clothes and shorter days, we have to deal with cold weather and sometimes, snow and ice to boot. However, new research from ATTOM Data Solutions suggests that because of these winter setbacks, December, January, and February might also the best time to buy a new home. "Even if you live an a warmer part of the country, the benefits of buying in the winter far exceed the cons," says agent Martin Eiden of Compass Realty.
We reached out to a few real estate experts to figure out why shopping for real estate during the winter is worth the hassle, and they had lots to share. From better deals to more attentive agents, here's why they say winter is the season to buy.
1. There's not as much competition.
The holiday season and new year is a busy season for just about everybody — which is why our experts say it's the perfect time to shop for a new place. "As a general rule, the holidays start everyone thinking about the remainder of the year and how busy they anticipate being," says agent George Case of Warburg Realty. "Most people tend to buy during the spring and summer months, especially those buyers with children, so their move is timed with the beginning of the school year," adds agent Marilyn Blume of Warburg Realty. "This leads to less competition, so the buyer will have the upper hand."
2. You'll get a better deal.
According to our experts, fewer buyers in the winter market means you have a much higher chance of scoring a good deal on a property that no one else is interested in. "Most sellers listing in the winter months either have a sense of urgency because of work and relocation or are still on the market from the fall — which means better deals for buyers," Case says. "Families tend to delay a move until the school year ends, so if you think you can weather that disruption, the homes that are on the market tend to be ready to go and up for negotiation."
3. Hiring movers is easier — and cheaper.
Since fewer people move during the winter months, our experts say reliable movers are easy to secure at lower rates. "Movers are less expensive in the winter as they are not that busy," Eiden says. "Along with better deals and less competition, the benefit of a cheaper move far outweighs the hassle of moving in the middle of a school year (and in colder weather)."
4. You might get a loan faster.
Much like movers, our experts say work also slows down for mortgage brokers in the winter months — which can speed up the loan process for buyers. "Mortgage brokers will generally have fewer transactions during the winter months so you can close on your loan faster," Blume says.
5. Agents are more attentive.
Less competition and slower sales during the winter means that your real estate agent can be more focused on finding you a home. "As a real estate agent, you tell your winter buyers that you can devote more time to meeting their needs since you're not as busy as during the spring and summer months when most people are looking to buy a home," says Louis Adler, Co-Founder and Principal of REAL New York. "Open houses are usually less busy as well, although the people that do show up are most likely more motivated to buy compared to other times of the year."