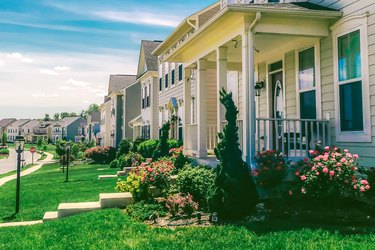 If you've read anything about the housing market in the last few months, the one word you could use to describe it is "chaotic." It's actually quite hard to get a grip on what's happening — because while competition is still steep for houses in many areas of the country (driving prices way up), it has slowed down in other parts, like Austin, Las Vegas, and Tampa. On top of that, interest rates are still frustratingly high (hovering around 7 percent) and inventory is low, meaning there aren't very many available houses from which to choose. And with all of this, it's been reported that the market as a whole has had its largest drop in over 11 years. (Phew! Are you still with us after reading all of that?)
So, where does this leave you — a person who may or may not be thinking about buying a house, a condo, or an apartment? Should you wait it out until things calm down or until interest rates decline a bit? Or should you dip your toe into the choppy waters of the 2023 real estate market and hope for the best?
To answer these questions and more, we turned to Realtor.com's chief economist Danielle Hale, who broke down some of the biggest pain points in this current market as well as strategies for buyers to consider in this uncertain time.
How Do You Determine if You Should Buy or Keep Renting?
Let's say you have a down payment saved, you've increased your credit score, and you're ready to finally stop having to ask your landlord if you can paint the walls or hang curtains. Should you forge ahead, or should you throw your down payment money in a high-yield savings account until things get a little more even-keeled?
"A buyer's readiness is the primary thing to take into account when deciding whether or not to buy or rent. Market conditions are a secondary consideration," Hale says.
When considering "readiness," buyers need to consider the following:
How much they can afford each month
How much they have available for a down payment
What their savings account will look like after the purchase goes through
How long they plan to live at the home they're purchasing
How long they plan to stay at their current job
How their family might be changing in the next five to seven years (i.e., will your space be too small because of a growing family?)
"A rent-versus-buy calculator, like you'll find on Realtor.com, can help you run the numbers and arrive at a length of time you'll want to plan to live in a home you buy for buying to be a better financial decision than renting. Market conditions are also important because they can determine whether you'll be able to find the home that fits your needs in the neighborhood you're eyeing that's also in your budget," Hale says.
So yes, interest rates are higher at the moment, and prices are high in many areas because of stiff competition, but no matter the circumstances of the current market, it all comes down to that monthly mortgage payment. If all the houses you're looking at are way beyond reach, it is likely not a great time for you to buy. (If you're unsure of what you can afford in your area, Hale recommends Realtor.com's affordability calculator.)
When Will More Houses Come On the Market?
One large reason the housing market is still at a pretty large disadvantage to buyers is because there simply aren't enough houses to buy. Why? Because many homeowners are locked into 2 to 3 percent mortgage rates — this means their mortgage payments are lower because it costs them less to borrow the money from their lender — and they likely don't want to sell because they'll inevitably pay a higher mortgage on a new house.
"It's going to take some time for many sellers to be ready to relinquish their record-low interest rates. I expect that over the next two to three years, we'll see the gap between market mortgage rates and the rates homeowners currently have shrink," Hale says. "At the same time, we'll see pent-up demand from family and other life changes grow, and that will help balance the financial considerations with life considerations and bring more homeowners back to the market as sellers."
In other words, if you're deciding between renting and buying right now and you're waiting on more houses to come available on the market, you may be waiting for a while.
How Can Buyers Get a Good House Without Overspending?
Though markets are cooling in certain areas of the country more than others, competition is still intense — but only for certain types of houses.
Jaime Dunaway-Seale, author of Clever.com's American Home Buyer and Seller Report, says, "From our research, we've settled on the conclusion that overall, there's less competition. However, there is still a lot of competition for homes that are fairly priced and in good condition. Listings are increasing a bit, but not all those listings are quality listings that attract buyers. There might be a buyer out there who is willing to bet on a fixer-upper, but most people want move-in-ready homes."
If you are a buyer who is looking at one of these move-in ready listings that's priced fairly, you might see the house going way over asking and be expected to waive things to remain competitive, like an inspection or even an appraisal. So, how do you buy a house in these current market conditions without having to completely overextend your budget?
"For buyers in this market, flexibility is key. It's hard to get all of the features that you want in a home that's also where you want it to be and in your preferred price range, so think about what's most important to you and focus on that. Be willing to compromise on things that you can change," Hale says.
For example, Hale explains that you might have to trade in a long commute for more space, or you may need to sacrifice an extra bedroom for a short commute.
The most important thing to prevent overspending, however, is to slow down a bit.
"In our research, we've found that the top buyer regrets were typically about money and spending too much [and] buying too quickly. I think sticking to your budget is huge," Dunaway-Seale says. "Now, buyers do have a little bit more time to really consider things and think through them. It feels like you shouldn't because that's been the norm over the last three years, but it is OK to take a day or two now to think through things."
How to Make a Decision You Feel Good About
Ultimately, when you're considering buying or continuing to rent, you need to really understand what you're trying to accomplish with a house purchase.
"The housing market can sometimes be a frustrating market to participate in. In order to be successful in the housing market, a buyer needs to be really clear on what success means to them — enough space, a specific neighborhood, or a home that's well under budget. In a competitive housing market, buyers have to make tradeoffs, and knowing your priorities can help you do that well," Hale says.