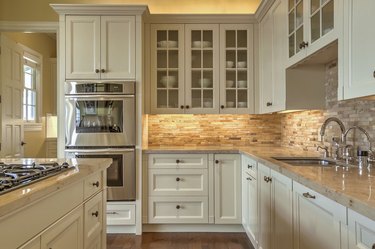 If you want to give your culinary quarter a natural flair, consider adding a stacked stone backsplash to your kitchen. As far as we're concerned, there is something about a stacked stone backsplash that can make your space feel warm, welcoming, and oh-so-inviting.
Below, check out six of our favorite stacked stone backsplash ideas that are bound to bring some style to your kitchen.
Multi-Stone Mixture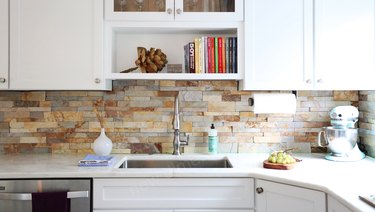 Ready to make a statement? Take a cue from Norstone USA and inject some color into your stacked stone backsplash. With hints of tans, grays, off-whites, and the occasional hint of terracotta, a multi-colored stone backsplash hits that sweet spot between eclectic and effortless. If you want to take your vibrant stacked stone backsplash to the next level, couple this look with crisp white counters and cabinets.
Create Contrast
While a multi-colored, stacked stone backsplash does exude a whimsical, rustic feel, the look isn't for everyone. If you want to incorporate a stacked stone backsplash into your kitchen, but don't want to compromise your cool, minimalist aesthetic, choose one color and stick with it. In this space from Real Stone Systems, the floor-to-ceiling charcoal stacked stones keep the space feeling current, yet is a considerable upgrade from the ubiquitous subway tiles we see on most kitchen backsplashes. Peppered with small yellow accents, this contrasted kitchen embraces the swoon-worthy, Scandinavian aesthetic.
Mixed Materials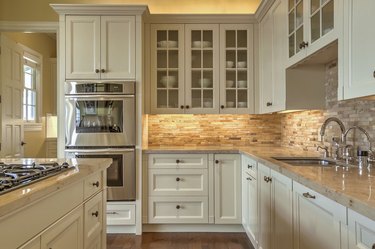 Why settle for one statement material when you can enjoy a few? Arjay Builders brought the great outdoors inside by coating this kitchen with light, marbled countertops and a stacked stone backsplash. If you want the mixed materials to make a statement — but not take the attention away from all the delicious dishes you plan to cook inside your kitchen — stick to a similar color palette. The light tan color scheme strikes a balance between subtle and statement.
Make It Modern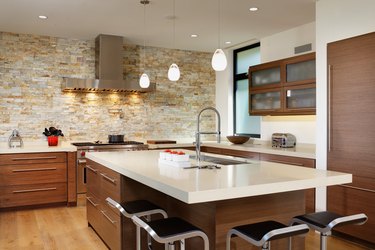 Whoever thought stacked stone backsplashes should be exclusive to a farmhouse aesthetic hasn't seen this modern alternative from By Design. Instead of injecting rustic details into the space, the residential design firm took a contemporary approach with an angular island, modern oven hood, and slim pendant lights. Here, the stacked stone backsplash acts as the perfect finishing touch, warming up a traditionally modern space.
Break It Up
Dipping your toes into this kitchen phenomenon for the very first time? It's all about portion control. Oakley Home Builders flexed its editor's eye by adding a stacked stone backsplash behind the oven and adorning the rest of the walls in a neutral tile. Paired with an ornate hood, the stacked stone backsplash makes a statement without overpowering the entire room. After all, less is more.
The Perfect Touch
Residential architecture and design firm Geoff Chick & Associates gives this pristine kitchen the textured treatment with a floor-to-ceiling stacked stone backsplash. By dousing the entire kitchen in a crisp white, the stacked stone backsplash gives the space some extra dimension, adding some nuance and texture to an otherwise monochromatic space. The large silver hood brings the attention to the kitchen walls, turning the stacked stone backsplash into a wow factor.