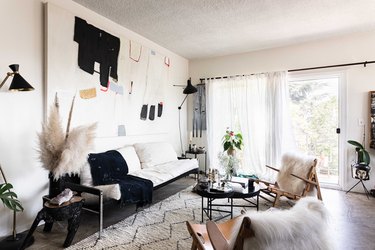 Plain concrete floors are just plain ugly, but a concrete overlay can (thankfully) help you get a more attractive look. Durable and easy to maintain, concrete is an excellent choice for basement and garage floors as well as patios and pool decks. Concrete lasts for years and asks for little to no maintenance in return, but it certainly doesn't add any color or pizzaz to your decor. For that, you should consider a concrete overlay.
Applied over the top of existing concrete, a concrete overlay allows you to add color, texture or fun designs to your concrete floor. You can install an overlay at any time, allowing you to change the look of your concrete even if you installed it years ago. As long as your existing concrete is stable, you can jazz it up with the overlay of your choice.
What Is a Concrete Overlay?
A concrete overlay is simply a thin layer of concrete that you apply over an existing concrete slab. Once made entirely of concrete themselves, overlays were applied to level or resurface uneven concrete, hide stains and help preserve older concrete installations. Stain and dyes were sometimes added to the overlay to create colors and patterns.
Today's concrete overlay systems take things a bit further. Although still made primarily of concrete, modern overlays add resins, acrylics and other compounds to the mix to change the characteristics of the floor. New overlay mixes provide a cost-effective way to help your concrete resist damage from salt, ultraviolet light, or chemicals.
A concrete overlay is an excellent way to make a tired slab look new again. Concrete resurfacing is less expensive and labor intensive than digging out the old concrete and replacing it, and it allows you to easily add decorative touches to your floor. You or a professional concrete contractor can apply a thin microtopping no thicker than a credit card to your slab or add several inches of overlay to raise the floor if desired.
If you're just looking for a pop of color or a glossy finish, you do have the option of applying a colored stain to your concrete floor or polishing it. Both will improve the appearance of the floor but don't solve as many issues as an overlay. For example, stains won't cover tack holes if the floor was previously carpeted nor completely disguise discolored areas or patches. An overlay will, and it will also allow you to stamp your concrete if desired.
Decorative concrete overlays aren't just for concrete floors either. In some cases, you can install an overlay over wood, linoleum or vinyl floors. According to ConcreteNetwork, doing so may require adding metal lathe to the floor to add support and give the concrete overlay a rough surface with which to bond.
It's important to note that concrete overlays are not a panacea. An overlay is only as good as the subfloor underneath it. If your existing floor is buckling, crumbling or severely cracked, throwing an overlay on it won't solve the problem. In these cases, you'll need to repair or replace your concrete rather than resurfacing it.
Note too that concrete is an unforgiving material with which to work. Removing and replacing the concrete is often the only way to fix a poorly applied color stain or concrete stamp. The process is time consuming, messy and expensive if you've done the job yourself or hired a contractor who refuses to correct a mistake.
Concrete flooring and overlays may also be a bit too tough for some. The surface often feels cold and certainly doesn't provide any cushioning. You can resolve these issues with a few area rugs, but you may want to think twice if you have toddlers or elderly family members who are prone to falls living with you.
Concrete Overlay Installation
The first step in installing a concrete overlay is to hire a good contractor. Overlay installation is not a DIY project. Before he begins, your contractor will likely consult a structural engineer to confirm that your floor can hold the weight of additional concrete. Once the engineer green lights the project, your contractor will perform surface preparation on your existing floor. This involves repairing any cracks in the concrete and then using a sandblaster or acid-etching chemicals to remove any existing concrete surface coatings and rough up the floor.
When the subfloor is ready, your contractor will mix the concrete overlay according to the manufacturer's instructions and then apply it. Depending on the desired finish, overlays may get sprayed on, applied with a trowel or smoothed over the floor with a large squeegee. He may add colored dye to the concrete mix to create the finished color or provide a base color for more intricate staining later.
If you've opted for stamped concrete, your contractor will allow the concrete to partially set before adding the stamp. He may also use his trowel, a saw or specialty tools to add the desired texture or designs to your floor. Once the concrete is set, additional stains and dyes may be applied to create the finished look you chose. Your contractor may also polish the floor. After allowing the concrete to cure for a day or two, your contractor will return to your home and seal your fresh concrete for extra protection.
Indoor Overlay Care and Maintenance
Although it is a bit tricky to install, decorative concrete overlays are easy to maintain. Cleaning concrete is as simple as running a microfiber mop over the surface. You can remove dust and dirt with a dry cloth, but use a damp one for a more thorough cleaning. To clean up spills, use a pH-neutral cleaner and a damp cloth.
For extra protection against spills and stains, waterproofing and restoration company Saver Systems recommends sealing your new concrete overlay four to six weeks after installing it. You'll need to reapply the sealer every few years. Exactly how often depends on the amount of traffic your floor receives. It's time to reseal when the floor coating begins to look uneven or splotchy.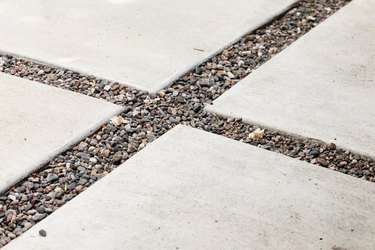 Outdoor Overlay Care and Maintenance
Concrete overlays used outdoors on patios or driveways do require a bit more care than those used indoors. You may find you need to reseal your outdoor overlay every two years. If you live in an area that gets snow, use plastic shovels on the concrete rather than metal ones that can chip or damage your overlay. Avoid using salt and ice melters as well.
It's also important to be mindful of water. You can't stop the rain, but make sure your spouts don't drain onto the concrete and that lawn sprinklers don't saturate your overlay. You should also make sure any potted plants placed on the concrete are elevated at least 1/2 inch above it. If you don't, the minerals in the water can damage your sealer and stain your concrete.
When cleaning outdoor patios and overlays, don't get overzealous and break out the power washer. Your garden hose will do just fine, and it is much safer to use. Although it's more fun than it should be to power wash pretty much anything while grunting like Tim "The Toolman" Taylor from "Home Improvement," repeated power washings weaken concrete sealers and overlays.