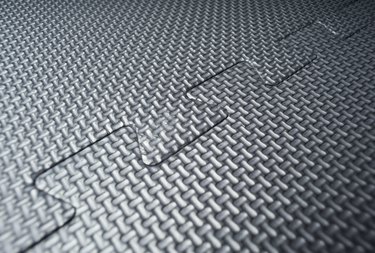 Rubber floor mats are a unique option for rooms that need heavy-duty padding, like a home gym, a playroom, a kitchen or a garage. Rubber mats are shock-absorbent, affordable, long-lasting and easy to install.
According to Old House Journal, rubber became a popular flooring choice among homeowners in the 1930s as square tile. Today, it is available in many colors, styles and designs and has many functions. Indoor and outdoor mats can last for years with the proper care and maintenance.
The Benefits of Rubber Floor Mats
Rubber is a natural, eco-friendly substance created from rubber-tree sap and has many uses. Made with a mix of raw and recycled material often used for tires, rubber is cut into interlocking pieces, squares or rectangles to create rubber-mat flooring. The material can withstand harsh conditions such as high-traffic areas and prolonged sun exposure. It is extremely heavy duty and will keep its shape and function for decades, but proper care and maintenance of rubber flooring can also extend its life.
Rubber mats offer nonslip coverage on hard, potentially slippery surfaces and can be found in a number of styles and thicknesses to suit your needs. For example, if you're standing for a long time in one place, a thick, grooved mat is preferable to a thinner mat, which works best for walking.
You can easily cover an already-existing floor with rubber-flooring mats, as they require little installation. Available as runners or interlocking tiles, they can cover the whole floor or sections of it, such as underneath fitness equipment or in front of a sink. You can place them in most spaces, even those with odd angles. Installation involves placing down the mats and rolling them out or snapping them together depending on the type of mat you have. If you need more security for your rubber mats, you can secure them to the floor with double-sided tape.
Unlike wood, which can expand or contract depending on the humidity, rubber maintains its original dimensions throughout its life. It absorbs sound, resists static and is impact- and water-resistant. Rubber mats are also mold- and mildew-resistant and do not scuff or scratch.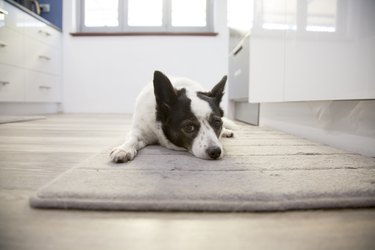 Anti-Fatigue and Anti-Slip Mats
Often used in high-traffic areas, anti-fatigue mats help decrease pain in the back and lower limbs for those who need to stand in one place for a long period of time at home or at work. Standing all day can cause stress and exhaustion, and anti-fatigue mats cushion the body against the shock of a hard floor. A mat with greater density and thickness will offer more support and shield your lower limbs against pain than a thinner mat would.
Anti-slip matting is another option that offers comfort, but it has a safe, gripping surface that helps protect against falls due to smooth floors in kitchens, bathrooms and garages or on steps.
While both types of mats are helpful in eliminating potential pain or danger, they are not a cure-all. However, in combination with the right footwear, anti-fatigue and anti-slip mats can be extremely effective. Both are relatively inexpensive and come in a wide variety of styles, colors and sizes.
Other Types of Rubber Mats
There are several types of mats on the market that have varying purposes, but the following are the most common for household use:
​Drainage mats:​ While preventing slipping in wet conditions, a drainage mat has holes that allow it to drain water from its surface and direct it to the subfloor. This keeps bacteria, mold and mildew from forming. Drainage mats work well in locker rooms, kitchens and showers and are suitable for indoor or outdoor use.


​Entrance mats:​ Also known as scraper mats and placed in entryways, they allow you to clean your shoes before coming indoors. Entrance mats often feature grooves for wiping away debris from shoe bottoms. Moisture and dirt are held in the mat's wells so you don't track it inside. To clean entrance mats, you can simply shake them or clean them with a hose.


​Gym mats:​ If you have a home gym, you can cover your entire floor with mats, or you can place them under your fitness equipment. Gym mats provide heavy-duty, nonslip flooring while you work out and are also low odor, water-resistant and comfortable should you choose to exercise on the floor.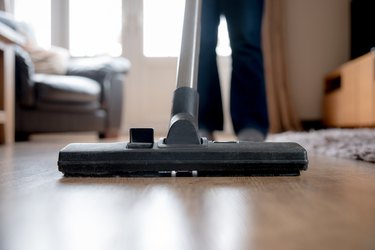 Cleaning and Maintaining Rubber Floor Mats
Keeping rubber floor mats well maintained will ensure their longevity and continued usefulness. The process is easy, quick and inexpensive.
Clean your mats of any excess dirt or dust regularly by sweeping, vacuuming or hosing. Mix mild detergent or soap with hot water between 120 to 140 degrees Fahrenheit. If your mat has grease and oil on it, make sure to add degreaser. Scrub the mat with a stiff-bristled scrub brush or mop it with the mixture and rinse. With steps including sweeping or vacuuming, applying the water and solution, rinsing, draining (if the mat has holes) and drying, the process should not take more than 20 minutes.
One of the most important things about cleaning rubber mats is avoiding water spots, which can manifest if you don't dry them quickly. If your mat is large, scrub or mop it in small sections, remove the excess water with a squeegee and put a fan on the area to dry it. You can also use a steam cleaner, which will help to dry it quickly and keep it free of water spots.
When cleaning your mats, do not place them in the washing machine. Do not use harsh chemicals such as those with a high pH, bleach, alkalis or solvents since they can cause mats to erode. Do not use waxed-based cleaners on rubber, as they can leave a slippery residue that can later render the mat dangerous. If you have any doubts about the cleaner you want to use, you can spot test it to see how it reacts with the mat or contact the manufacturer with any questions.