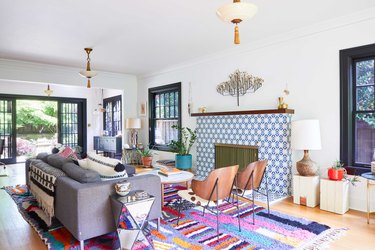 Designer Jessica Hansen isn't one to shy away from a historic house — just look at the amazing renovation of her own midcentury modern home in Santa Monica. For her latest transformation, she brought a 100-year-old house in Portland's Mount Tabor neighborhood into the 21st-century. She and her team at Tandem Design wanted to modernize the Colonial home while staying true to its original aesthetic. "I drew inspiration from the time I spent living in San Francisco, where there are tons of Victorian and Edwardian period houses and flats," says Hansen.
Hansen kept many of the period details, including the ornate light fixtures and the pillbox toilet and cast-iron tub in an upstairs bath, while repurposing unused space to modernize the layout. One of the master bedroom's large closets was turned into a master bath with a shower and double vanity, while the fainting room (yes, the fainting room) was converted into functional storage space.
The outside also got a bold makeover, thanks in part to Hansen's five-year-old son. "He commented that I was always painting houses gray and white and black, and that I should paint this one a color," says Hansen. "I asked him what color he thought we should paint the house and he said blue. Boy was he right!"