The first thing to mention in any discussion of linoleum as a flooring option is that it's not the same thing as vinyl flooring. In fact, although they look the same, the two materials couldn't be more different. Vinyl flooring is a synthetic product, and it was developed in the 1930s as a substitute for linoleum, which is made from natural materials and was patented more than 50 years earlier.
Although linoleum and vinyl flooring cost about the same, linoleum is definitely the more luxurious flooring material, and that's partly because it is constructed with natural materials. It was originally designed for use aboard ships, so it can definitely stand up to the foot traffic, spills and general wear and tear of a kitchen. If you're considering a linoleum floor covering, you have your choice between sheet linoleum and linoleum tiles.
Linoleum Is Eco-friendly
According to the Hagley Museum and Library, the history of linoleum began in 1855. Englishman Frederick Walton forgot to seal his can of linseed oil paint thinner and, as linseed oil does, it developed a skin. When Walton peeled off the rubbery layer of dried oil, he began thinking of ways to put it to use and decided it would be a good flooring material. To this end, he mixed it with cork, wood flour and pigments and rolled out the mixture onto a jute backing.
Walton's invention caught on so quickly that he lost a copyright infringement lawsuit on the name "linoleum" in 1878 because its use was so widespread that it was considered a generic term. The word he coined in his patent application in 1860 refers to the Latin terms for flax (linum) and oil (oleum), and other than flax oil, which is the same thing as linseed oil, linoleum contains little else. It contains no petroleum products, and all of its ingredients are renewable and biodegradable.
Other than displaying updated designs and having a durable factory finish, contemporary linoleum isn't much different from the material Walton invented, and it has proven its resistance to water damage over the years. In fact, intact linoleum tiles have even been recovered from the wreck of the Titanic. Modern linoleum is an ideal covering for kitchen floors as well as floors in other high-traffic areas of the house.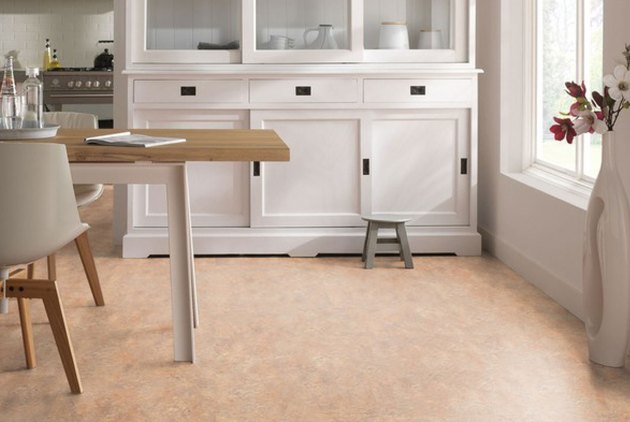 Comparing Linoleum to Vinyl Flooring
If you've narrowed your kitchen flooring options to linoleum and vinyl, you don't have to bother with a cost analysis to help you decide because the two materials cost pretty much the same. If your decision hinges on design, you'll probably be more attracted to vinyl because more choices are available, giving vinyl a reputation for being more contemporary than linoleum.
Keep in mind, though, that the designs on vinyl flooring and luxury vinyl tile are stamped on the surface and wear off easily. Linoleum designs, although simpler, extend all the way through the material and don't wear off.
Both materials come as sheet flooring or glue-down tiles, and you use the same procedures to install linoleum and vinyl tile. Because they are thicker, linoleum tiles are a little more difficult to cut, but unless they are preglued, you use the same adhesive to glue them. Vinyl offers a floating-floor option in the form of luxury vinyl tiles, which snap together like laminate flooring planks. This option is available in linoleum but in a more limited way.
Linoleum as a Kitchen Floor Covering
Linoleum has a reputation as an industrial-age floor covering, and dingy old linoleum floors are common in pre-20th-century tenements in large North American and European cities. Modern linoleum is an evolved version of these early materials, though, and it comes in an array of contemporary patterns, in colors that fit with most kitchen decor schemes and in easy-to-install formats, such as tiles that resemble luxury vinyl tiles.
When it comes to durability, a well-maintained kitchen linoleum floor can last twice as long as a comparable vinyl one, and although neither will last as long as ceramic tile flooring, they are far less expensive and easier to install. Installing linoleum or vinyl tile is a fairly easy DIY project, although you should hire a pro to install sheeting because of the crucial need for accurate measuring and cutting.
Shopping for linoleum for your kitchen floor is easy. Among the recommendations of Floor Critics, Forbo manufactures a proprietary product known as Marmoleum and offers the widest range of colors and styles on the market. Armstrong, which has been in the linoleum business since 1908, has a smaller selection in its LinoArt series, but each choice comes with more than a century of manufacturing experience behind it. If eco-friendliness tops your list of priorities, check out Johnsonite's Harmoneum XF series, which is manufactured with 94 percent natural raw materials.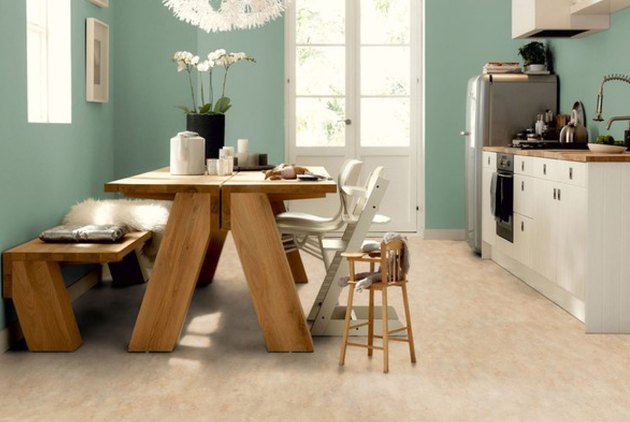 Installing Linoleum as a DIY Project
If you choose to do the installation yourself, make sure the subfloor is dry and level. Linoleum doesn't require an underlayment, which makes installation easier, but it also means that any bumps in the subfloor will be felt, so basically, there shouldn't be any. When installing sheet flooring or glue-down tiles, consult the manufacturer for the recommended adhesive.
When installing sheet linoleum, most pros make a template of the floor with taped-together sheets of kraft paper or newsprint. All baseboards should be off the walls before making this template, and whether you're installing tiles or sheet flooring, it's always recommended to leave a 1/4-inch expansion gap that will be covered by the baseboards when you reinstall them.
After gluing down sheet or tile flooring, it's important to roll it with a floor roller, and you should do this before the adhesive dries so you can roll bubbles toward the wall to remove them. Give the adhesive about 24 hours to set before shifting furniture around on the floor.
How to Maintain a Linoleum Floor
Because it's a natural material like wood, linoleum is slightly porous, and although it has a history of marine use and water resistance, it can definitely sustain water damage. Like hardwood and laminate flooring, it is especially vulnerable to standing water and pet accidents, so you should clean up spills quickly and avoid excessive water when mopping.
The best way to clean it is with a damp mop dipped in a pH-neutral cleaning solution and wrung well. You can also fill a spray bottle with a 50/50 solution of vinegar and water and spray the floor directly ahead of your mop. Do not use ammonia-based cleaners to remove scuffs because ammonia will strip the polish coating on the surface.
While you should avoid using wax on other materials such as vinyl and tile flooring, you should wax linoleum periodically to help it maintain its shine. When you clean the floor in between wax treatments, try putting a little fabric softener in the water. It has an uncanny ability to deepen the shine.
---
Chris Deziel is a contractor, builder and general fix-it pro who has been active in the construction trades for 40 years. He has degrees in science and humanities and years of teaching experience. An avid craftsman and musician, Deziel began writing on home improvement topics in 2010. He worked as an expert consultant with eHow Now and Pro Referral -- a Home Depot site. A DIYer by nature, Deziel regularly shares tips and tricks for a better home and garden at Hunker.com.
View Work