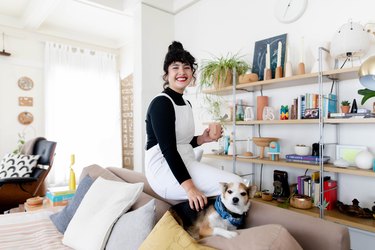 Who: Melanie Abrantes
Where: Oakland, California
Style: Modern boho with eclectic details
Designer Melanie Abrantes's craft comes down to one major material that she fell in love with: cork. Yes, the kind that you might usually encounter as you pin up reminders on a board or set your drink down on a coaster. Abrantes elevates the material, often mixing it with wood, in her carefully carved home items — candle holders, hanging planters, vases, canisters, you name it.
"The first cork piece I made was a bowl," Abrantes tells Hunker. "It was chunky and weird, but I loved it so much. The lines of my work and designs now feel more sophisticated and modern."
In 2013, Abrantes decided to launch a small business focusing on these handmade objects. Originally from Houston, Abrantes moved to California 10 years ago to study at Otis College of Art and Design in Los Angeles. As she searched for apartments in Oakland, a broker told her about a friend moving out of a studio. Before she even found an actual apartment in the city, Abrantes signed the lease for the space. She discovered it was originally a tomato factory built in the 1900s.
Abrantes filled the space with "clean and simple pieces" and built walls to create rooms for the many facets of her business, from space for shipping orders to her official wood shop. Various IKEA Ivar shelves keep the space free of clutter.
When it comes to designing objects, Abrantes starts with a sketch, then a prototype carefully crafted in her wood shop. She uses a lathing technique, carving away the parts of the cork and wood she doesn't need until she gets a smooth, fully formed piece. Abrantes thinks of each collection holistically, imagining the pieces, art direction, and photography together.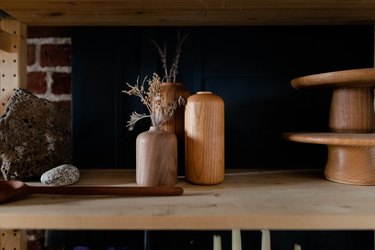 When she's not designing, she often leads workshops in her studio. As a managing member of the design collective JOIN Design, she believes in connecting with other makers and encouraging their work. Abrantes is also the author of Carved: A Simple Guide to Whittling, published in 2017.
"Owning a creative business is hard work," says Abrantes. "Most people do it alone and get overwhelmed. Being a part of JOIN has opened up my network so much ... We share normal things with each other, such as where to buy the best boxes, but also harder questions like, How do you get a small business loan?"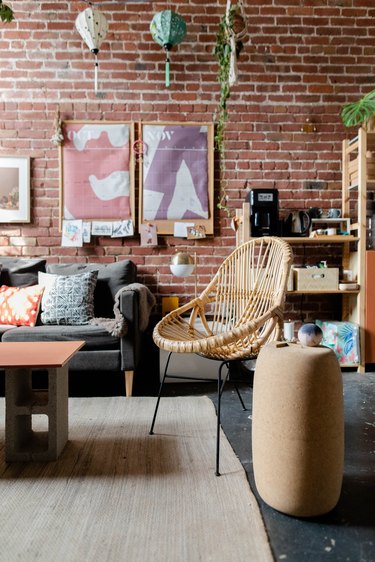 Rover, her pup, keeps a watchful eye over everything. He "loves to hang out anywhere he can get the direct sun shining on him," including the couch in the studio, where he often naps.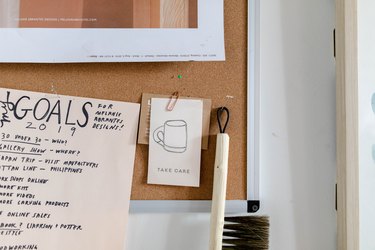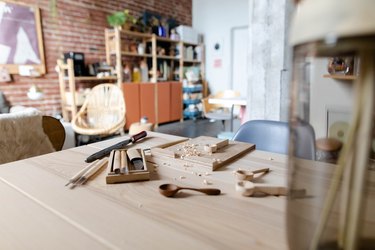 At home, Abrantes combines natural materials with pops of bright color for a modern boho look. As with her studio, she keeps surfaces clutter-free. Her current roommate works in ceramics, making the space a constantly creative one.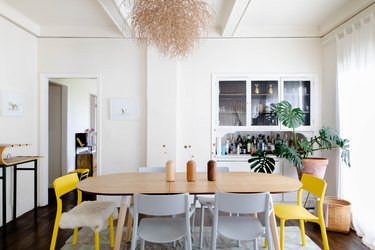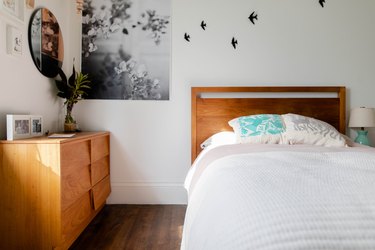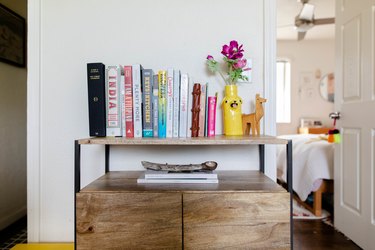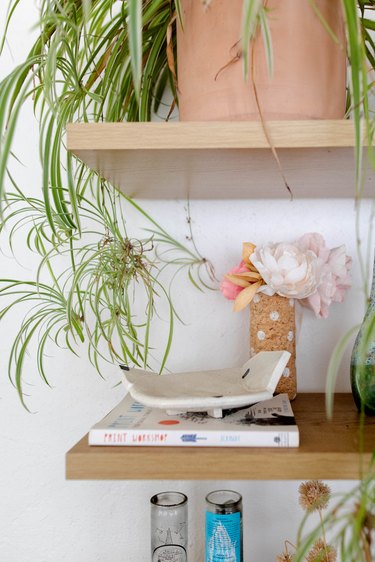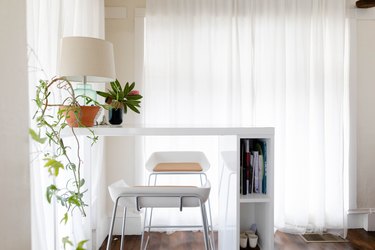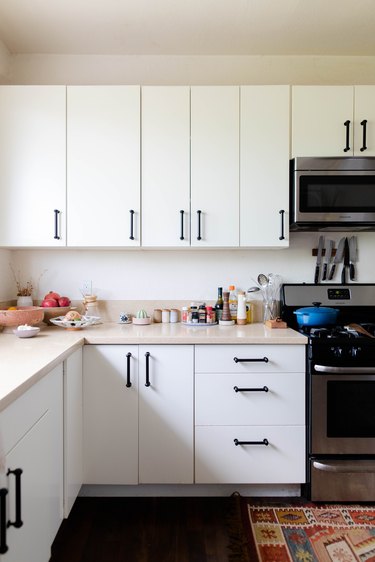 She hopes that by sharing more about her process and studio, she can help others feel inspired to pursue their creative interests, too.
"It's always good to be patient and do as much as you can, when you can," Abrantes says.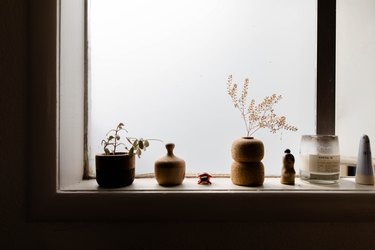 Locals Know Best
Favorite piece of design or architecture in your neighborhood, town, or city: Chapel of Chimes is my favorite place in Oakland. It is a church and crematory. It sounds weird, I know, but it is one of the most beautiful spaces I've ever seen and was designed by California's first woman architect, Julia Morgan. Peaceful, serene, and designed to look like an indoor garden, this space will make you feel relaxed immediately. It is open to the public to be admired, but obviously it's important to be respectful of the space.
Best places for thrift store finds, antiques, or flea markets: Alameda Flea Market, Urban Ore, and Craigslist.
Best farmers' market: I love the Jack London Square farmers market! It's right off the water on Sundays. Such a beautiful place to purchase fresh produce from local farms. Plus it's near my studio!
Best happy hour: Nido's in Jack London Square. They have the best $5 margaritas!
Best cheap and cheerful restaurant: One of my favorite places to eat near my home is Cholita Linda, a Latin American restaurant with the cutest interiors full of plants and delicious food.
Best coffee shop: My favorite coffee shop right now is Rasa Caffe. They have amazing spiced drinks and delicious house-made chai. The owner is an Oakland native who's also the son of two well-known Black Panther activists.
If I were to have visitors, I would take them to: A hike through Sibley Volcanic Regional Preserve. It is a short drive up the hills of Oakland and you can see beautiful views of the whole city.