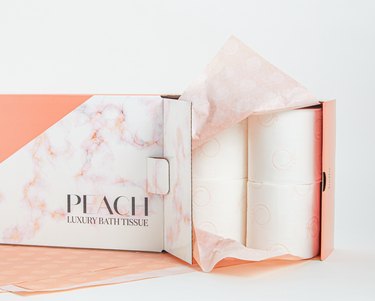 Ah, the humble peach. Once an ideal pie ingredient and a perfect summertime treat, it's since been co-opted as a symbol for butts around the world.
Along the with rise of the emoji culture that transformed the 🍑 , we've also seen the rise of startup culture. Companies promise to "disrupt" many parts of our everyday lives — from sleep (Brooklinen, Casper), to eating, (HelloFresh, Blue Apron), to using the toilet — for the better. These worlds collided when I learned about Peach, a startup hawking luxury bath tissue, aka toilet paper. It touts itself as sustainable, eco-friendly, and free of chemicals (and also 100% "sustainable virgin fiber"). Curious, I decided to give it a try.
The packaging is not understated, to say the least. It's good if you want to advertise that you are now a consumer of luxury bath tissue — but bad if you have a judgmental doorman who hands your packages to you. The product came in an attractive box (described by the company as "collectible"), with a pink marbled pattern on the exterior, but the tagline "Wipe Like Royalty" had me shielding my eyes from my neighbors as I walked to the elevator.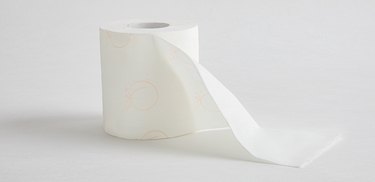 True to the perceived luxury experience, Peach comes in a box filled with peach-patterned tissue paper. Opening it feels like a gift, which is a nice departure from tearing through the plastic of other toilet paper packs. The rolls themselves are embossed with a faint pattern of, well, peaches. It doesn't quite go with my bathroom decor, but I'll roll with it. Pun intended.
The paper feels like one of those fancy restaurant paper towels, which is to say thick and soft. I try to make careful observations. Is it linty? Does my bum feel like royalty? But in all honesty, it feels about the same as my regular Amazon order. (My husband, who uses half as much toilet paper as I do, says he "doesn't like it," but I think he's just being contrarian.)
For those who decide they truly can't live without Peach, the company's travel concierge can deliver rolls to your hotel room, cruise ship, or your private jet. Despite all the ribbing, Peach's mission is noble. The company donates 10% of its profits to Safe Horizon. The biggest drawback is the cost. Starting at $24 for eight rolls, it's more than twice the cost per roll of my usual order. And while I splurge on a lot of unnecessary things, I don't think this is one of them. My days of wiping like royalty are done, for now.