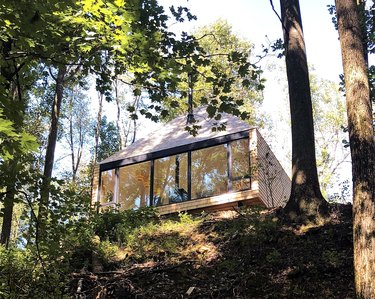 Looking at this Scandinavian-inspired cabin, you might think it's set outside Stockholm or in a Norwegian forest. But the minimalist home is actually located on a farm … in Ohio. Along with his brother and father, architect Greg Dutton, co-owner of Midland Architecture, built the 600-square-foot weekend retreat, known as The Hut, on the family's cattle farm in Belmont County. They relied on simple but beautiful materials, such as the pine floors and cedar shingles, which will patina over time, allowing the cabin to blend into the landscape. "We call the style of The Hut 'country minimalism' because it's a clean, pared-down aesthetic that's born out of the building techniques I learned from growing up on a farm," says Dutton.
The cabin was also built with sustainability in mind and runs off solar power and collected rainwater. The architect worked with his wife on the interior, which they kept pared down in order to let the outside landscape take center stage. "The idea of a 25' wide wall of glass that would overlook the forest was something that was a part of the design from the very start," he says. "We wanted [it] to feel like you were in a hut tucked within the forest."
---
Elizabeth Stamp is a freelance writer in Los Angeles. Her work has appeared in Architectural Digest, Elle Decor, and CNN Style.