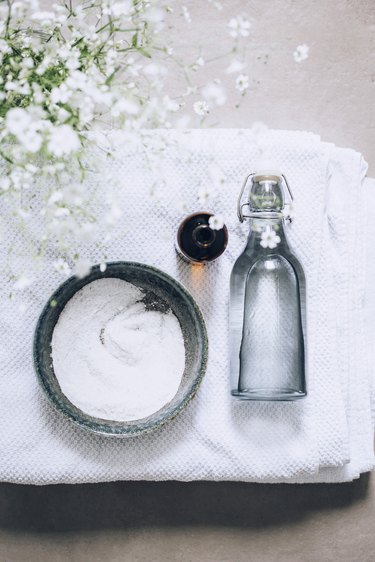 Squeaky is all about the borderline genius hacks and ideas that keep literally every inch of your space pristine.
When you think of cleaning your home, you typically clean countertops, toilets, sinks, bathtubs, and floors. There are many things in your home that need a clean but probably go unnoticed. Here are 11 things you didn't know you needed to clean, but you really do!
Hunker may earn compensation through affiliate links in this story.
1. Faux Houseplants
Mix a solution of 1 cup of warm water and 3 drops of dish liquid in a small bowl. Dip a dishcloth into the solution and wipe down the leaves and flowers of your faux houseplants. No need to rinse ... the dish liquid helps repel dust!
2. Vinyl Records
Start by dusting off your records using a clean, dry paintbrush. Next, use a damp microfiber cloth to gently wipe down the record. Finally, use a dry microfiber cloth to gently dry the record.
3. Lampshades
Use a sticky lint roller to remove dust from your lampshades. If you have pleated lampshades, you can use your vacuum cleaner's attachments to remove any dust from inside the pleats.
4. Ice Dispenser
Ice dispensers can harbor mildew and bacteria and should be cleaned at least once a month. To clean an ice dispenser, spray it liberally with vinegar, then use a clean toothbrush to scrub inside of the dispenser and around the area where the ice comes out. Wipe clean with a dry cloth.
5. Diffuser
Diffusers can clog, and mildew and bacteria can build up inside of them. To clean your diffuser, make sure all water has been removed. Spray a clean rag with isopropyl alcohol and gently wipe down the inside of the diffuser. Use a cotton swab around the bottom to remove any buildup. Let it air dry.
6. Air Vents
Dirty air vents can cause dust and pet hair to recirculate into your home. To ensure that your air is a bit cleaner, you should clean your air vents every few months. Just use the extension on your vacuum cleaner to remove any dust or pet hair. If you don't have access to a vacuum cleaner attachment, you can brush away any dust and pet hair using a dry, clean paintbrush.
7. Toothbrush
You should replace your toothbrush every three to four months, but sometimes you may want to sanitize your toothbrush in between replacements. One way to sanitize your toothbrush is to add it to your dishwasher load. Another way to sanitize your toothbrush is to place the brush side in a cup of hydrogen peroxide for 30 minutes, then rinse in hot water. Both methods will help remove any germs or bacteria.
8. Chandeliers
To clean dust and cobwebs from your chandeliers, take a dry, clean paintbrush and gently brush it. The brush bristles can get into tiny nooks and crannies as well as gently clean crystals and bulbs. To minimize the mess, lay a flat bed sheet under your chandelier to catch any dust and cobwebs that may fall.
9. Sink Drains
To clean sink drains, pour 1/2 cup of baking soda in your sink drain, then add 1 cup of vinegar. Allow the mixture to fizz and get any mildew, food debris, or clogs loose. Then flush the drain with warm water for a minute or two.
10. Bathtub Drains
If possible, remove the bathtub stopper. Next, take a butter knife and slowly poke it into the drain. Once you meet some resistance (hair, gunk buildup), push past and pull the knife back up at an angle, pulling the debris up. It may take a few times to do this. Discard any hair or gunk in the trash and not your commode. You should never flush hair or gunk down your toilet, or it could cause a clog.
Once you have removed any hair and gunk from the drain, pour 1/2 cup of baking soda down the drain, followed by 1 cup of vinegar. Allow the mixture to fizz and get any mildew, debris, or clogs loose. Then flush the drain with warm water for a minute or two.
11. Can Opener
Although your can opener probably doesn't look dirty, it definitely comes into contact with food when used. You should clean your can opener after each use to deter cross contamination and bacteria buildup. To clean a hand-held can opener, simply place it in your dishwasher or clean it with a couple drops of dish liquid and warm water. To clean an electric can opener, spray the can opener with distilled vinegar and allow to sit for 30 seconds to a minute. Wipe clean with a damp cloth and allow to air dry.