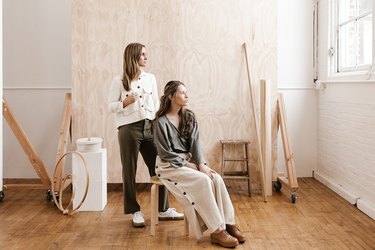 When photographer Nicole Mason (who contributes photography for many Hunker tours) returned from almost a year living out of her custom van roaming around the western United States, she had a vision of creating her very own studio. "I wanted it to be a blank canvas, yet inspiring and playful," Mason says. So, she signed the lease on a light-filled, 700-square-foot space with original hardwood floors, 14-foot ceilings, a white brick wall, and huge windows. And then, she set out to make it her own.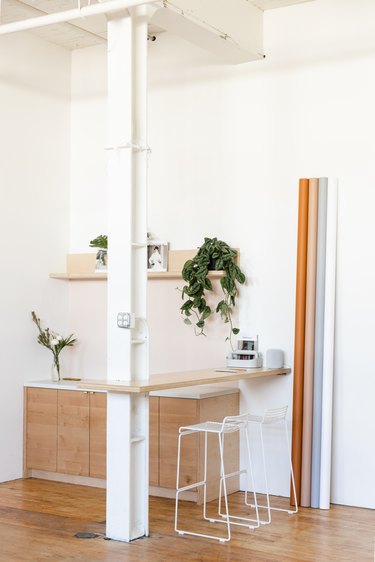 Working with her friend Rico Castillero, the goal was to make the most out of the relatively small space. "We really needed more organization and counters, so we created a corner with cabinets, a floating shelf, and work bench," Mason explains. These additions made a world of difference in overall functionality. "Having the room to set your camera or coffee down and have a couple friends sit to work and edit has been wonderful. Not to mention the ability to hide away paint tools, cleaning supplies, etc. in the cabinets below."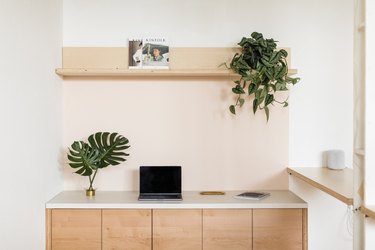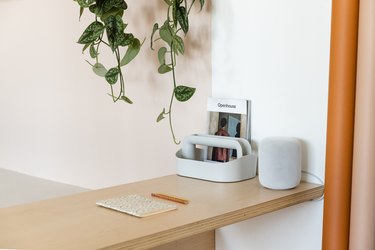 Another bit of functionality that was a must for Mason was having rolling backdrops. They now have two 9-by-8-foot walls that provide four backdrop options. "Dealing with seamless paper rolls can be painful, so having the ability to have choices that can flip within seconds is amazing," Mason says. "We even have a plywood option, which is a favorite."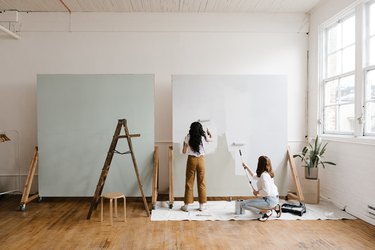 Although it's a natural-light studio, Mason still worked out a trade for ceiling lights with Cedar & Moss for some photos. "I didn't want anything that would hang down too low and be distracting in the space or in photos." From a fresh coat of white paint, to plants, photo equipment, and some props, it took about five months to complete the whole overhaul from start to finish.
Yet things continue to evolve. Earlier this year, the studio partnered with Backdrop, a New York-based paint company, to paint their backdrop walls two different colors every month to keep things interesting. And they capture these changes to create more content for their ever-increasing social media presence, all overseen by Mason.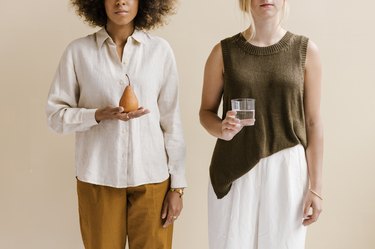 As she looks to the future, Mason envisions a second studio or an even larger space. But she always keeps herself grounded. "You don't need a huge budget or the biggest place to create an inspiring space," she says. "If you feel a heart tug to do something, do it! It's OK to start small or minimal and build from there."
For Mason, The Portland Studio is an extension of her life view, "I just want to create and inspire people to do the same, because it's the best feeling to use your heart and mind to bring ideas together, bring people together, and imagine and make something that didn't exist before. I always think of that as the 'magic' to all of it: creating something that didn't exist before."