Hunker may earn compensation through affiliate links in this story.
Caitlin Mociun's eponymous jewelry brand is downright droolworthy. All it takes is a minute or two on Mociun's Instagram to become completely gaga for her unique creations, which often feature asymmetrical clusters of precious stones or settings that feel inspired by modern art. Mociun has also gained a reputation for its adjacent homewares business, and it's where Hunker checks in to find up-and-coming designers and ceramics, textiles, and glassware you won't see in many other places.
We had the opportunity to chat with the designer at her store in Williamsburg, Brooklyn, which recently underwent some changes. While the jewelry and homewares businesses used to be in two separate locations, they've been brought back together in her flagship. The space marries the elegance of her accessories with the cheerful vibe of the home goods; there are streamlined marble-and-brass cases on one end, and on the other, a wavy shelf painted in a bright-orange ombre scheme. The coolest thing about the shop? She designed it on her own. Which, obviously, we had to know all about.
Hunker: How did Mociun begin?
CM: So, I did not study jewelry, and I did not start Mociun as a jewelry brand. I studied textile design and I started Mociun in 2006 as a clothing brand. And it was a clothing brand until 2012. I kind of started dabbling in jewelry in 2008.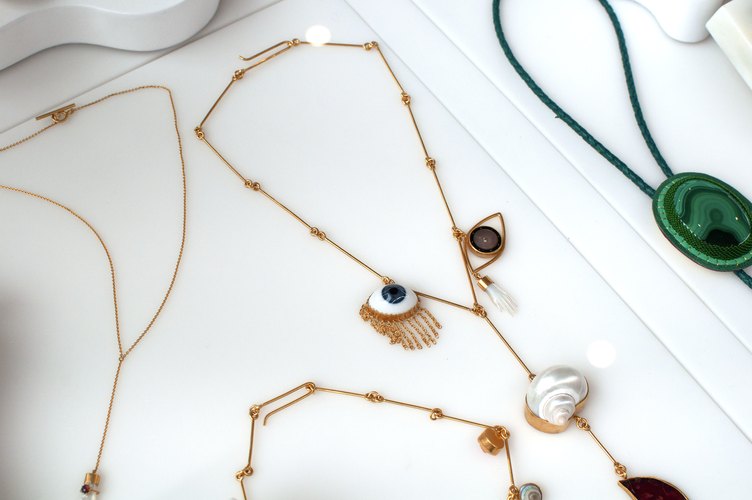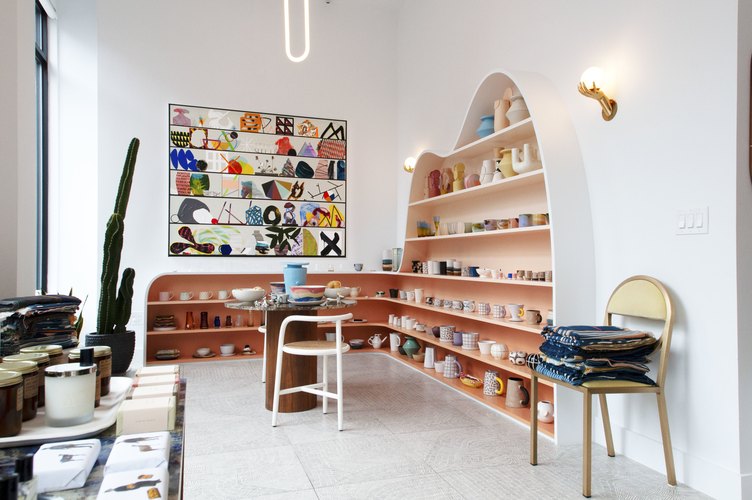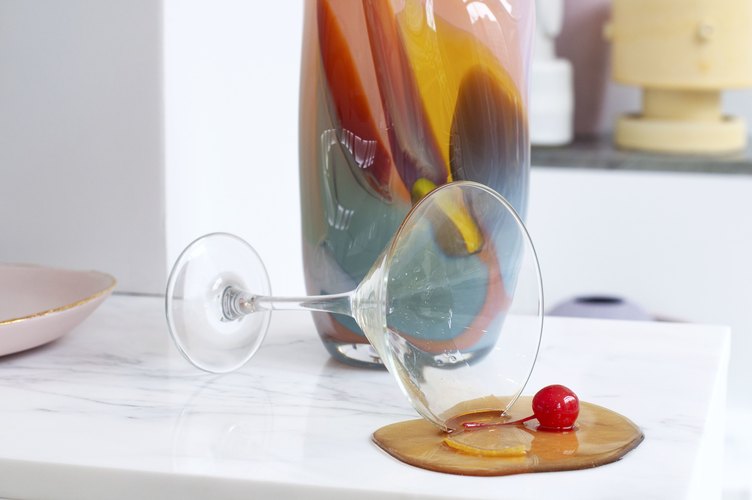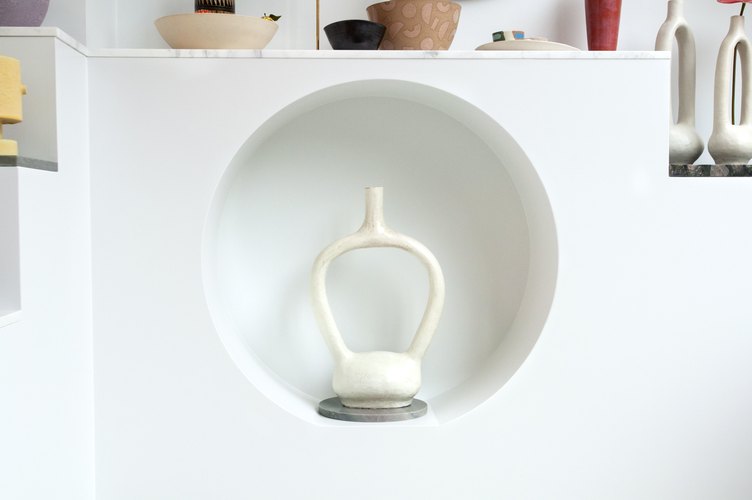 Hunker: How do you start dabbling? What did you do?
CM: I started making these weird talismans. It was a friendship bracelet, so, [it was] handmade stuff that I could make [myself], not fine jewelry. I was trying different things. I didn't really have a good jeweler, and didn't really know what I was doing.
Hunker: Can you identify any turning point for Mociun? Because I've followed your brand for years, and I feel like it was an insider thing, then all of a sudden, it was everywhere!
CM: When the economy crashed I was working with something like, I think 30 to 35 stores were carrying my [clothing] brand, and then that kind of dropped to maybe 18. Plenty of those stores closed, a ton were like, "We sell little black dresses now." And I sold insane printed clothing, so it was not everyday stuff, by any means. So, that happened, and then I continued to twiddle with my jewelry, but not in a very serious way. So, my jewelry started out in boutiques — I already had those boutique relationships.
Hunker: And so how did Mociun Home start coalescing as an adjacent idea?
CM: I opened my store and I always liked ceramics and home goods and decorating, and all that kind of stuff. So, it was a way to give a world to my jewelry, a little context to the person who might own the jewelry. And then, the other thing was all the home decor's so much less expensive than jewelry. So people could come in and have an environment where they could enjoy the jewelry, try it on, but also leave with something. They could buy a bar of soap or buy a mug.
Hunker: That's nice — people who maybe appreciate your jewelry aesthetic, but it's not like people buy high-end necklaces every week.
CM: For most people, going to a luxury store's kind of uncomfortable. And so it was a way for people to feel more comfortable.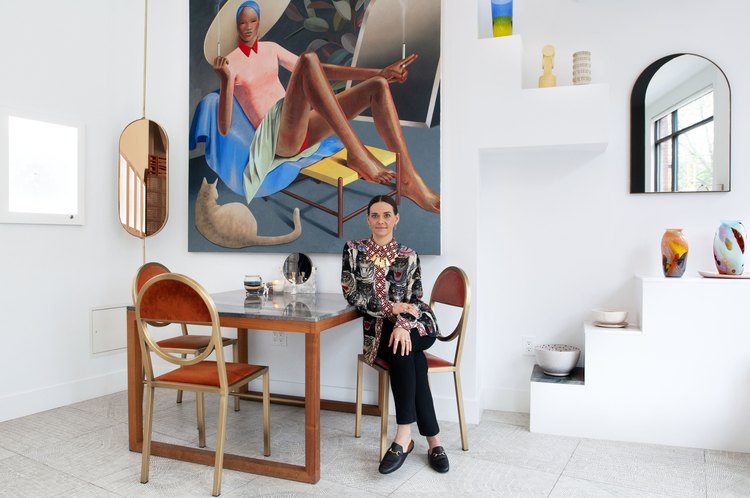 Hunker: The store is gorgeous, and I love how naturally the home goods exist with your jewelry. How did you go about the design? Did you work with somebody on it?
CM: I have a contractor I worked with, but I designed the space, and then I worked with someone, I guess — I designed the jewelry cases and had someone fabricate them. But for the most part, I've never worked with an interior designer or a firm to build out a space. My husband did the mirrors and these chairs.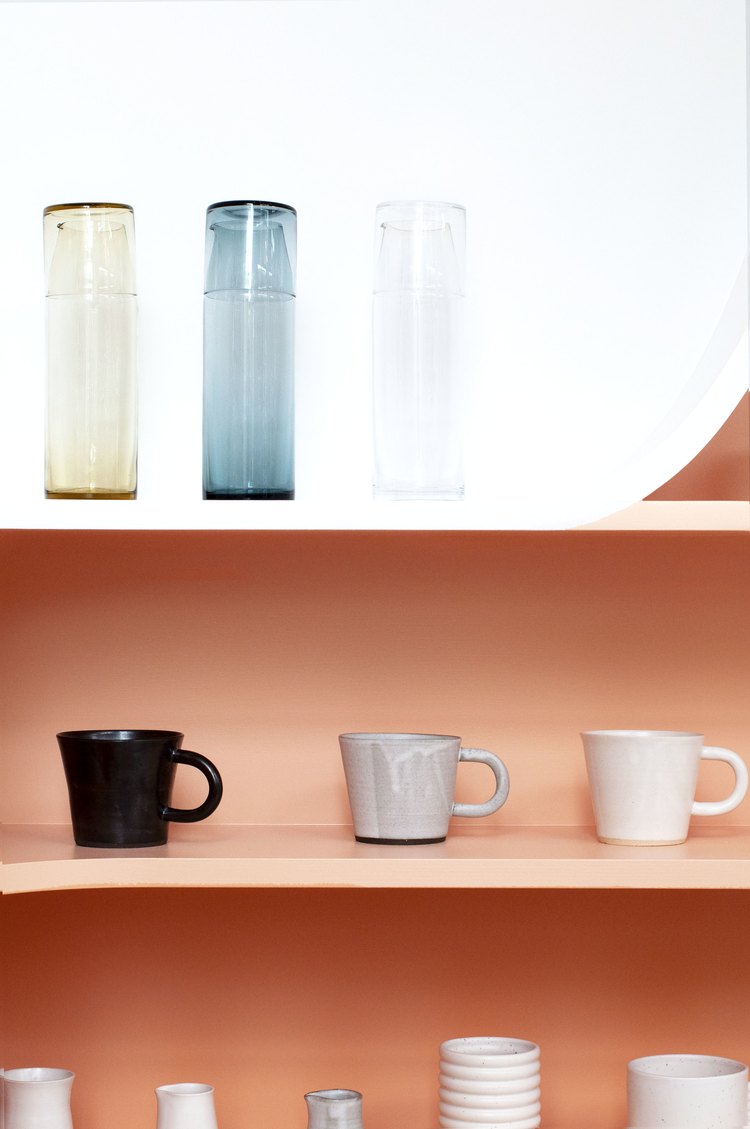 Hunker: Oh, right! He's a designer.
Hunker: How is it to collaborate with him?
CM: We don't always agree or get along when it comes to designing, but it pushes me to do something interesting. I had the initial design idea for the shelf, and then he refined it, I guess you could say.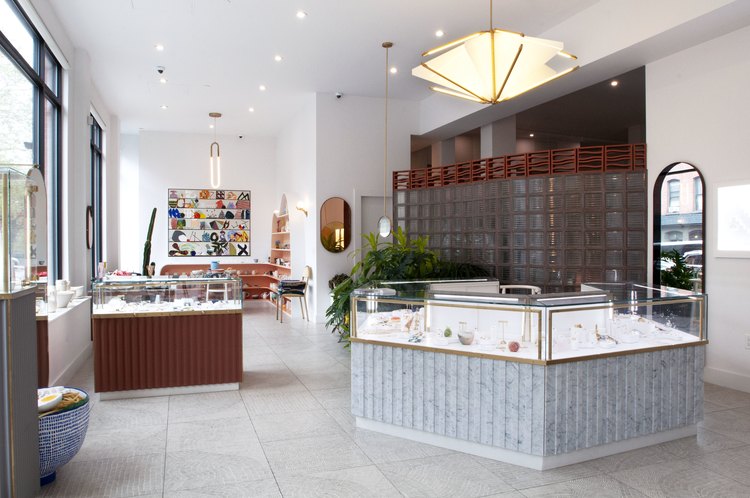 Hunker: So what was your concept or approach with this space? Did you see it in your head?
CM: I'm definitely not an interior designer. I think that's the hard thing for me, because I don't know how to do renderings, so I certainly can't do layouts to a space, and I often have to pick this thing and then I'll pick the next thing. Which is not the way a good interior designer designs because then nothing comes together at the same time.
Hunker: So it's kind of piecemeal.
CM: The thing is, it's also the way that I design in a house. I almost design retail space or commercial spaces the same way people do in a house with like, "I'm going to buy my couch and a coffee table. And then, what else do I need? Oh, I'm going to get this little thing."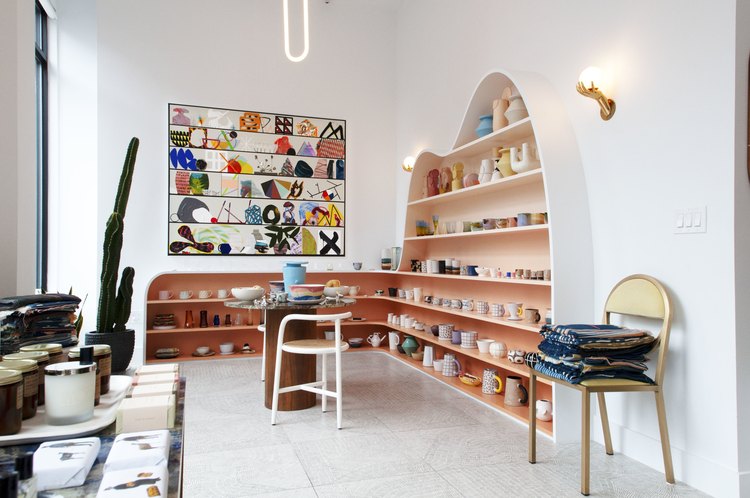 Hunker: In terms of stocking the home goods you sell, what do you look for, and what's special to you?
CM: I don't want it to be everywhere, which some of our designers are everywhere now. I want, when someone walks in here, to feel like they're getting things that they can't get everywhere. If I'm picking up something new, I'd really like it to look like nothing else we have.
Hunker: So, how do you find these really small and up-and-coming, unique people? Is it organic for you?
CM: There have been plenty of people that have come to me. One of our best-selling ceramicists, Malka Dina, she approached us. Josephine, who does Rec Center, she approached me a really long time ago. I'll look on Pinterest, Etsy. When I go on vacations, I will try and go to crafty places.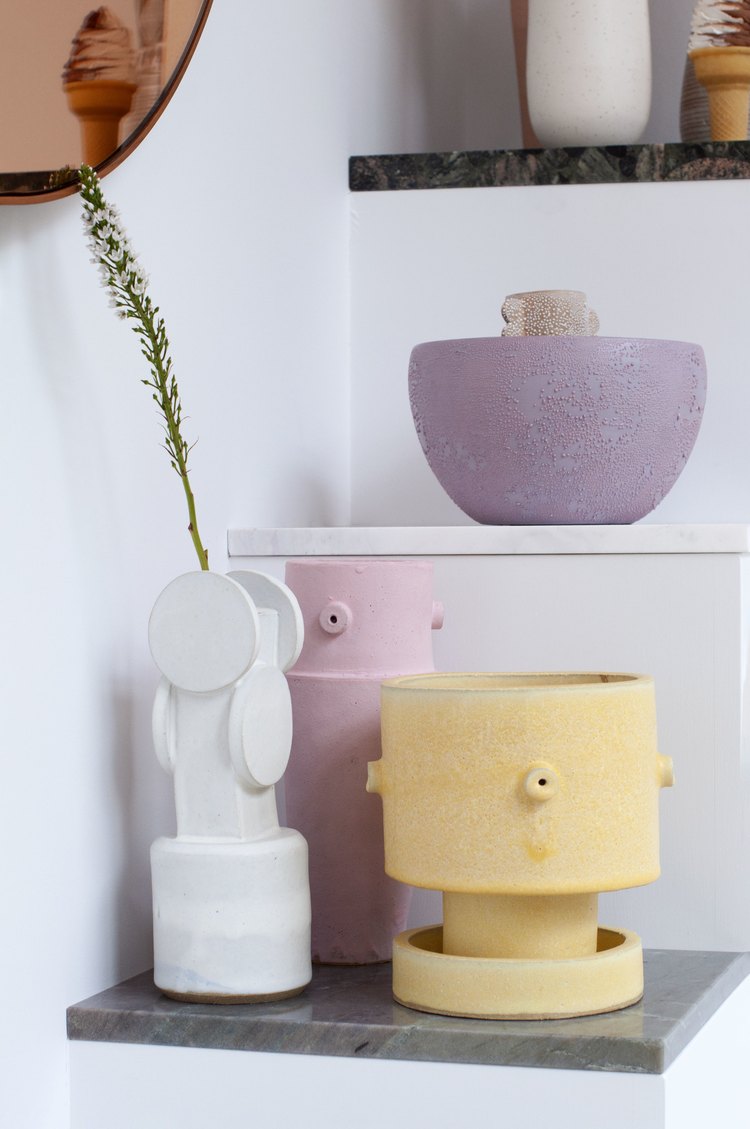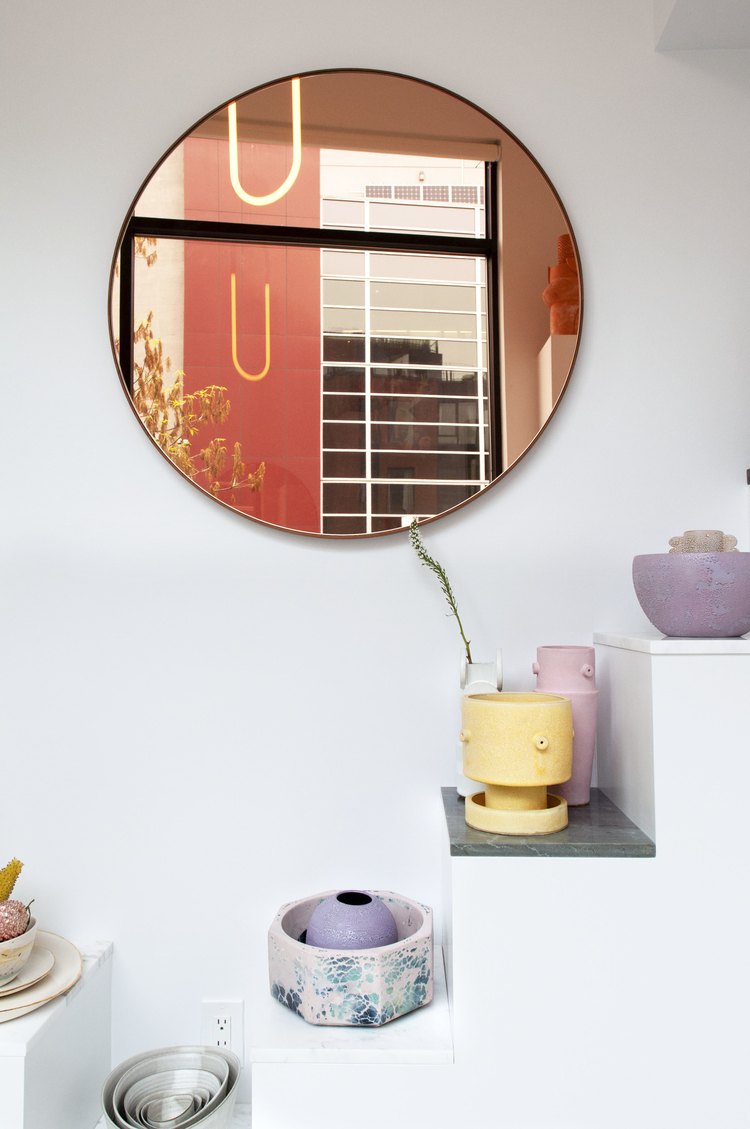 Hunker: Are there any decor trends that you're really into at the moment? Or that you see as something coming?
CM: Mustard's definitely having a moment, I know that. I'm probably not well-versed enough to "see" a decor trend. I guess there is a trend I can see, but I don't know exactly how to put my finger on it? It's kind of this pastel palette, it's a little bit '70s with the shapes, the look, the softness of things. Lots of arches, hill shapes.
Hunker: Last, but not least. Um, can I meet your amazing cat?
CM: She's here! You want me to get her?