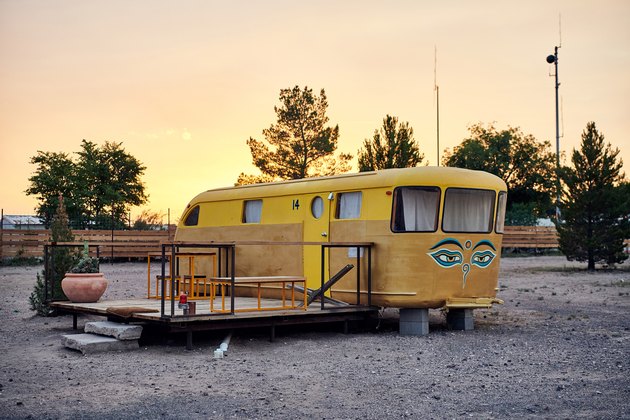 Not only is El Cosmico a hip destination in Marfa, Texas, but this 21-acre property also put this tiny town of 1,772 residents on the map when it opened in 2009. Acapulco chairs, sculptural art, and Chemex pour-over coffee makers are serious proof this is not your grandparents' RV stop on a road trip.
Accommodations here are unconventional. Think vintage restored trailers, Sioux-style teepees, canvas tents, yurts, and old-fashioned camping tents.
When hotelier Liz Lambert bought the land, it was a pasture with only a horse shed and an Airstream. "The fence was loose, and you'd see pronghorn antelope on the property while you were taking a shower," Lambert says.
She partnered with Bob Harris at Lake Flato, a Texas architecture firm, who "came up with the concept of a design that emanated from a center circle, kind of like a spiral galaxy," says Lambert. "I was inspired by the saturated colors of east India, and in particular, the colors of buses and trains and rickshaws in India."
1 of 9
Accommodations
Sculptural art that doubles as a chair is just outside the entrance to this sky-blue trailer, with wide-plank flooring on the deck stained in a warm hue. Art around the property includes pieces by artist Tom Jean Webb and local Alpine painter Carolyn Macartney.
2 of 9
Accommodations
A wraparound patio gives the occupants of this trailer plenty of space to spend outdoors. Otherwise, El Cosmico offers courses in cooking and crafts.
3 of 9
Accommodations
A mini white Smeg fridge inside of Goldie, one of the trailers, jives with the blonde-wood interior.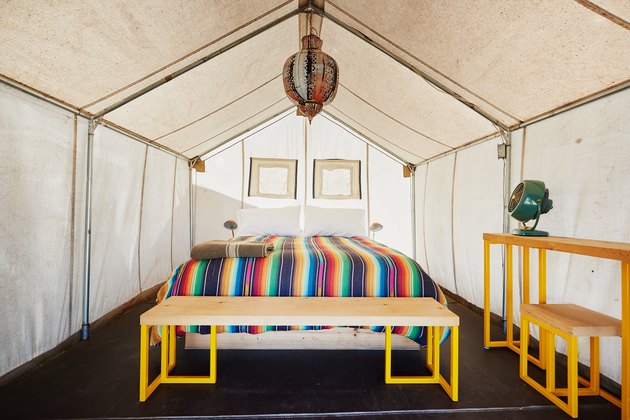 4 of 9
Accommodations
Adding only a few pops of color keeps this safari tent-style interior light and bright.
5 of 9
Accommodations
A few coats of lavender paint make this Vagabond trailer's exterior pop against the desert landscape.
6 of 9
Accommodations
A white Acapulco chair — common in Mexican-desert design — is a modern touch to this restored vintage trailer. "Almost everything at El Cosmico was created specifically for this place — Jack Sanders of Design Build Adventure, the Cashiola Brothers, and Enabler are a few makers we work with closely," Lambert tells us.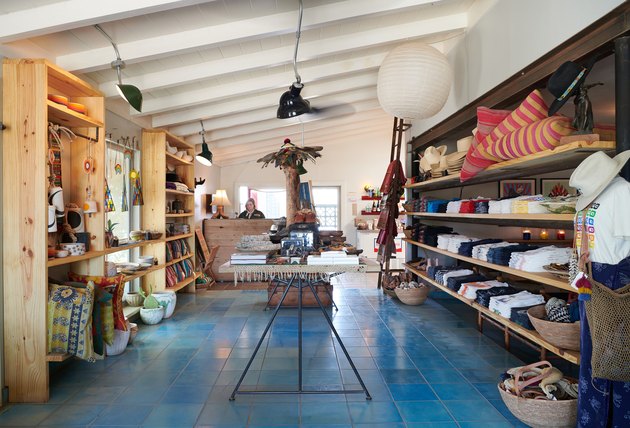 7 of 9
Mercantile
Showcasing the best of regional designers' products as well as those who embody the hotel's vibe, El Cosmico Provision Co. is a popular stop for overnight guests and day-trippers alike.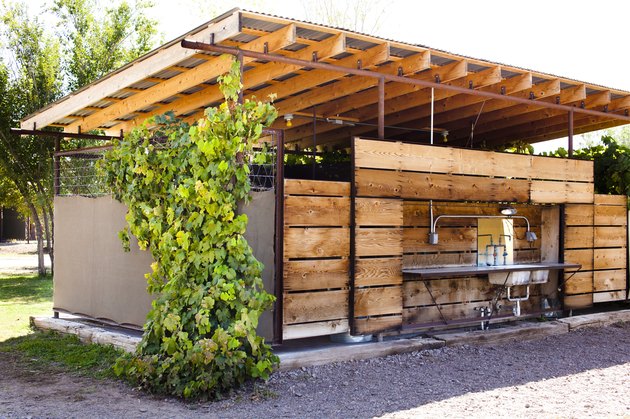 8 of 9
Bath House
Bringing an haute edge to camping, the bathhouse is not short on design.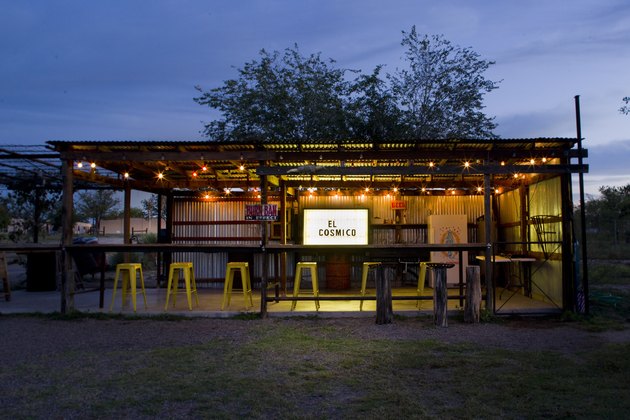 9 of 9
Kitchen
A communal outdoor kitchen coaxes bonds among creatives.
---
Based in Wisconsin, Kristine Hansen covers art, architecture, travel and food/drink, and lives in a 1920s bungalow.
View Work