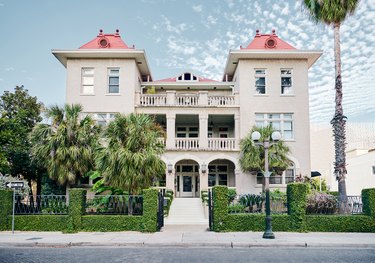 Although over 1,000 miles northwest of Havana, this San Antonio boutique hotel channels Cuba's capital in many ways. The building's Mediterranean Revival architecture — plus icy-blue paint trim and, in the bar, Cuban rum as a main ingredient — are just a few examples.
The property was originally opened in 1914 by a local grocer who wanted to provide a spot for his vendors to crash. Of course, in the century since, the building had fallen into a state of disrepair. "[It] needed some life and love when we first acquired it," Lambert says. "A whirlwind three-month renovation included repainting, resurfacing walls, and bathrooms, but most notably we took every piece of furniture out of the rooms and recovered 80 percent of it in bright vinyl and rich velvet. We were inspired by the notion of these pieces having many lives, like they would in Cuba."
---
Based in Wisconsin, Kristine Hansen covers art, architecture, travel and food/drink, and lives in a 1920s bungalow.