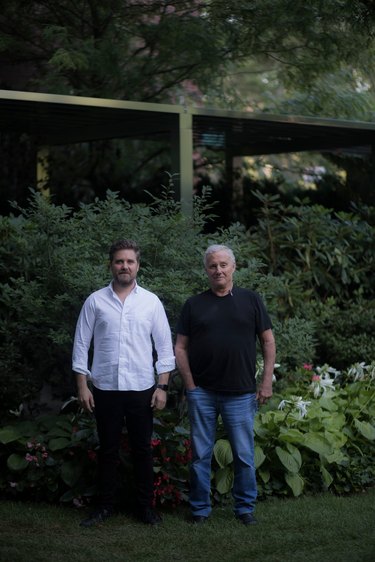 There are few phrases in the dining lexicon less inviting than "hotel restaurant," a term that has traditionally called up images of serviceable food in corporate settings.
But the veteran hotelier Ian Schrager seems to have sidestepped all that. Over the years, he has been able to attract marquee chefs to run the restaurants and food services in his global portfolio of hotels. Decades ago, he hired accomplished chefs like Larry Forgione and Claude Troisgros, and he's still at it, with Jean-Georges Vongerichten and Jason Atherton running his kitchens.
Mr. Schrager's latest recruit is John Fraser, who will be executive chef for the Times Square Edition hotel, now under construction on Seventh Avenue at 47th Street. In the 1990s, Mr. Fraser was a cook at Mr. Schrager's Mondrian hotel in Los Angeles.
Mr. Schrager, who rose to prominence as a partner in Studio 54, said he hit on the formula early on in his career. "I did not want just hotel guests in my restaurants, so at first I focused on creating a scene," he said. "But almost immediately I knew I had to have restaurants that have good food."
The result is that chefs want to cook for him. "Working with Ian is, like, a bucket-list thing," said Mr. Fraser, who will continue to run the Loyal in the West Village, Narcissa in the East Village and Nix in Greenwich Village. The hotel will have several restaurants, including a signature dining room; Mr. Fraser and his team are still deciding what they'll serve.
Like most hotel chefs, Mr. Fraser will have to provide all the food for the hotel, including room service. That's why Mr. Schrager has sought out experienced restaurateurs, like Mr. Fraser, with operations that include catering. "Professionals can do it all," Mr. Schrager said.
He regards the Times Square Edition, in what he calls the city's best year-round hotel neighborhood, as a rare opportunity. "I think it will be a game-changer, bringing a top chef to Times Square: There are not a lot of great chefs in the Times Square area," he said. "And I think John is on the cusp of real fame."
© 2018 THE NEW YORK TIMES.