What: Stardust, Vegan Cafe and Shop
Style: Earthy and ethereal
Back in 2015, Kana Shimizu happened to attend an exhibition at Hanaya Mitate, an exquisite flower studio in a northern stretch of Kyoto that specializes in traditional ikebana. Inspired by a recent trip to Amsterdam, Shimizu wanted her own shop, and the flower studio owner, Hayato Nishiyama, a friend of a friend, told her the storefront next door was open. "That's how I met this old house," says Shimizu.
Although most people urged her to tear down the old, dusty walls of the space — a traditional wooden townhouse called a machiya — Shimizu saw something special instead. "This wall looks like the universe," she says, of the aging plaster. Hence, Stardust — the name of her shop and vegan cafe, now nearly three years old. Shimizu left some walls plain, papered others wall in washi (traditional Japanese paper), added a kitchen, and let the history of the space shine through.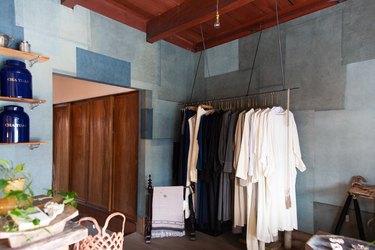 Now, Stardust is destination shopping, a wonderfully curated mix of vintage and new goods, pottery, furniture, accessories, clothing — including Los Angeles-based Black Crane — and a petite, four-table vegan cafe. The curation is all Shimizu, the feel is timeless and ethereal. "Mixing and putting together with old and new, things from Japan and all over the world, makes [it] borderless," she says. She also holds occasional art shows and pop-ups.
It's the realization of the vision she had in Amsterdam, for a space that, Shimizu believes, taps into the universal element we have inside of all of us — stardust. She says, of her boutique, "We are having beautiful stardust come over from all of the world, every day."