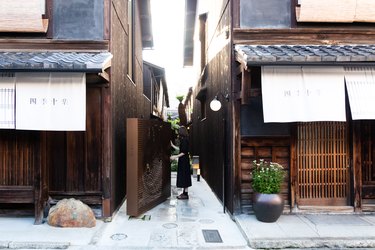 What: Kyomachiya Hotel Shiki Juraku
Style: Japanese Contemporary
The Japanese city of Kyoto is famous for its rich history, Imperial palaces, and scenic shrines. But Kyoto isn't a city that's stuck in the past. The metropolis embraces modernity while preserving its traditions.
Kyomachiya Hotel Shiki Juraku is the perfect example of old and new merging beautifully. Set in a calm residential area, the hotel is spread across 10 machiya (traditional wooden townhouses), which are each nearly 100 years old.
The hotel, which opened two years ago, was designed with the help of 10 talented artisans. These artisans were curated by the hotel's creative director Shigeo Goto as a way to celebrate Ju-no-Raku, or "10 delights." The collaborators contributed their expertise on everything from flowers to the design of the striking entrance gate. Breakfast by chef Kimiko Hiyamizu is served in a deep red dining room, where guests can also enjoy cocktails later in the day.
Each machiya combines elements of classic Japanese design with contemporary touches, for accommodations that feel minimal yet luxe. Rich, warm woods dominate the interiors, while shoji screens add privacy and let in diffused light. The neutral color scheme is punctuated by vibrant abstract artwork by Taisuke Koyama and ikebana flower arrangements by Hayato Nishiyama. Several of the townhouses offer traditional tatami rooms, where the floor is covered with a tatami mat made of woven rush grass and rice straw.
From the gardens to the deep soaking tubs, everything at the hotel feels like it is contributing to the overall sense of tranquility. While Kyoto offers plenty of delights to explore, it's understandable that guests might have a hard time leaving the 10 delights of Shiki Juraku.