When one hears that a new Central London apartment building is made from refurbished gas tanks, chic may not be the first word that comes to mind. But once you see the structure, you can't help but feel that the design — while uber-industrial and modern — is, in fact, quite elegant.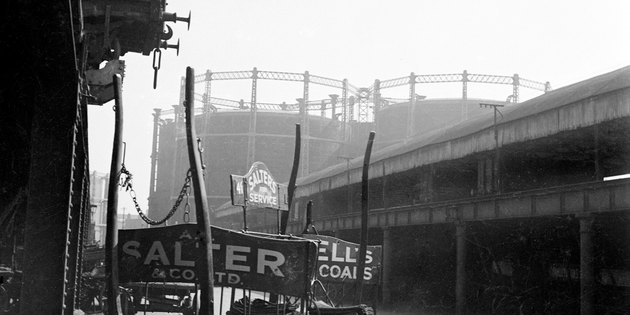 Gas holders — immense gas tanks that contained enough fuel to warm city dwellers — were common throughout London for 200 years, and came in many forms and styles. Over time, the need for gas holders decreased, and by the '90s, many of them were destroyed. A charming and historic part of London's industrial heritage, many people have made efforts to preserve them. Gasholders London, with its large Victorian-era columns and modern amenities, is one such preservation achievement.
To create a unique design in one of the building's two-bedroom apartments, No.12 Studio chose to complement and highlight the complexity of the architecture. One of the ways they did this was through careful consideration of how natural light interacts with the space. And to contrast with the property's harsher, industrial tones, the team brought in plush objects and calming hues to give the space texture and warmth. (How fitting.)
---
After interning at Dwell magazine in San Francisco, Kate began writing about arts, design and culture for other national publications. She is based in Los Angeles and San Francisco.
View Work