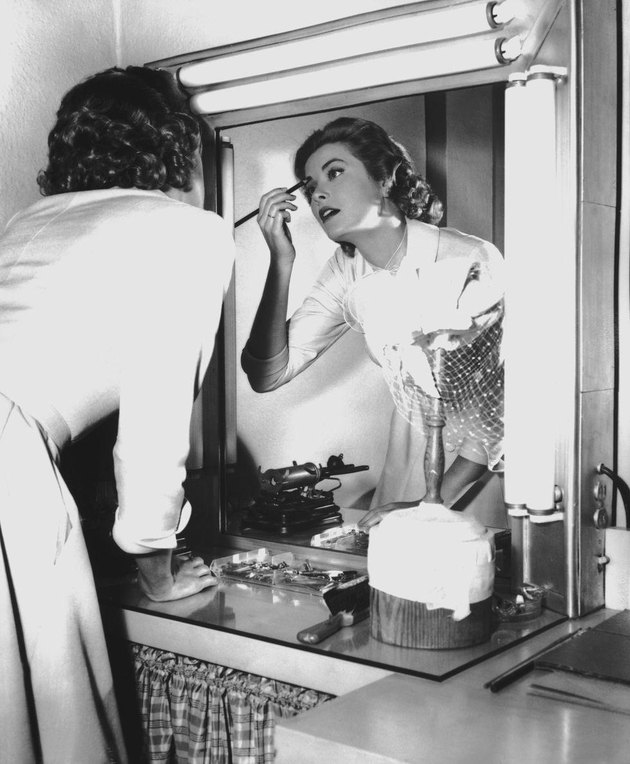 From primping to preening to zhooj-ing, having a designated space to get all dolled up just feels right. Pretty much the best invention ever (second only to the cappuccino machine, cell phone, laptop, car ... okay, okay, maybe not the best invention ever, but it's definitely up there!), these glam stations are often referred to as "dressing tables" or "boudoirs," but "vanity" is perhaps the most popular term for this fashionable mirror/table/chair setup. So when and where did this idea start? What's the story behind this beloved piece of furniture?
Visible everywhere from decadent, royalty-centric films to small apartments far and wide, vanities — like most things used in the service of grooming —are often easily dismissed. But the history of the vanity is one that highlights and catalogues changing beauty, design, and cultural standards across the ages. So sit back, relax, and get comfy. We're about to take you on a stroll down vanity memory lane.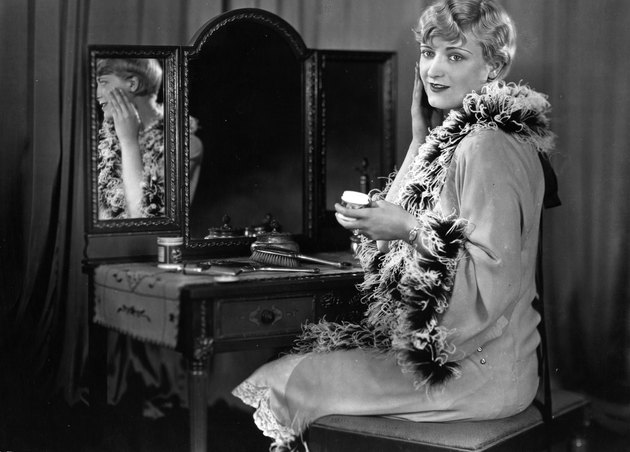 The concept of the modern vanity evokes images of big mirrors, a tabletop littered with more beauty products than you can count (or ever need), a plush chair, and the kind of round lightbulbs associated with old Hollywood glamour. But this is a far cry from where it all began.
The root of the word "vanity" can be traced back to the 13th century and the Latin root word vanus, meaning idle and futile. It's only in the 14th century that the word also gained a narcissistic connotation. (The vanitas movement in paintings tacked on additional interpretations of death and stillness. Yikes!) Separately, the phrase and concept of a "dressing table" developed in the late 18th century. The two ideas — vanity and dressing table — later converged, but only in American English. (In Australia, these tables are known as duchesses.)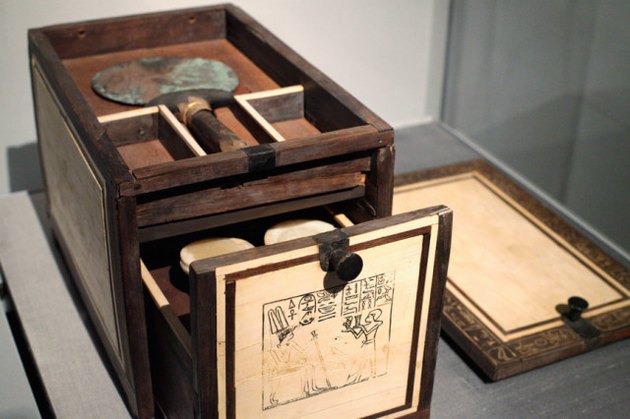 But if you go all the way back, the concept of a special space for "putting on your face" has existed since at least the ancient Egyptians. They kept their cosmetics in boxes and jars, which they then buried with them (which probably explains why the cosmetic box above is so well-preserved; it was probably kept in a dark tomb without much oxygen or moisture). The human civilizations that followed in their footsteps continued, for the most part, with portable toiletries.
As Italy magazine describes, the ancient Romans carried polished mirrors and makeup made of animal excrement — hey, no pain no gain. Chinese aristocrats, on the other hand, would gift gilded powder boxes to their would-be lovers, according to China Daily. And as homes within Anglo-European society grew to include dedicated bedrooms and bathrooms in the 18th century, the first "toilet tables" appeared to house various cosmetics and accessories, like razors, used by men and women alike.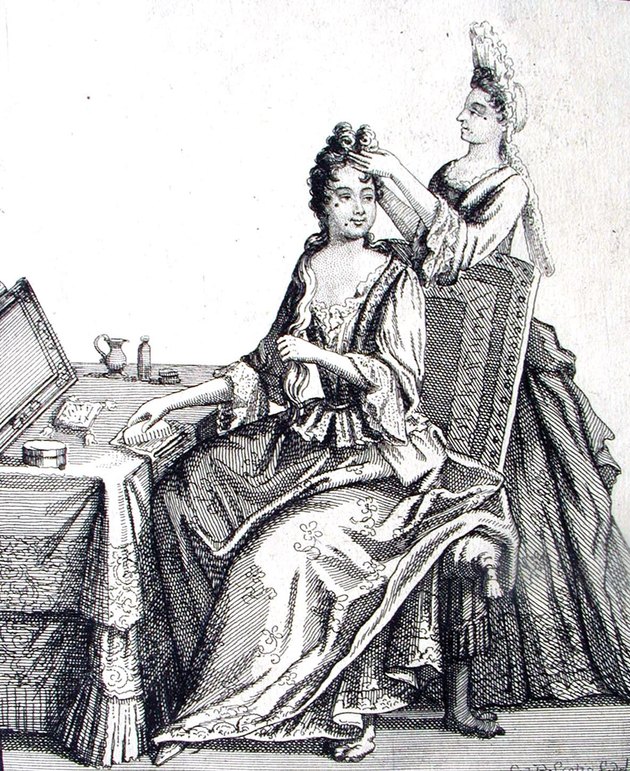 This rudimentary form of beauty storage took a formal turn in the late 17th century, where a flourishing European aristocracy took the art of getting ready to the next level. As explored in a 2013 exhibit at the Metropolitan Museum of Art, these vanities — known by the French as a poudreuse (from poudre, or powder) and "lowboys" in England — took Europe by storm.
Their popularity can, by some degree, be attributed to perhaps the most famous vanity connoisseur of her time — and a style trendsetter for centuries to come — Madame de Pompadour (mistress to Emperor Louis XIV). Many of her lush, Rococo-era portraits feature not just sumptuous gowns, but also intricate furniture. Clearly, she was living her best life. François Boucher's portraits give you a clear look at the Madame's vanity mirror setup. And, it's one of her dressing tables that received a special spotlight at the 2013 Met exhibit.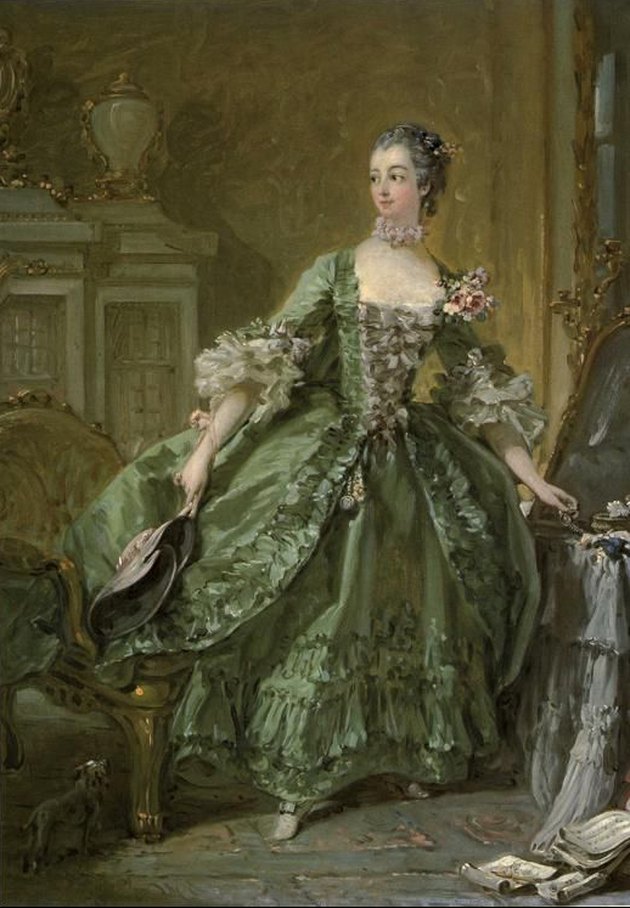 In the more austere lands of England and the United States, dressing tables weren't as ornate, but that didn't mean they were boring. Instead, they evolved into the colonial, Queen Anne, and Chippendale styles: Some flourished, but mostly rendered in natural colors. Throughout the 19th century, different styles fell in and out of fashion: Gothic, Renaissance, and yes, rococo styles all came back through contemporary movements like Arts and Crafts, and later, art deco also touched the world of dressing tables.
It's in the art deco era of the early 1900s, that the "modern" idea of the vanity became what we envision now. (It's also during this period, perhaps, that the vanity took on an extra-strong femme image.) In 1986, The New York Times anointed Jean Harlow's boudoir in the 1933 film Dinner at Eight as the archetypal glamorous vanity, but the paper also articulates the downfall of the Roaring Twenties aesthetic in America as the Great Depression, and then World War II. Yet as the American economy — particularly, its yawning wealth gap — rebounded in the latter half of the 20th century, luxury items with ostentatious names such as "vanities" came back into fashion. What a relief!
Now, vanities and other once-niche or rarefied furniture pieces are as much at home in the mass market as they are in curated museum exhibits. But just like every other beauty-related innovation, their history covers not just the arc of human valuables, but also human values.