We may earn compensation through affiliate links in this story. Learn more about our affiliate and product review process
here
.
Onstage for a recent talk on women in architecture, Tiffany Brown makes an arresting figure with her sleek long bob, precision-cut bangs, and white crepe cap-sleeved top.
Seeing her at the podium, one would think she's never been mistaken for anyone but the boss, but Brown tells it differently: When she goes to a build site, dressed down and in a hard hat, she's not immediately recognized as the person there to sign paychecks — she's sometimes mistaken as the cleaning lady.
Such is the life of a female architectural designer of color, and the paucity of women in the field who look like Tiffany is shocking: Out of 111,000 licensed architects in the United States, only 423 of them are black women. Which is why Brown started a new program called 400 Forward this past fall with a grant from the John S. and James L. Knight Foundation. The name honors the 400th black woman to get an architecture license, which only happened last August, and the funds will go toward mentoring the next generation. With 400 Forward, Brown is introducing young girls to architecture at inner city schools, offering free architecture and art summer camps, and she hopes to provide financial assistance as women pursue their degrees. When it comes to girls, says Brown, "I want to be the face that I was looking for growing up."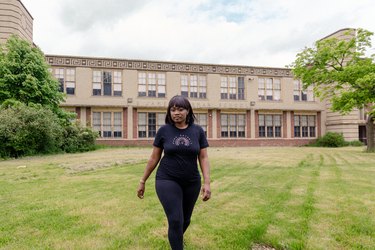 Brown in front of her alma mater, the now-shuttered James Herman Elementary School. It's the last remaining structure of the Herman Gardens public housing complex, where Brown grew up. Over a decade after the complex was demolished in 1997, Brown oversaw the first phase of redevelopment, called The Gardenview Estates, a mixed-income development with nearly 300 structures.
Brown grew up in Herman Gardens, a public housing project on Detroit's west side, a place the Motown group The Spinners, television judge Greg Mathis, and auto giant John de Lorean called home. She went to a Detroit public school, and nobody she knew had ever gone to college. "As a kid, I didn't like the spaces or environments where I learned," she says. "I felt unhappy and uninspired. The thing that saved me was art." Brown's artistic abilities were encouraged by her mom, who liked to sketch portraits, and her dad, who used to hand-draw flip books. As a kid, she dreamed of being an animator at Disney. How she'd be able to use her art to create a career, she didn't quite know. But when Brown was in high school, she met someone from Lawrence Technological University. Intrigued by the school's focus on design, she ended up attending Lawrence, where she was drawn to the architecture program.
Fast-forward to when Brown started working as a project manager and found that she was often the only person of color at the table. "People are designing spaces for neighborhoods they wouldn't live in themselves," she says, adding that architects don't ask communities what they need when doing a redesign — they think they already know. Fortunately, Brown's not afraid of confrontation. While doing construction administration for Mumford High School in Detroit, she found out the contractors wanted to save money by diminishing the quality of the gym floor to a level that could possibly cause injuries to the students who would use them. "I had to say no," she says. "Detroit has a legacy of turning out great athletes. These kids deserve the state-of-the-art gym floor that we specified. Save money some other way." She adds, "People of color weren't at the table when I grew up, and that's how I ended up at the busted school I went to."
Thus Brown has become a disruptor in an industry that can use fresh ideas. Architects are often perceived as elitist, disconnected, and superior — perhaps because those who can afford the strident education have traditionally been men with means. "Architecture has tended to come from affluent families," says Frances Anderton, who hosts the influential broadcast DnA: Design and Architecture on Los Angeles public radio station KCRW. "It's a 'gentleman's profession,' not just because it's male, but because it comes from affluence. It's only been in the last fifty years that women have been able to get recognition."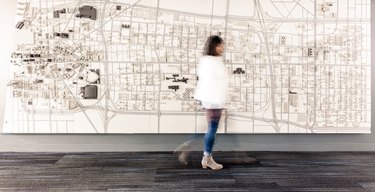 A topographical model of Detroit in the Smithgroup JJR office, where Brown is currently a project manager.
Brown is flipping the script, and people are taking note. One of them is Kat Holmes, a software engineer, who included Brown in her upcoming book for MIT Press, Mismatch: How Inclusion Shapes Design. To talk about inclusion, Holmes explains, she first talks about exclusion. "We all know when somebody is excluding us," she says. "It feels horrible. It has a psychological effect. So I try to talk about the profession of architecture and how who makes the choices matters. Tiffany really underscored for me the concept of designing for versus designing with. If you have the participation of the communities who will be affected by your design, it changes how they feel about the outcome."
To illustrate the point, Brown invited Holmes to her hometown. She drove her around Detroit and showed her some of the projects she supervised — including the reconstruction of the projects where she grew up. When Brown was 14 years old, Herman Gardens was demolished with promises that it would be replaced with better housing along with entrepreneurship and job training. Brown and her family were forced to move to Section 8 housing, thus losing their tight-knit community. To add salt to the wound, the revitalization of Herman Gardens was shelved and the lot stood empty for a decade. But after Brown graduated, she got a job at Hamilton Anderson Associates, which was selected by the Detroit Housing Commission for construction of the new development. "I was eyes and ears on the project throughout construction," Brown says. "To be involved was a real full-circle moment for me." Now, where Herman Gardens once stood, there is Gardenview Estates, which includes both market-rate and subsidized housing. Since then, Brown says, a lot of the people who were displaced when Herman Gardens was raised have moved back.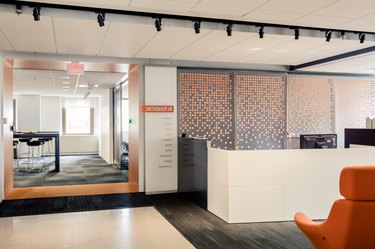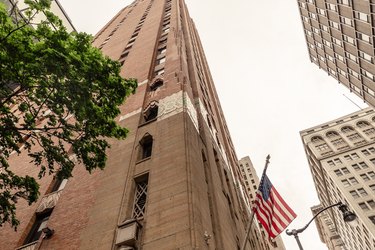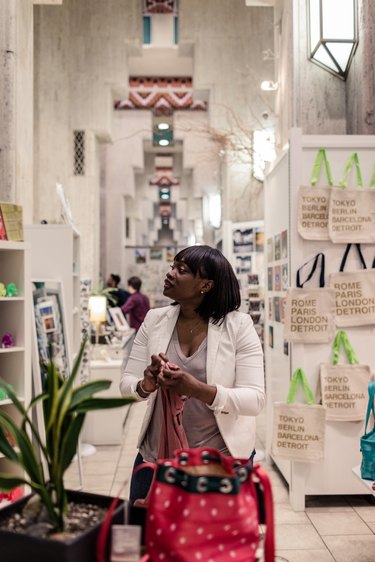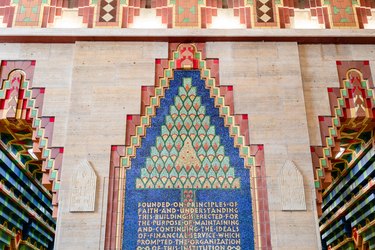 The Guardian Building in downtown Detroit, nicknamed "The Cathedral of Finance," is a National Historic Landmark built in 1928 in the Mayan revival/art deco style. It currently houses the Smithgroup JJR offices, where Brown works.
Brown is particularly passionate about supporting the city where she grew up. Detroit is undergoing a slew of new development, often with investors and designers from New York or elsewhere. Historic architecture abounds, and Brown works as a project manager for Smithgroup JJR, which is housed in the 90-year-old Guardian Building. She loves the lobby's vaulted ceilings and stunning mosaics so much that she whips out her iPhone to show pictures. It's part of her mission to make sure the historic city takes the people who live there into account as it's rebuilt. "In Detroit, people are supposed to stand by while developers come in and buy the land," she says. "The people made the city what it is, but they feel like they don't belong anymore." That's why 400 Forward focuses on girls from Detroit. "I want to make sure they understand how to design a community," she says. She also wants to explore how girls feel about the schools they're going to, and what they'd do to change them. "The schools I went to are still standing, abandoned and forgotten. And that's how I felt sometimes — abandoned and forgotten."
For her young charges, Brown's success is likely to be unforgettable. Part of her pitch is telling girls what architecture has done for her, from studying in Paris to meeting Michelle Obama backstage before Obama's keynote at the American Institute of Architecture Conference last year. Brown was thrilled, but assumed she'd merely be there to bask in the First Lady's proximity. "Instead, Michelle came straight to me, gave me a hug and asked who I was and what I did. So I gave her my elevator pitch for 400 Forward." Brown says Obama showed enthusiastic interest about how her foundation can work together with 400 Forward to change communities.
When Brown was in L.A. this spring to speak on the panel about women in architecture (full disclosure: the panel was assembled by Hunker), she was the star as far as her mentee Ellyse Scott was concerned. Scott is majoring in Design at Cal State Long Beach, and when she read an article about Brown, she sent an email to see if she'd let her interview her for a research paper on the history of African-Americans in architecture. Brown not only emailed her back, she's taken her under her wing. For Scott, getting to meet Brown in person is not unlike meeting Michelle Obama — it's a meaningful, empowering connection in a world that offers a black student like Scott few opportunities.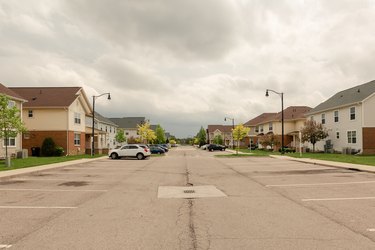 The Gardenview Estates and former location of the Herman Gardens public housing complex. Brown was the eyes and ears on the ground during the planning, development, and reopening in 2009. Further expansion is currently in the works.
As it was with Brown, Scott is one of the only African-Americans in her classes. Her professors are all Caucasian. She feels she has to do better, and work harder, than her fellow students, and microagressions abound. One upsetting encounter was with a male professor who critiqued her presentation about an architect, asking whether she would do such a so-called "shoddy job" if she were writing about Will Smith, Rosa Parks, or Dr. Martin Luther King, Jr. She confronted the professor after class, asking, "Why would you make these references? Why would you connect my presentation to celebrities who are black? He said he just spoke whatever came into his mind at the time. It was offensive."
Brown's mentorship allows Scott to talk to another woman with similar experiences. "When I was growing up, I didn't have a connection to a black woman in architecture because it wasn't really talked about," Scott says, adding that when she was in high school, black girls were only told about "nurturing" professions like teaching, nursing, and counseling. "Being a black girl at the age of 10 or 13 and being able to talk to someone like Tiffany will be such a better experience in knowing how to handle certain situations," she says. "I didn't have those resources."
Brown's reach is expanding exponentially. 400 Forward just partnered with Design Core Detroit, a non-profit that successfully campaigned to get the city a UNESCO City of Deign designation in 2015. 400 Forward will host activities and summer camps, including trips to maker spaces, so kids can build a Putt Putt Design competition entry of their own this September.
Being a woman of color who's making her mark in architecture for herself and for future generations is what drives Brown, and her message is infectious. Says Holmes, "Tiffany has the ability to talk about her unique experience and upbringing. Nobody else can speak for her. Nobody should pretend to." And since Brown is such a rarity in a predominately white, male field, few can.