Things You'll Need
Warm water

Laundry detergent

Solvent-based cleaner

Baking soda

Clean cloths

Fan
Tip
If you can't add water to your furniture or if after trying the above cleaning techniques your furniture still gives off a chemical smell, take your furniture outside or put it in a room with increased ventilation from open windows or fans. Leave the furniture at that location for as long as it takes for the smell to dissipate. Avoid putting the furniture in an area near a heat source because heat can make the chemical smell stronger.
Consider more eco-friendly furniture for purchase in the future. Look for Forest Stewardship Council (FSC) certified wood, formaldehyde-free materials, and no- or low-VOC finishes.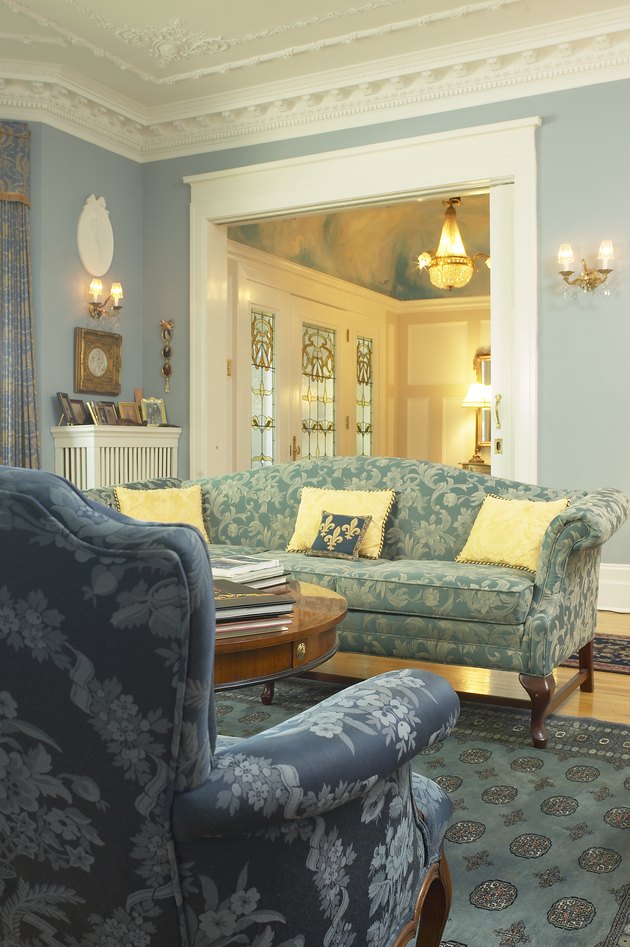 After bringing home a new piece of furniture from a store, it's not uncommon to notice a peculiar chemical smell. Unfortunately, this isn't just due to packaging or days spent lingering in a warehouse. In fact, there are certain harmful chemicals -- known as volatile organic compounds, or VOCs -- that are used to treat furniture and that have been linked to respiratory and nervous system damage. There are a few simple methods you can employ to get rid of the chemical smell and some of the dangers associated with it.
For Furniture With Removable Fabric
Step 1
Remove any covers or fabrics on your furniture that can be removed, such as chair backings or couch cushions.
Step 2
Launder these items according to the care instructions found on the furniture label. Pay attention to symbols such as W/S or S. The first symbol indicates that you can clean the items with water and soap, whereas the S indicates that only a solvent-based cleaner can be used to clean the items.
Step 3
Leave the fabric items outside to air dry. If you can't leave them outdoors, then leave them in a well-ventilated room or a room with a fan.
For Furniture Without Removable Fabric
Step 1
Dissolve 1 tbsp. of baking soda into a cup of warm water.
Step 2
Moisten a clean cloth with the mixture.
Step 3
Wipe down the furniture with the cloth. The baking soda mixture should absorb the chemical smell.
Step 4
Allow the furniture to air dry.
---
Jessica Jewell is a writer, photographer and communications consultant who began writing professionally in 2005. Her chapbook, "Slap Leather," is forthcoming from dancing girl press. Her recent work has appeared in "Nimrod," "Harpur Palate," "Copper Nickel," "Rhino," "wicked alice," "Poetry Midwest" and "Barn Owl Review." Jewell was recently nominated for a Pushcart Prize. She earned her Master of Fine Arts from Kent State University.