Thresholds, which come in varying materials including wood and marble, serve as a transition between the flooring and doorway. They are common in homes where they are used for doorway-to-floor transitions in bathroom and bedroom entries alike. They attach to the floor with adhesive or screws, although adhesive is less likely to damage the concrete. What's more is that they're smooth, relatively affordable and simple to install.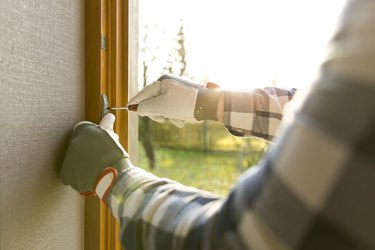 Marble Threshold
First, purchase a marble threshold of the proper width and length. Remember, you can always saw the threshold to the appropriate size. Other materials include a tube of Liquid Nails subfloor, a tube of caulk and touch-up paint for the door jam. Next, clean up your work area as best as possible. Remove all debris from the concrete slab. If there's carpeting, trim the carpet where frayed material hangs loosely. Then, test the threshold for fit. If it fits, apply Liquid Nails glue to the concrete and attach the threshold. When the saddle is in place, restore the door jamb, adding calk so that it fits nicely. You can touch up the door jamb with the matching touch-up paint.
Wood Threshold
A wood threshold should be fitted so that a door would bisect the centerline of the door when it's closed. Apply adhesive before securing the threshold. You can then screw the wooden threshold into the floor. It should be noted, though, that adhesive works best on concrete as screws may cause damage to the floor.
How to Use Adhesive
Some home and decorating sites recommend using Liquid Nails adhesive, but there are several other adhesives to choose from. A contact adhesive requires the precise positioning of the separate surfaces, while other adhesives allow for repositioning before they set. Also, ensure that you are using the correct adhesive for the surface. For instance, if a wood threshold is stained or varnished, remember that you're joining the stain or varnish, not the wood.
How to Use Screws & Fasteners
If you're not using adhesive, you can secure the threshold in place with wire nails. Use a tack hammer to prevent bruising. Fix your wood with brass screws, which last a long time and are not affected by moisture. Position the pilot holes so that they make a pleasing pattern against the threshold. Next, using a counter-sink bit, counter-sink the pilot holes so that the brass screws will be flush with the upper surface of the threshold and not create a snagging point.