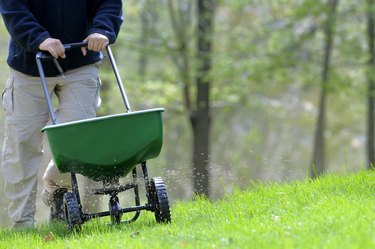 Colloquially, many people use the terms "plant food" and "fertilizer" interchangeably, but they are not the same. The food that plants consume is created by the plants themselves and is composed of sugars and starches. Fertilizer, which some gardeners refer to as plant food, provides nutrients and minerals that support healthy plant growth and, in turn, allow the plants to produce their food.
How Plants Feed Themselves
While animals get their food from sources outside of themselves, plants marvelously create their own food. This occurs through both photosynthesis and respiration, two critical activities that all plants perform.
Photosynthesis, as all elementary students learn, depends on the sun. During the day, the chloroplasts within a plant's cells absorb solar energy that then fuels photosynthesis, or the conversion of carbon dioxide and water into sugar and oxygen. Water is taken up by the plant's roots and is the vehicle for transporting the sugars throughout the plant. Water, of course, is also critical for the overall health of the plant, helping the plant maintain its structure by supporting "turgor," or the ability to be both flexible and strong. Without water, a plant will wilt and eventually die.
At night when no sun is available, the plant "feeds" on the produced sugars, a process called "respiration" in which it breaks down sugars and carbohydrates and emits carbon dioxide and water. As with other living organisms, this food supports growth.
If a plant is unable to get important nutrients and minerals from the soil, it will be unable to produce food and will begin to fail and eventually die. This is where fertilizer comes in. Various plants and trees have widely different needs, and soils vary widely as well, so it's important to know your plant's needs and to also understand the composition of your soil before you go shopping for fertilizer. Some plants are called "heavy feeders" and may quickly deplete the soil of required nutrients, while others prefer to sip their food. Be sure to read the tag on your plant to determine its requirements or better still, do a little research to understand your plant's needs.
The most common fertilizers provide some ratio of the three primary macronutrients NPK (nitrogen, phosphorus, and potassium, respectively). This ratio is always prominently displayed on the fertilizer bag — for example, 20-5-5. Plants that are heavy feeders tend to deplete the soil of nitrogen first, so a fertilizer will frequently feature a higher percentage of that nutrient. Nitrogen is important for green, leafy growth. The middle nutrient, phosphorus, is required for flowering and fruiting, so you'll see a larger middle number if the fertilizer is designed for flowering plants. The third nutrient, potassium, is important for a strong immune system and roots.
In addition to these macronutrients, plants also require seven micronutrients for healthy growth: boron, zinc, manganese, iron, copper, molybdenum, and chlorine. If soil is deficient in these nutrients, a plant may show signs of chlorosis, in which the veins of the leaves turn yellow or the edges appear scorched. Finally, the pH of the soil matters as well because a pH that is unbalanced for a particular plant will impair the plant's ability to take up nutrients.
To ensure you provide your plants with the right nutrients, be sure to take a soil test before fertilizing. Contact your local university extension office or a local gardening center for guidance.