Things You'll Need
Peat moss

Compost

Gardening trowel

Pruning shears or sharp scissors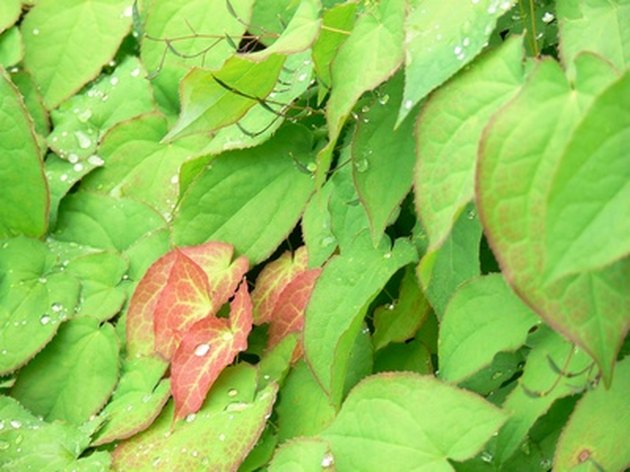 When shopping for new plants, many gardeners keep an eye out for something pretty to grow in that shady area of the garden. Found in nature growing on the forest floor, horny goat weed (Epimedium spp) is worth considering, for its bronze and red-tipped foliage as well as its winter hardiness. Also known as bishop's hat and barrenwort, horny goat weed is a perennial flowering plant, hardy to U.S. Department of Agriculture zones 4 through 8.
Step 1
Add 2 inches of peat moss and 3 inches of compost to the planting soil and mix it into the top 10 inches. This will start your horny goat weed off right by giving it a rich soil in which to grow.
Step 2
Dig planting holes, 8 to 10 inches apart, that are the same depth and three times the width of the nursery pot in which the horny goat weed is growing. Gently remove the plants from the pots and place the roots in the hole. Backfill the hole with soil, pressing lightly around the base of the plants.
Step 3
Water the horny goat weed immediately after planting and keep the soil moist at all times. During hot, dry or windy weather, check the soil more frequently and water if needed.
Step 4
Apply 2 to 3 inches of compost to the top of the soil, completely surrounding the horny goat weed, in early spring.
Step 5
Cut off any winter-damaged foliage and stems in the spring. Don't be afraid to trim the entire plant back to the ground if needed, as it will grow right back.
---
Based in the American Southwest, Bridget Kelly has been writing about gardening and real estate since 2005. Her articles have appeared at Trulia.com, SFGate.com, GardenGuides.com, RE/MAX.com, MarketLeader.com, RealEstate.com, USAToday.com and in "Chicago Agent" magazine, to name a few. She holds a Bachelor of Arts in English with a concentration in creative writing.