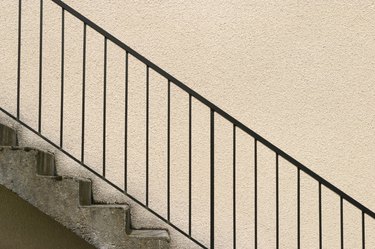 Exterior stairs that connect your deck or patio to the ground, or serve as an entryway for an exterior door, need to be constructed so that people can use them safely. This includes meeting building code requirements that pertain to stair dimensions and railings. In general, the railing for exterior stairs should be around 36 inches high.
Optimal Handrail Height
Most building codes require handrails for exterior stairs to be between 34 inches and 38 inches above the stair nosings. This means that a handrail's height is measured from the top of the stair treads, or horizontal stepping members. The top of the handrail is the upper limit of this measurement, even if it includes a decorative molding or gripping surface applied on top of the structural part of the rail and the vertical posts.
Types of Dwellings
Some building codes have different exterior stair railing requirements for different types of dwellings. This is the case in cities such as Kenosha, Wisconsin where exterior stairs in single family homes or duplex homes can be anywhere from 30 to 38 inches high. Rails along exterior stairs at multifamily homes in the same city must be between 34 inches and 38 inches high.
Railings for the Disabled
Besides the provisions in local building codes, the Americans With Disabilities Act addresses exterior stair and ramp railings. The ADA states that exterior stair railings must fall within the standard 34 inch to 38 inch range. It also requires that all railings maintain a consistent height above stair nosings and be free from sharp points or surfaces that prevent proper use.
Considerations
In addition to a railing's height, the space between the wall and the railing, known as the railing's clearance, is also important. Building codes and ADA regulations require a minimum clearance of 1.5 inches when railings are attached to a wall rather than vertical posts that are part of the stairway. Exterior railing height requirements are also not necessarily the same as the height and clearance requirements for indoor stair rails. Ensure you have the latest code information from your local building code office before buying materials or constructing an exterior stair railing.