It can add a lot of curb appeal, offer privacy where there was none and keep pets and small children safely in the yard. A driveway gate gets a lot done without doing much more than opening and closing when needed. However, there is much to consider before you purchase and install a driveway gate. The sturdy structure should last years to come, so choose the correct one right off the bat and you won't have regret each time it swings, slides or slams shut.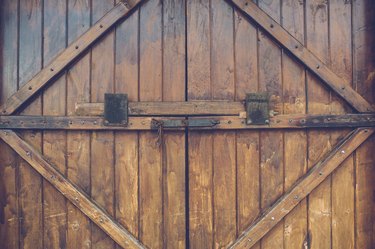 First Considerations
A gate can open three ways, so consider the slope – or plain – of your driveway area. It can swing toward the street, leaving you more play area in the yard leading up the driveway. A gate can swing inwards, either in one long module or split in half, using less room when opened toward the house. Or, it can slide to the left or right, saving the most space. The slope of the driveway is important in that if it is too angled in an upward direction toward the house, the fence won't be able to open inward. If there is heavy traffic, a gate that swings out will cause safety issues and irritability as you wait for traffic to clear or pedestrians to move along so you don't impede progress on the sidewalk. A sliding gate needs room to fold in on itself. Consider the curvature of your boundary line so that it has room to slide without obstructing on other areas you don't own.
Materials and Design Options
The right gate can amp up your curb appeal and provide a safe space for little ones to run and pets to move about unchecked, adding to the home's value. There are many styles to fit most any home. If your home is mid-century modern, a slat fence and gate with its clean lines may show off its architecture. You don't have to stick with wood if the material doesn't seem to bring up the aesthetic of your home. Gleaming tubular steel that wraps around the entire home can put a towering two-story home on display. Picket fences show off a ranch home to its best advantage. Gates can be powder-coated to any color of the rainbow, so be prepared to shift through the color wheel.
Check that your association or neighborhood has no restrictions or specific guidelines about driveway gate structure or style.
Construction Process
To build a wooden fence, gather your treated lumber, drill, masonry bits and hardware. Sand or gravel can be used to level out any areas under the fence once it has been properly installed. A wooden driveway gate can be attached to a concrete or stone wall or an existing wooden fence. The best posts are 6-by-6 to hold the gate. Cut them to 1.5 feet longer than the height you need. Dig a 2-foot hole and fill it with sand or gravel to about 6 inches to allow for water drainage. Sink your posts and attach the treated wooden driveway gate to the posts via the manufacturer's instructions.